Are you looking for the perfect weekend escape from the hustle and bustle of Sydney? I have THE perfect place for you to go. Think wineries, great food, views for days, constant events and all the best spots to sit back and relax, or party it up with your friends - there are so many great things to do in Hunter Valley Wine Country!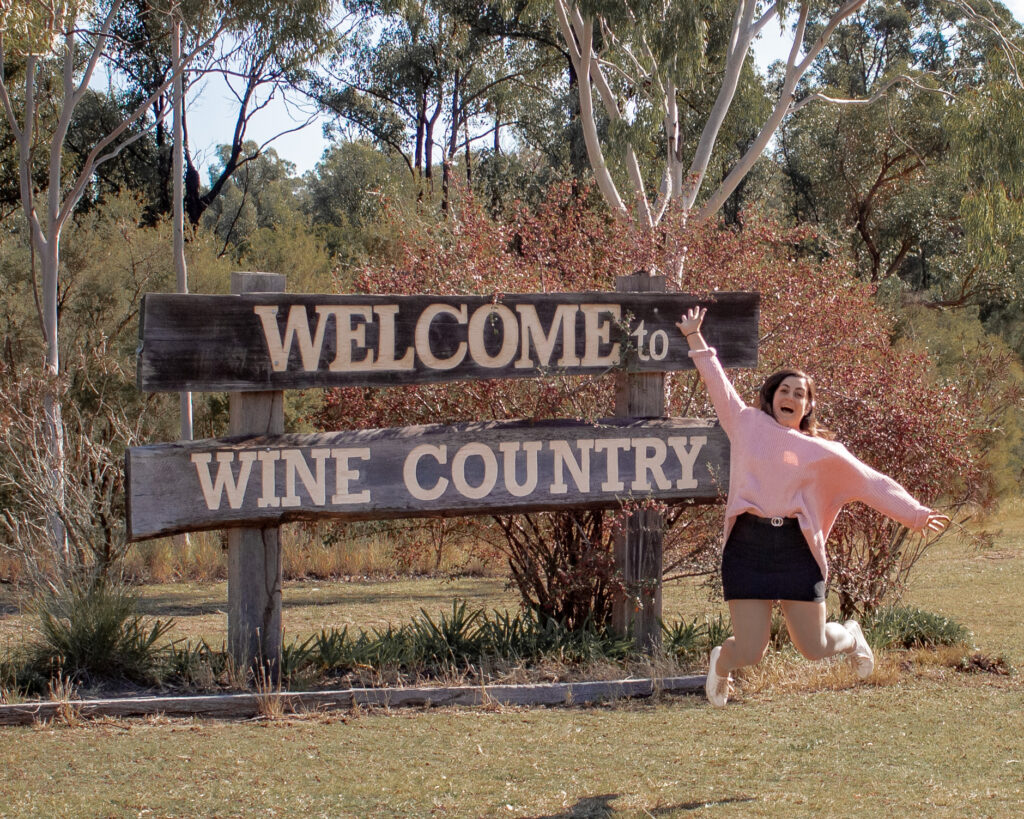 Getting there from Sydney
The Hunter Valley is located within a few hours of Sydney. If you drive, it shouldn't take you more than 3 hours to get there once you're on the highway.
Get some girls together and do a road trip. I recommend taking a few stops along the way and have fun blasting some tunes. if you don't have your own car, you can rent one through a rental company, or there is CarNextDoor or GoGet to help you get on your way.
If hiring or driving a car is not an option, there are other ways to get to the Hunter Valley.
Train services run from Sydney's Central Station to Newcastle suburbs, and Hunter Line train services run between Newcastle and the Hunter Valley towns of Maitland and Singleton. There are also some regional trains that run between Sydney and the Maitland area, close to hunter valley.
But the best option, in my opinion, is hiring a van with a driver for the day! There are many tour companies that offer this service.
Some that I know of include Hunter Valley Wine Tours. They pick you up from their Sydney location, drive you to the Hunter Valley with some wineries, food and sights, then drive you back again. No need to worry about going overboard!
Places to Stay
Staying in the Hunter Valley overnight can come included with multi-day tours, but I like to splurge a little and stay either on a winery or in one of the resorts.
I've stayed in both Cyprus Lakes, Wine Country Villas, the Crowne Plaza and in an airbnb in nearby Singleton. My favourite for a romantic couple getaway was the Villas, overlooking the vineyard. For groups and families, I would recommend Cyprus Lakes.
Cyprus Lakes
Cyprus Lakes is giant and includes so much with your stay like a pool, restaurant, even a golf course. You can book them directly, or some are found on booking.com or Airbnb. The villas are beautiful, nestled in a bush setting, so expect privacy and great views.
You can get a 2 or 3 bedroom villa, so there's room for all your friends and family. It's located just up the road from Hunter Valley Gardens, and pretty much in the centre of all the wineries. So you're close by all the main things to do in Hunter Valley.
The Crowne Plaza
The Crowne Plaza was great, I can't fault them at all, but are a bit out of the way if you are getting around the Hunter Valley yourself. Crowne Plaza would suit couples or groups that are just interested in a luxe hotel with all the amenities.
There are also quite a few Airbnbs around the area. Search for the suburb of Pokolbin to stay close to the wineries, or Lovedale is also a good and close area (but a bit further out).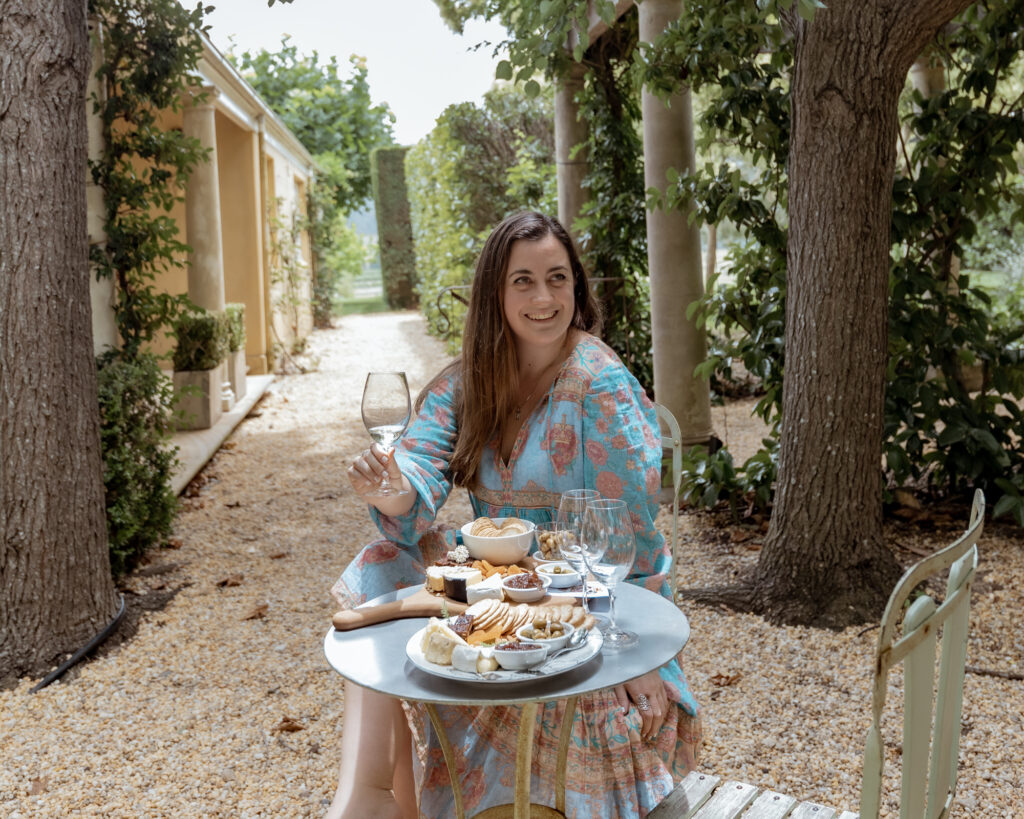 Places to Eat
Brunch and lunch
Peterson House
Peterson House is famous for its sparkling wine and its breakfast menu. Start your day here with some food and a drink at Restaurant Cuvee, as it's conveniently located at the gateway to the Hunter Valley winery area. The views are spectacular! Then why not make the cellar door and chocolate shop located on the grounds your first pitstop on a day of adventure.
The Deck Cafe
The Deck Cafe is located in Lovedale, and is a bit further out of the way than some other cafes in the area. But this is one worth the trek. The food looks and tastes great, and the outdoor seating overlooking the dam is beautiful. It has a rustic, vintage charm that keeps me coming back for a little bit of foodie escapism.
The Smelly Cheese Shop
You cannot go to the Hunter Valley and not stop in at the Smelly Cheese Shop. Located in Pokolbin, this quaint shop is right in the middle of the action. I highly recommend coming here to pick up some picnic supplies (they don't just sell smelly cheese!). A picnic is one of the best things to do in Hunter Valley. Grab some bread, cheese and other delicacies and when you grab a bottle or two from your cellar door visits, you have lunch all sorted to enjoy in one of the amazing vineyards in the area.
Dinner
Oishii Japanese and Thai
One of my favourite restaurants in the Valley, Oishii is delicious food overlooking Teatree Creek, right in the centre of things. The atmosphere is buzzing, and if you have a larger group for a weekend getaway, you can request to be placed in their private dining area.
Pick a local bottle of wine, grab some sushi or a curry and dive right in. If you do plan on drinking a few at dinner, make sure you have a taxi on standby as walking back to accommodation could be risky on the dark streets.
Bistro Molines
This restaurant is a bit out of the way, but for good reason. Winding your way through the hills on the way to this hidden gem is an adventure in itself. When making a reservation, ask to have an outside table. The view when you get seated is breathtaking, with rolling hills and vineyards as far as the eye can see.
Bistro Molines is a quaint, rustic french restaurant. I highly recommend coming here for sunset to celebrate a special occasion. But make sure one of you can drive, or be prepared to spend extra on a taxi, as it is out of the way from the Valley itself.
If you prefer to stay closer to home, any winery in the area will usually have their own restaurant attached to it. And they are all amazing! Take a look around while on your wine tasting tours and find the perfect place to circle back to for dinner for you and your group.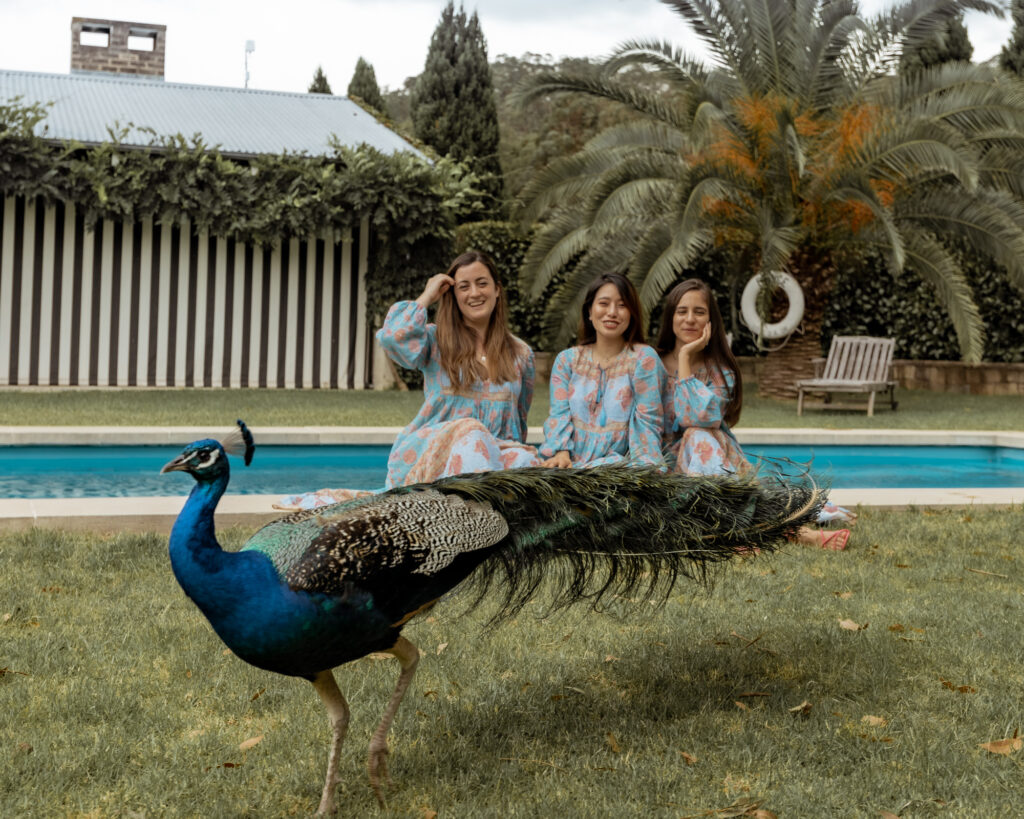 Things to do in Hunter Valley
Hunter Valley is a great place to shop for unique, boutique fashion, homewares and more.
One of my favourite places to go is Peppers Creek, with a little bit of everything on offer. Peppers Creek also has the most beautiful indoor/outdoor chapel overlooking the vineyards - check it out, even if you aren't religious it can be a great photo opportunity.
The local markets are also a great place to pick up a little something. Some of my favourite jewellery, I picked up at Handmade in the Hunter. These markets are located in Kevin Sobels Wines and they are on most weekends, but check the website for more information.
Even in the cooler months, there are many events on to go and check out. Hunter Valley Wine Festival is a perfect weekend escape and is on in June. Full of good wine, food, beer, cider, and more all in one place - it's a great day out. Then why not stay overnight and go explore more things to do in Hunter Valley the next day (if the hangover isn't too much).
If you have time, you can also head out to Broke. A little further from Sydney than Pokolbin, Broke has more wineries, restaurants and shops that have less of the crowds, but just as worthy of a visit. Krinklewood Biodynamic Winery is a great place to start, with beautiful grounds and wines to taste.
Hunter Valley is also a popular place for festivals, concerts, events and more. No matter which weekend you choose, there will more than likely be something to entertain you.
Last, but not least, even if wines aren't your thing, Hunter Valley has some amazing spas. Why not treat you and your girls (or guys) to a spa day! Massages, facials, mani pedis.. the works!
My top 6 wineries in Hunter Valley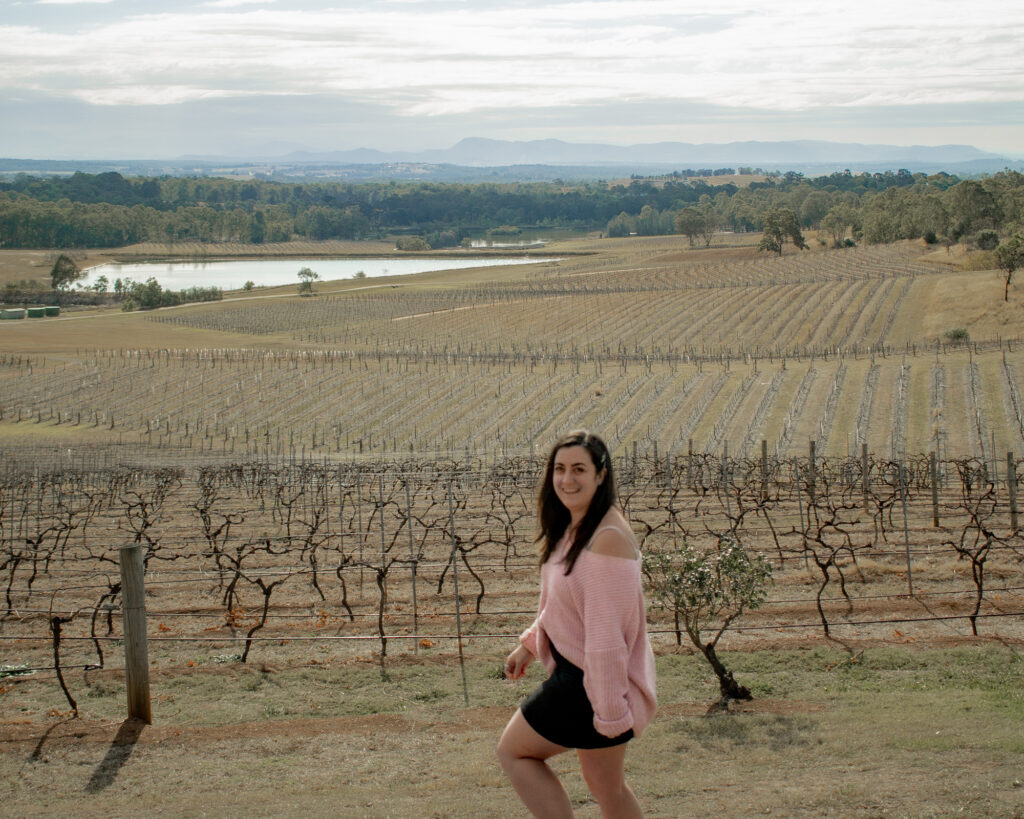 Audrey Wilkinson
Audrey Wilkinson has the best view of Hunter valley, hands down. I personally love their rose wines and dessert wines. Grab a bottle after your tasting to go and sit outside on the hill and enjoy the sunshine and vistas.
Blueberry Hill
Blueberry Hill wines is my pick for the hidden gem of the Hunter Valley. It is a bit further out of the way, but their set up is worth the visit. It's small and boutique, with beautiful views and food while you have your wine tasting. But I highly recommend packing a picnic to sit in their outdoor area for a quiet lunch.
Hungerford Hill
Hungerford Hill wines are in my top picks because of the interesting buildings. Their wines are good, but I recommend visiting this winery for the photo opportunity, especially if you love unique architecture.
Tempus Two
One of the most infamous wineries in the Hunter, your visit wouldn't be complete without stopping in at Tempus Two. This winery is situated in the main area of Pokolbin with restaurants, shops, views and, of course, a great selection of wines.
Peterson Wines
If sparkling wines are more your speed, you can't go past Peterson Wines. They are famous for their bubbly. I recommend starting your tasting tour here, as their restaurant is great for brunch. They also have a chocolate shop next door, so pick up some treats while you're there.
Krinklewood Vineyard
If cheese boards, peacocks and a european style courtyard amongst the vines isn't enough to get you to head out to Broke and see this winery, I don't know what is. Even though Krinklewood is a bit further out, this winery is a must on my list for things to do in Hunter Valley!
Honorary mention: Hunter Distillery
While not technically a winery, Hunter Distillery is a must when in the area. Most tours stop in here for a pit stop between the wineries. Hunter Distillery has a huge selection of different flavoured gin, vodkas, schnapps and liqueurs, which you can drink straight, mixed, or even with food (I love to have my mango liqueur over ice cream).
---
So, have I convinced you yet? Let me know if you are going, have gone and what you enjoyed or if you have any questions!
If you have any other tips for things to do in Hunter Valley, let me know in the comments!
---
Looking for a staycation weekend instead? Check out my blog review of the Shangri-La Sydney.