Finding the Instagram feed planner that's right for you is more difficult than it seems. No platform is perfect, with each option giving you certain features, and not others. They all have their strengths, so using one that works in a similar style to you is important.
Below I've outlined the pros and cons of each Instagram feed planner I have used previously, so you can figure it out for yourself without all the extra work.
Desktop + mobile app
Limit to 30 posts per month per social channel
Can schedule to Facebook, Pinterest and Twitter
Can autopost static photos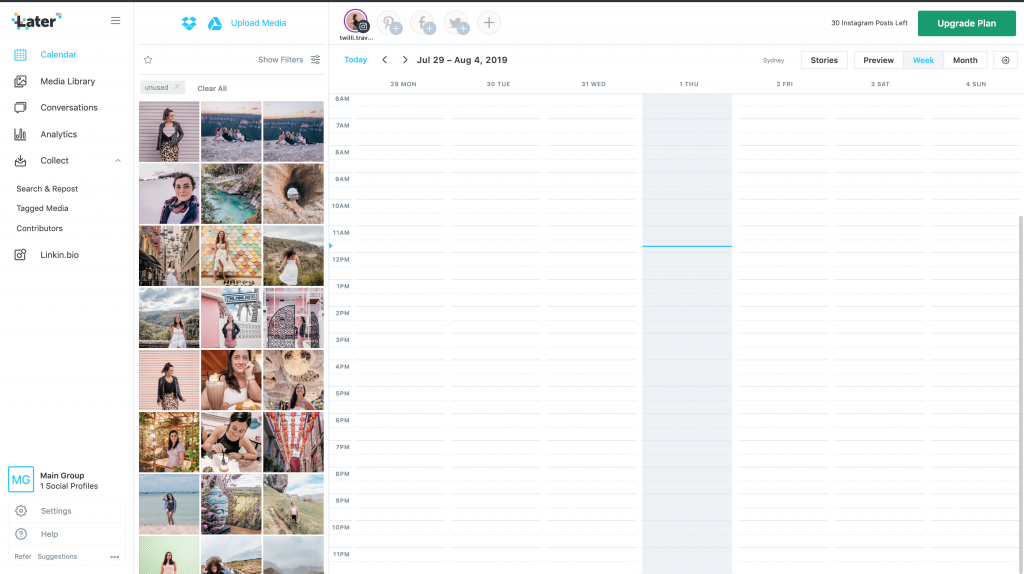 I previously used Later Media to schedule my posts, and found it useful up to a point. While working full time, it is easy to use Later on my laptop to upload media, add it to the calendar and schedule posts. As I was commuting to or from work, I could also open the app on my phone and have everything synced and be able to work continuously.
However, the biggest drawcard for me was their auto-post feature. You must have an Instagram business account and have your Facebook business page connected to Later to use this feature. Once that's done, it's super simple to use. Simply create your post, pick a time and done! You can also add location and tags when using auto-post, which is a big time saver.
Another positive is that Later can post to multiple social channels. This is handy if you have a Facebook and Pinterest account as well as your Instagram. For example, you can schedule your Instagram post then also schedule a pin to go out at the same time.
One downside is that you can't post carousels or videos. Only posting static photos doesn't get as much engagement from users as posting videos and reels as well, so once I started to outgrow single photo posts, I quickly moved on.
It also isn't as intuitive as other apps for visually planning your feed. Later is a scheduler, which is great but I am a visual planner. Having to switch between tabs to go between the feed preview and the calendar to work on different aspects of my post was not a good experience for me.
This platform is definitely targeted more at laptop and desktop users.
Something to keep in mind is that you are also limited to posting 30 posts a month with the free version. This platform isn't for you if you are posting content more than once a day.
As for analytics, you get the basic information like engagement rate on your photo, but only on the posts that you schedule through Later. So, if you posted a video or carousel directly through Instagram, Later would not be able to give you any in depth information.
To upgrade to a pro plan, it will cost $9 USD per month for a few more features like deeper analytics and options for posting videos and stories. For $19 USD per month you get everything including expert analytics for all social channels, hashtag performance, 250 posts per month, and more. I think this is worth it if you have multiple channels and have monetised your channels.
Mobile app only
Quick and easy planning
No auto-posting feature
Can post videos and carousels easily
Great for visually planning far in advance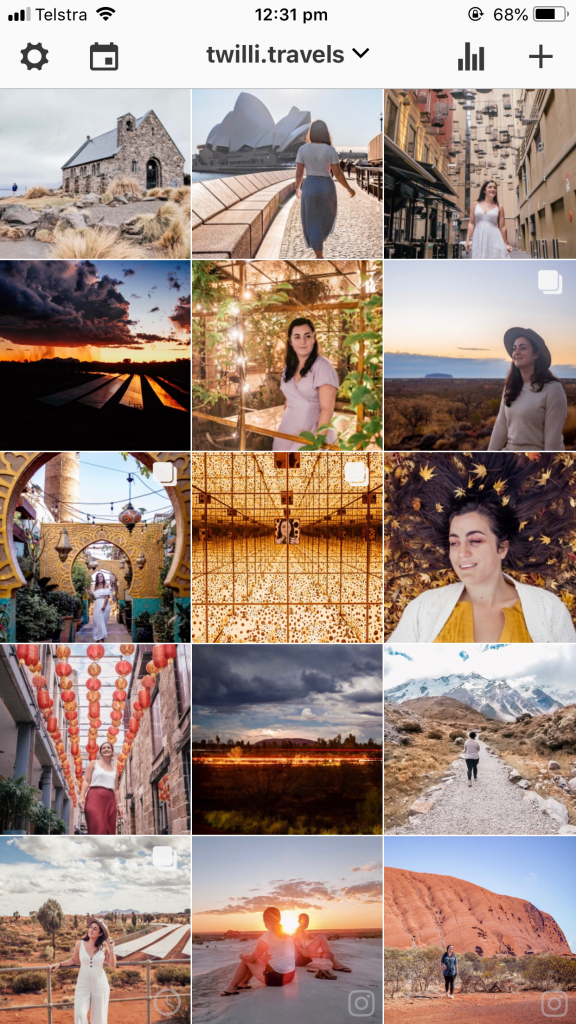 Preview is the Instagram feed planner I use at the moment. I find it's the simplest, quickest, and most visually helpful to use, especially because a lot of my posts include videos or multiple photos.
Since I also want to engage with my audience straight after posting, the fact Preview only has a paid autopost feature really doesn't hinder me that much.
Creating a post in Preview is simple. First, you add your media, rearrange them in the grid by holding and dragging, add your caption and hashtags to the post, and schedule. The app sends you a push notification when it is time to post.
Preview analytics are basic but useful. They include engagement rates per day or per post. It also shows you numbers by single photos, videos or carousels so you can see which type of post is working for you.
You can view your upcoming schedule in the calendar tab by day, week, or month. My favourite part, though, is the unlimited amount of photos you can store and are allowed to post in a month.
The app is basic, but it works well. If you're looking to just create posts in advance and don't want to worry about all the other fancy stuff, this Instagram feed planner is the one.
I have heard some people who are using Preview to post their pictures to Instagram are being shadow-banned but I've never had an issue. Preview is an approved partner of Instagram, so the validity of this is questionable. Either way - be careful!
To upgrade to a paid plan, it will cost $7.99 USD per month. This will give you full analytics, including hashtag analysis to find out which ones are working and which aren't. It will also open up some features like automatically adding a first comment.
Desktop + mobile app
Limited amount of photos you can store ahead of time
Can plan multiple feeds
Design + plan Instagram Stories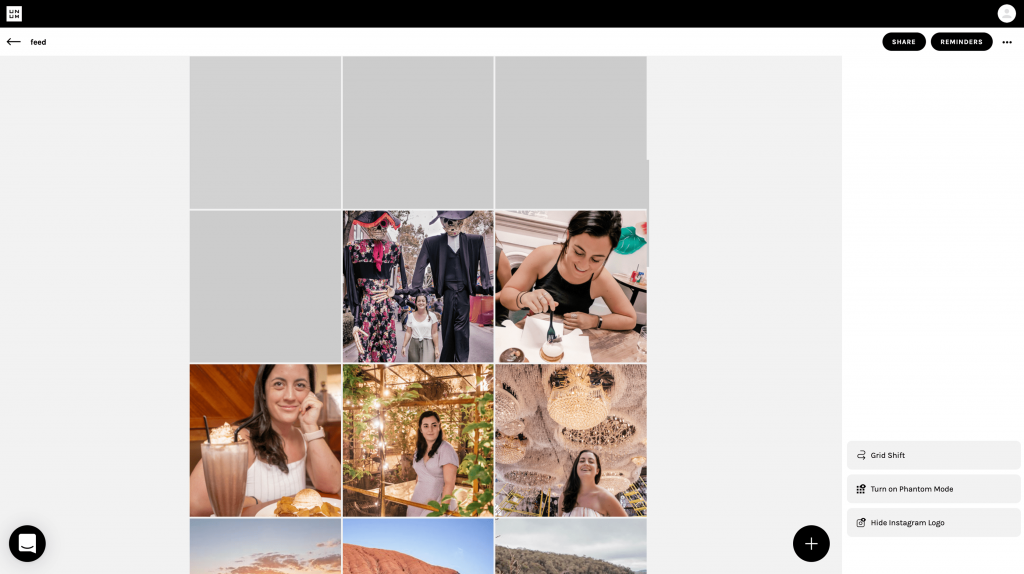 Unum as an Instagram feed planner was the most confusing for me to use. I tried it as I know this is a popular app amongst my network. However, the experience seems counter-intuitive.
Even though it does have a desktop and mobile app, the two don't sync well together. Make sure you set your profile up on both devices before adding photos and planning your feed. I didn't and found that each device was telling me different things.
You can post videos and carousels with UNUM. To create a carousel, you upload them separately then select them, then click the album icon to merge them together. For me, it does seem a bit more complicated than it needs to be.
Unum also has a reminder feature when scheduling posts and a calendar view to see what you've already scheduled.
One thing I do like about the free version of Unum is the analytics. It's more than just the number of likes and comments. You can see a graph of when you received likes and comments, see your best time to post, and your best hashtags. I'm unsure exactly how accurate the analytics are, but it's interesting.
I do like Unum's dark mode, it's ability to change feed colour accents, and the option to share your feed with other people. This would be great if you are working with different businesses on their Instagram accounts and you are looking for a planner that is able to separate these from each other.
The main downside for me was that Unum only lets you have a certain amount of 'grid posts' in advance. You have 18 grids to plan before you have to upgrade to get more.
This really didn't work for me, as I edit photos and immediately add them to my feed planner. In my Instagram feed planner right now I think I have over 50 photos, videos, and carousels ready to go. 18 just isn't enough.
For an Unum paid plan, it will cost $6.99 USD per month for 54 grids and deeper analytics.
Desktop + mobile app
User friendly
In desktop, see your feed and calendar in one view
Ability to post carousels and stories but not videos
Limited to 30 posts and 30 stories per month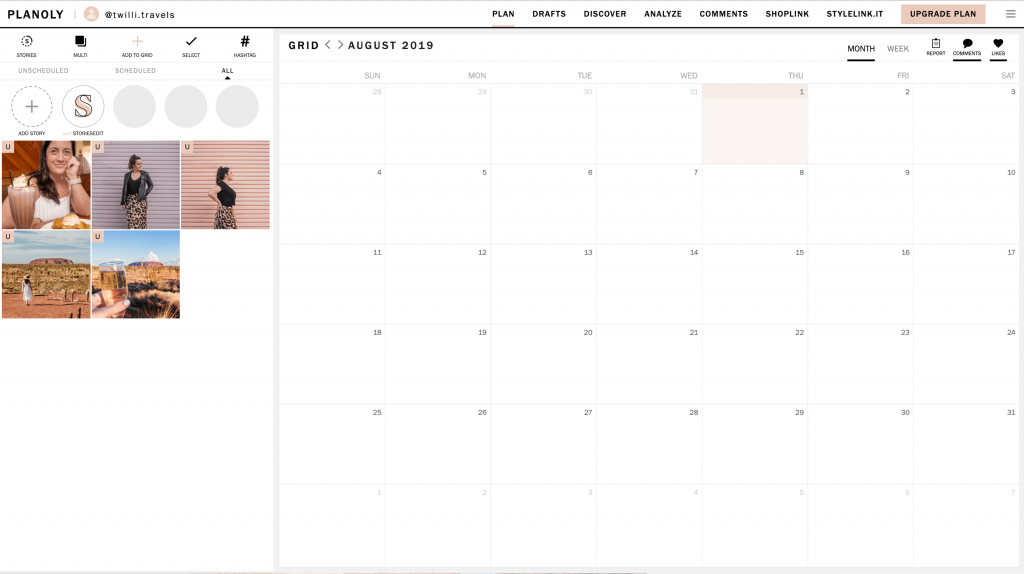 Planoly is definitely the prettiest Instagram feed planner, with soft pink tones and a well laid out screen. I feel it is aimed at influencers and designers. And it appeals to me.
I think if I were to pay for a plan, I would probably choose Planoly. I used it for a while before I used Later, but felt limited by the 30 uploads per month.
It also has an auto-post feature, which is handy. But, it does only let you auto-post single photos, as Instagram doesn't let you auto-post carousels and videos.
The desktop version of the platform lets you both plan your feed visually and via a weekly or monthly calendar, all in one view. This is so handy and very user-friendly. It also lets you plan stories in advance.
The interactions while navigating through the platform are simply intuitive. Planoly lets you do almost everything you might want or need to do to plan your feed effectively.
I like that you can add captions to media without having to add them to your calendar or schedule it first. Also, previous posts have the number of likes and comments displayed so you can see what times or visuals work best for engagement. It's little things like this that really set Planoly apart from the rest.
Planoly also has saved tags, lets you swap out media without messing up the order of posts, and lets you tag location and users for auto-post. If you have your Facebook Business page connected, it also lets you post to Facebook at the same time as Instagram.
The mobile app is also great, even though the feed preview and the calendar view are in different tabs in the mobile version.
The paid plan is $12.99 USD per month, which is pricier than the other Instagram feed planners. However, it might be worth it as you have deeper analytics, can upload unlimited media per month, and one of the handiest features is the ability to add a first comment along with your post.
Plann
Desktop + mobile app
Limited to 30 posts per month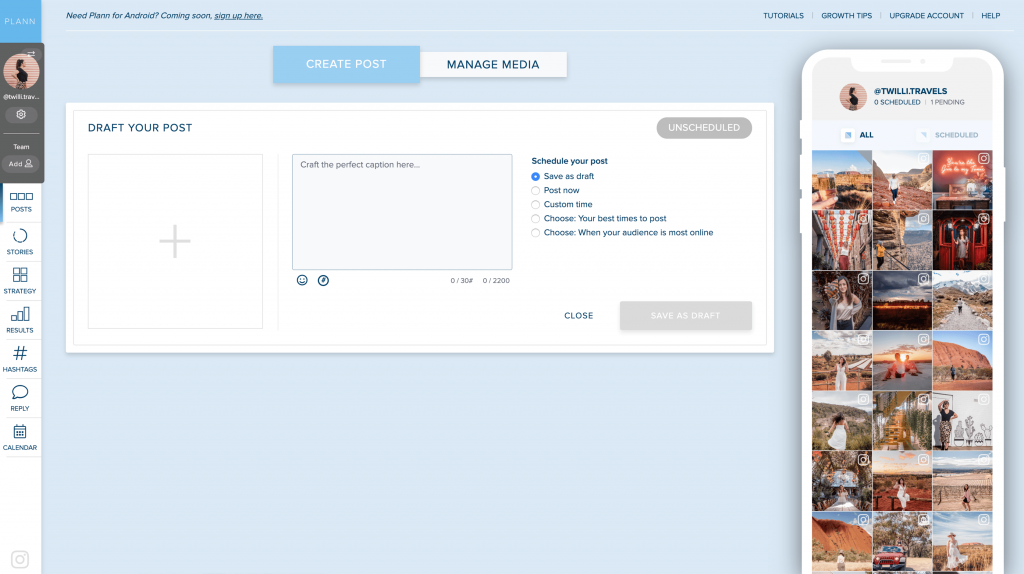 While not the most intuitive in terms of usability, Plann has some great features for its free version. I find the desktop version a touch more friendly than the mobile app, which isn't great for those that work on the go.
One thing I like about Plann is that when creating hashtag sets, it lets you search hashtags and see the number of posts on Instagram for that hashtag. This is perfect for really targeting niche tags that would suit your brand.
You can also reply to comments in the app, draft stories in advance, and has an option for a calendar and feed planner in one view.
It also has an option when scheduling a post, to pre-select a time that it knows has a good engagement for you based on previous posts or the times when your followers are most online. This prevents back and forth with your insights on Instagram.
It is limited to 30 posts per month, so reconsider if you do post more than once a day. You are also limited to 120 media uploads per month. I know I might use this up quickly as I upload media, readjust colours and brightness to match my feed, then re-upload again. If I do this multiple times per photo, then there goes my quota.
For a paid plan with Plann, you will fork out at least $7 USD per month for a Power User account. This gives you unlimited posts and uploads, as well as deeper analytics.
The best free Instagram feed planner
To answer this question, you have to decide on your working style. Do you prefer visually planning over scheduling? Or do you prefer to see your posts in a scheduled calendar view because visuals aren't as important?
I hope this blog helped you even just narrow down your choices. And keep in mind, these are just reviews for the free versions of these apps. If you are more than willing to pay for a paid account on any of these apps, that might tell a different story for you and your Instagram feed.
Happy planning, lovely people!