New York City is full of wonderful and exciting activities and places to see. Below I list some of my absolute favourite unique things to see and do in NYC that you may or may not have heard of before.
Hopefully this will help you get off the beaten path a little and see more of this concrete jungle than you would if you stuck to just the usual popular tourist spots!
Hess triangle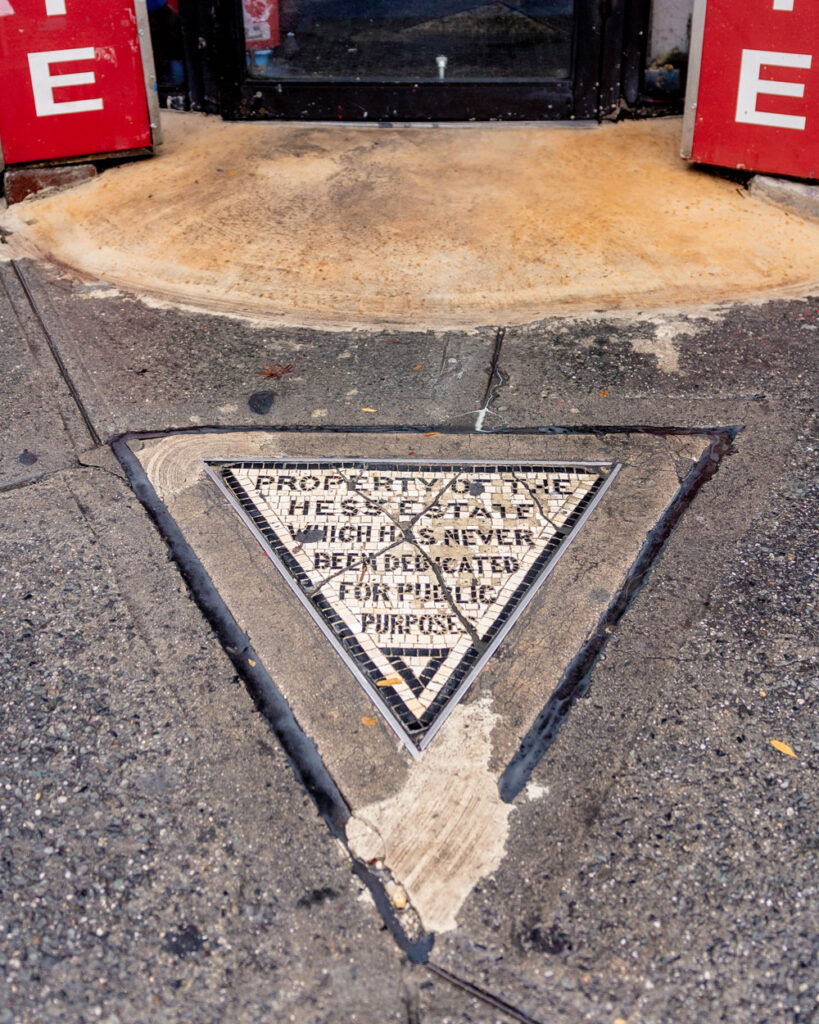 We're starting with my favourite! It's small, you could walk past it without even noticing, but the story behind it makes this one of my favourite spots in NYC.
Here's how the story goes...
David Hess owned an apartment building on this spot in the 1910s, when the city government claimed it to demolish it and widen Seventh Avenue. The Hess family fought the city but exhausted all the legal avenues and eventually had to give the building up.
The thing is - the survey conducted when claiming the building actually missed this one triangular section of footpath and the heirs of the Hess estate claimed possession of the land. The city asked the family to donate the piece, but they refused and instead installed a plaque on it.
It reads: "Property of the Hess Estate which has never been dedicated for public purposes."
It was the smallest plot of land in NYC until 1938, when it was sold to the store now located on the site. But the plaque still remains - the ultimate symbol of rebellion against authority.
Smallest museum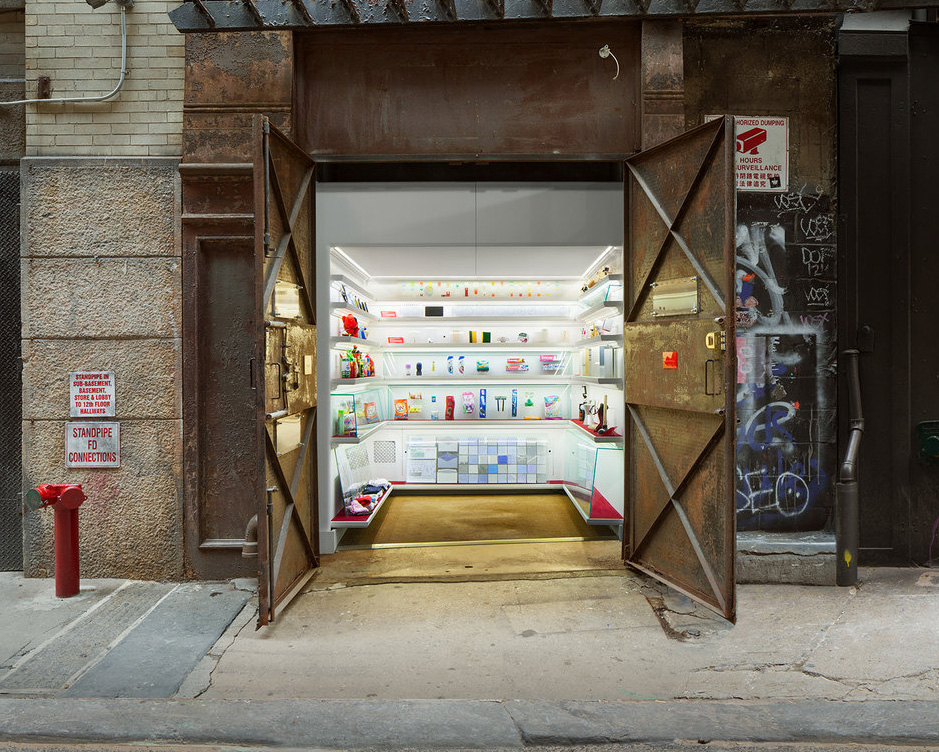 NYC has no shortage of museums. One of the smallest museums you can go visit is Mmuseumm, located in Cortlandt Alley. This museum is dedicated to modern artifacts related to journalism.
The most alluring aspect of this tiny museum is that it's actually in an old freight elevator! And it's accessible 24 hours a day through peep holes in the door.
Maths museum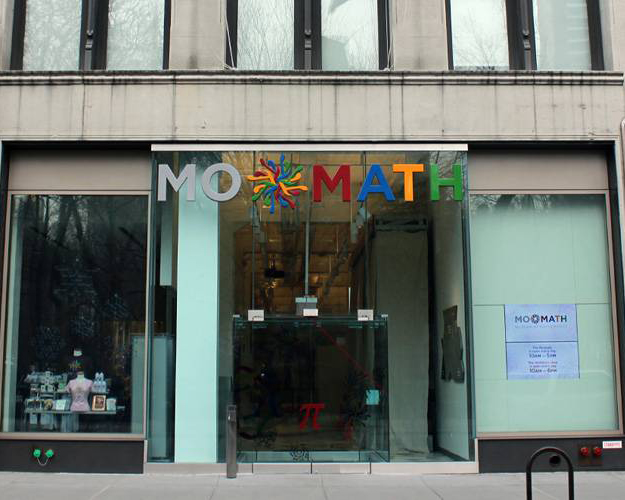 Another museum that you might want to visit is the National Museum of Mathematics. While it doesn't exactly sound that amazing at face value, the exhibits are interesting and most are even interactive!
This museum is great for kids, but also for the not so little kids at heart. Go in with an inquisitive spirit and you'll have a blast! Learn how maths plays a role in everyday life, sparking the curiosity in everybody with their cool displays.
Highly recommend visiting this one, even for a short time, or especially when it's raining!
Albertine bookstore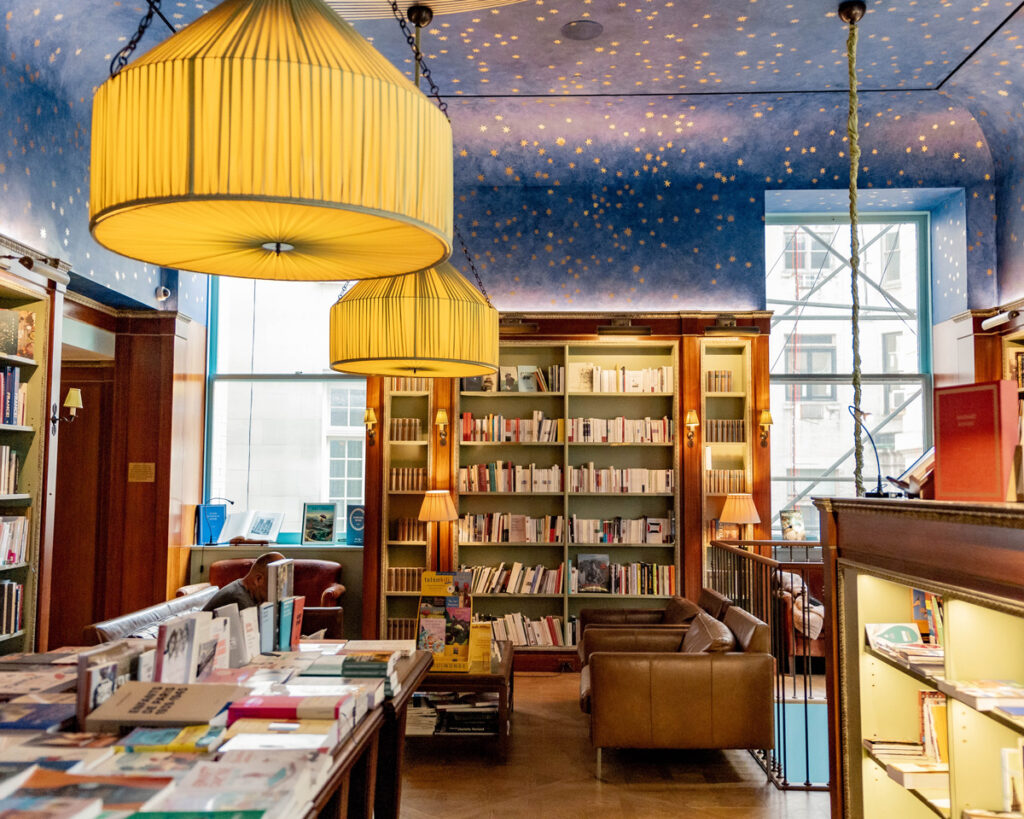 Albertine bookstore is one of the prettiest bookstores in NYC. It's also a French-American bookstore.
Sit in the reading room, pull out a book or graphic novel, and get lost in the celestial ceiling above you. Yep, that's right. The entire top floor of the bookstore is decorated like the night sky, with astrology signs and painted planets.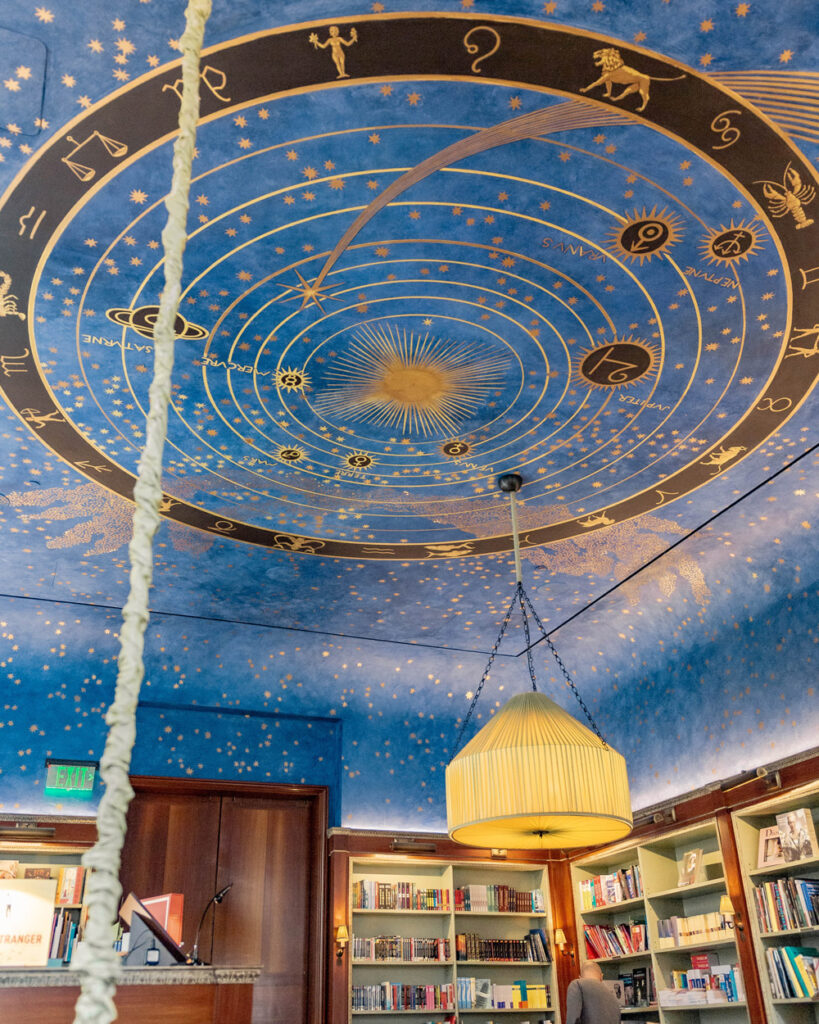 Downstairs, on the way in there is also a room decorated to look like something from the Palace of Versailles. Covered with ornate gold detailing and rich, luxurious fabrics.
This is the perfect place to stop in for a respite from the hustle and bustle of the city outside. Grab a picture, read a book and relax.
Street art in Bowery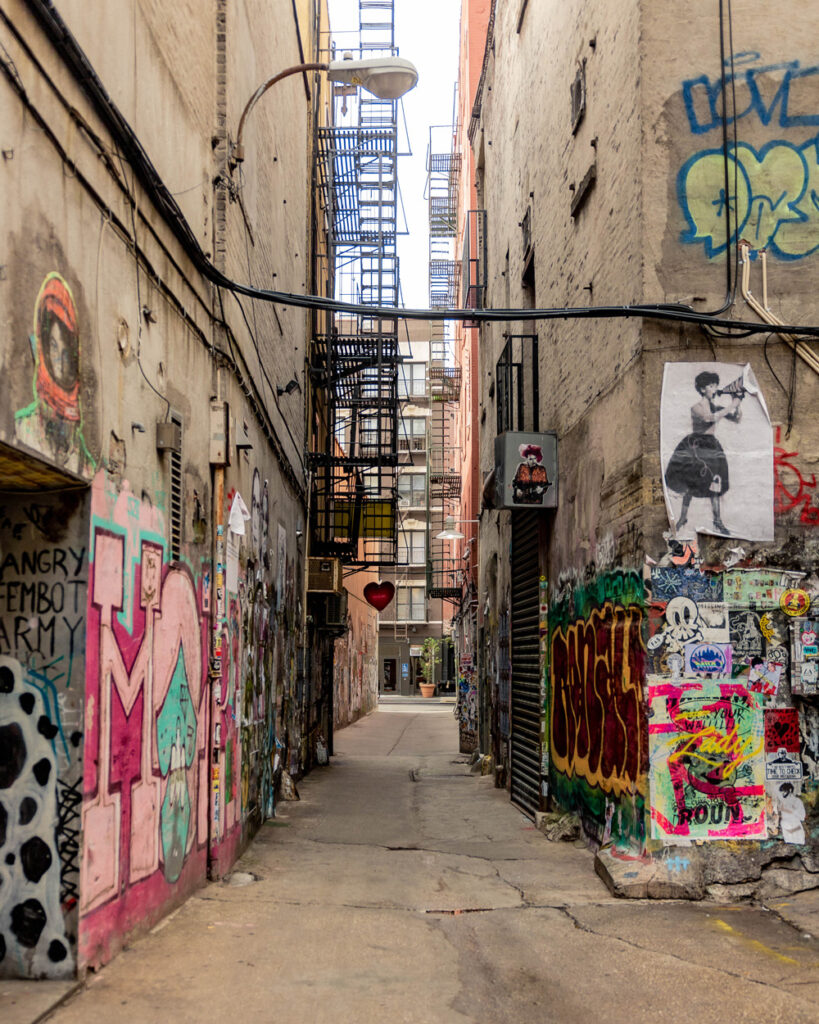 Bowery is a suburb on the lower side of Manhattan. Full of trendy bars, hip cafes and that typical NYC feel, Bowery is my favourite place to stay while in the city.
For what I consider to be a stereotypical NYC laneway, with fairy lights, hidden cafes and bars, and walls plastered with street art, I would recommend visiting Freeman Alley.
Bowery Mural is also a great place to check out some street art on a larger scale. This spot is considered an open-air museum, with the art changing regularly, sometimes even painted by a well-known artist.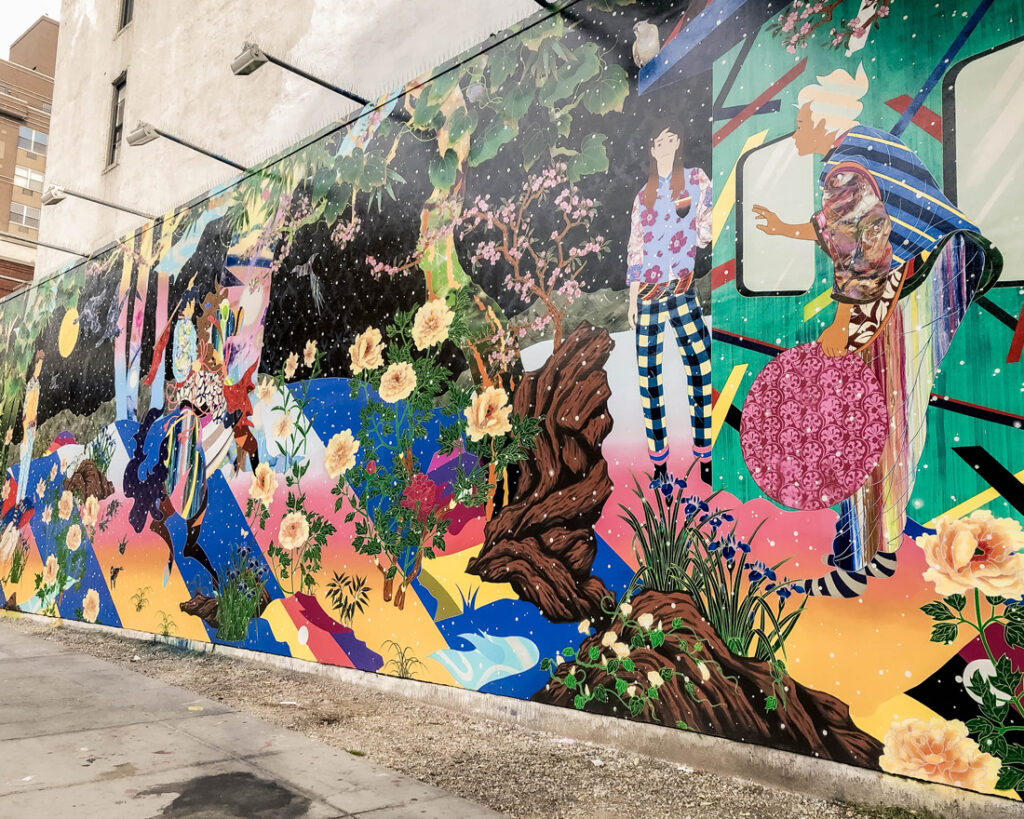 Street art, however, is everywhere in NYC, not just in Bowery. Keep an eye open as you walk the streets and enjoy the creativity found around every corner.
Rainforest inside an office building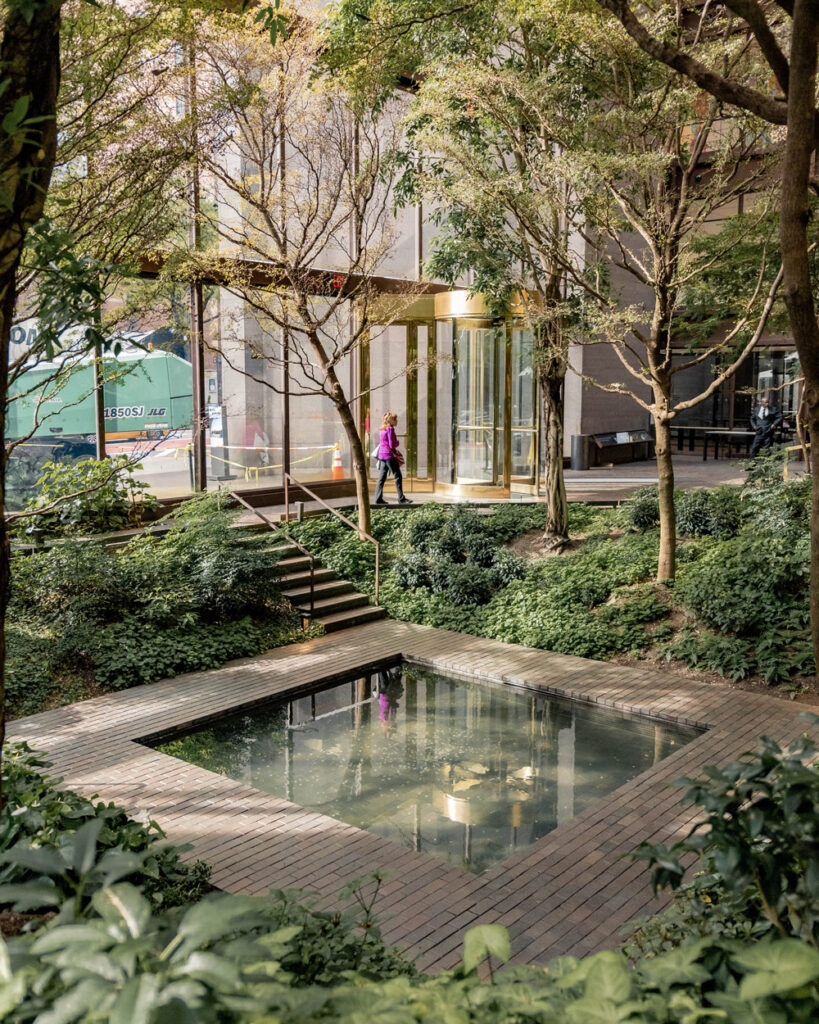 The Ford Foundation building is located in East Midtown. What is so special about this building is that it contains a rainforest in it's lobby.
Built in the 60s, this design inspired many other indoor garden spaces in office buildings.
While it is a great place to visit when raining, I recommend visiting on a sunny day around noon. The sun filtering through the skylights high above, hitting the trees down through to the small reflection pool is magical.
The Earth Room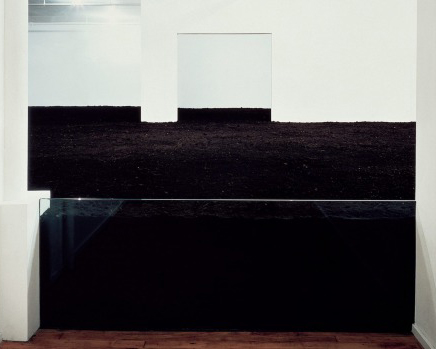 The Earth Room is an interesting sculpture exhibit on show in NYC. It is located on Wooster Street in SoHo, on the second floor of an otherwise inconspicuous building. Heading up the stairs, you get hit with the smell first.
The Earth Room is exactly that. A large room filled with soil. Almost 200 square metres of it. It's been there for 3 decades. And it's worth $1 million dollars.
Viewing this unusual piece of art is strangely calming. It's quiet, damp and feels like you've stepped into a very old forest, surrounded by nature in the middle of one of the biggest cities in the world. Stand still for a moment and take it all in - this is one of the most unique experiences you could possibly have in this metropolis.
New York Transit Museum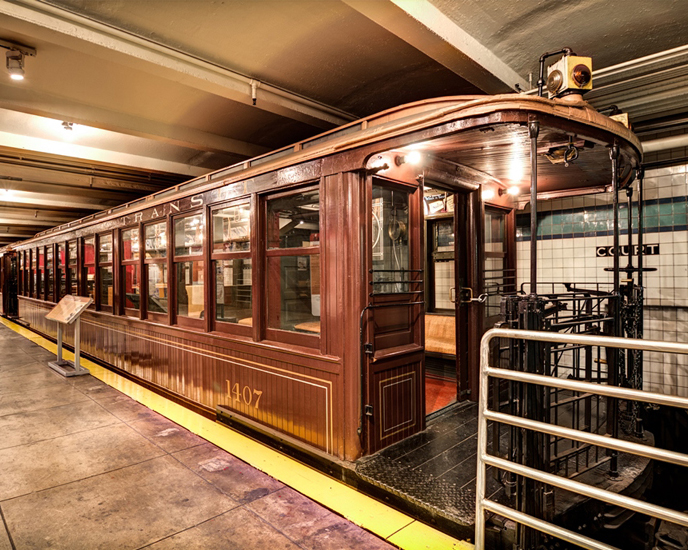 Even though I haven't personally been to the Transit Museum, it's been on my to-visit list for a long time.
Located in Brooklyn in an old abandoned subway station, NYC Transit Museum is a chance to explore the transportation of yesteryear.
Sit inside old subway cars and get some retro style photos. Find out how things worked before the handy Metro Card came into play. This museum is more fun than it seems and will be a great history lesson for all visitors.
TWA Hotel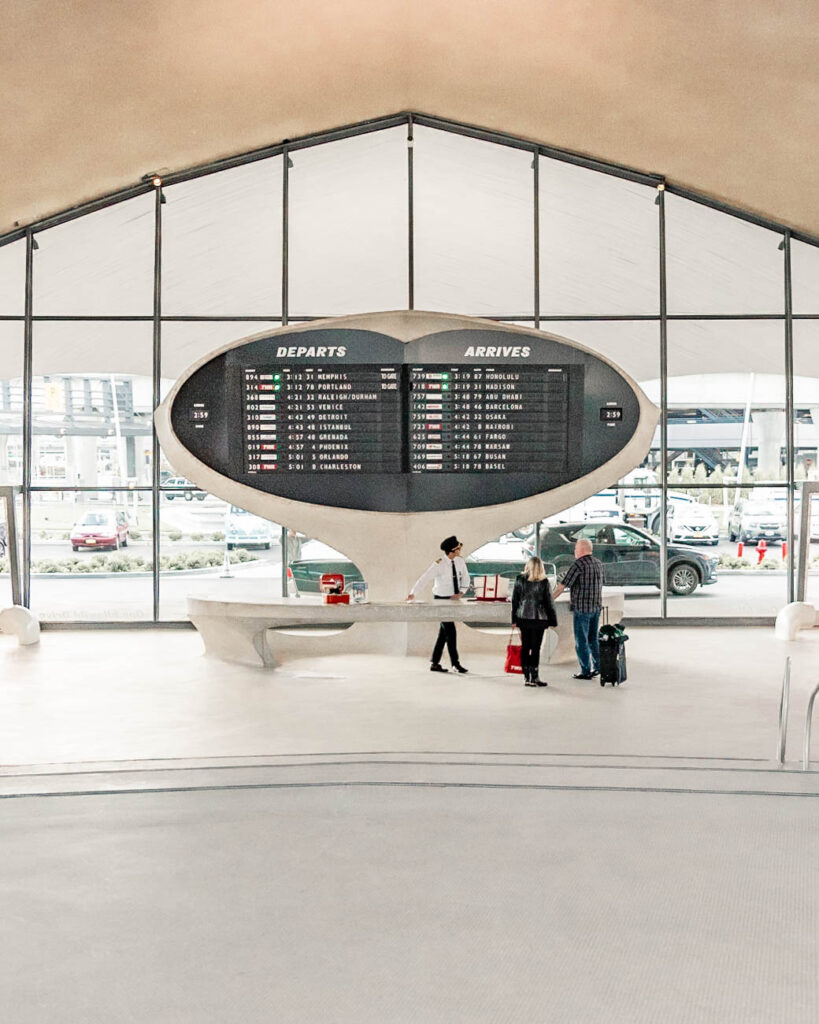 On your way in or out of NYC and have some time to kill? Head to Terminal 5 of JFK Airport to check out the TWA Hotel.
TWA was an airline that built their own terminal at JFK back in the 60s. They wanted it to be super futuristic and stylish. But as soon as they finished building the terminal, they went bankrupt. This place was empty for decades as they tried to figure out what to do with it.
They recently reopened it in May 2019 as a hotel! It is the only hotel actually located in JFK airport and was one of my favourite experiences on my last trip to NYC.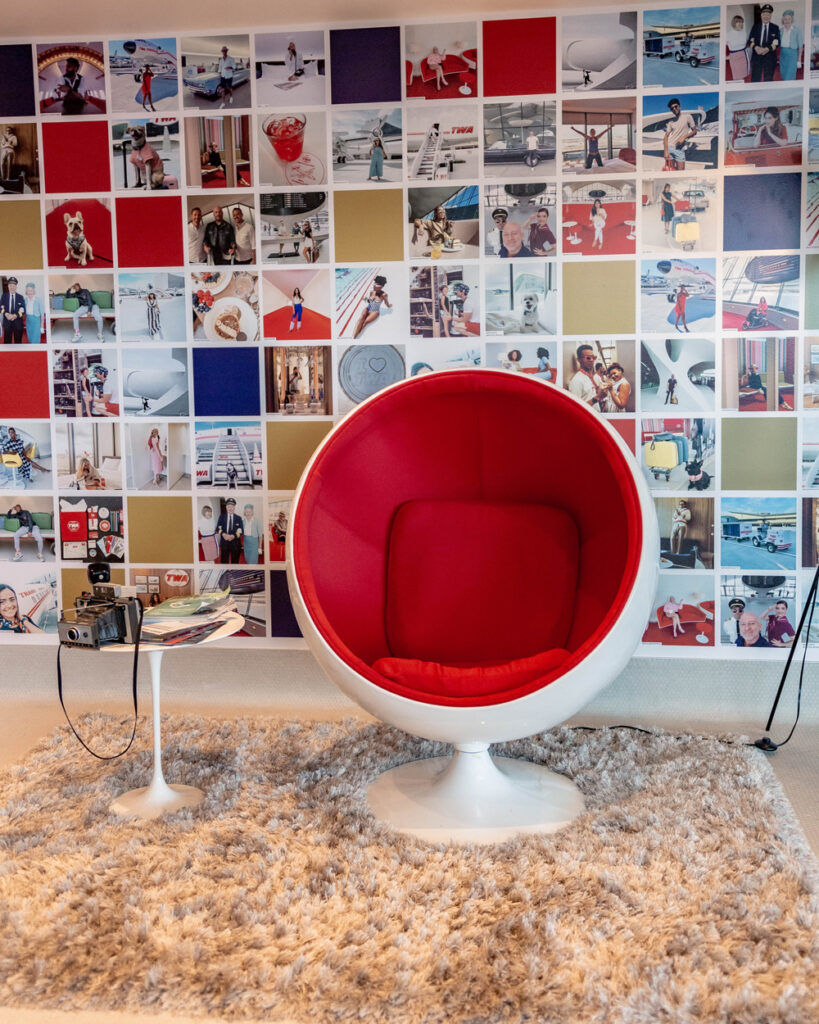 Everything is airport themed, with a retro twist. It's bright and open with little pockets of fun like photobooths, a library, twister (as in the game) room, and my favourite part, a bar in an old converted airplane.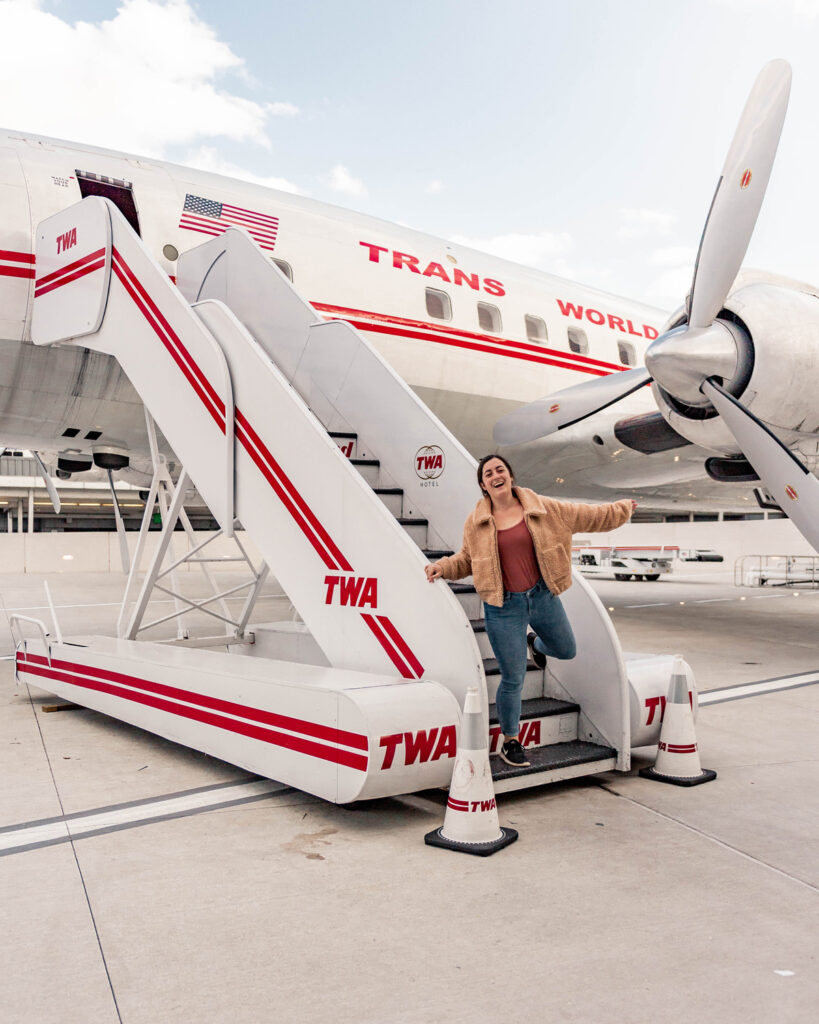 It is totally worth a stay if you have an overnight stopover. I know I will be staying if I have the chance!
Rainbow at Washington Square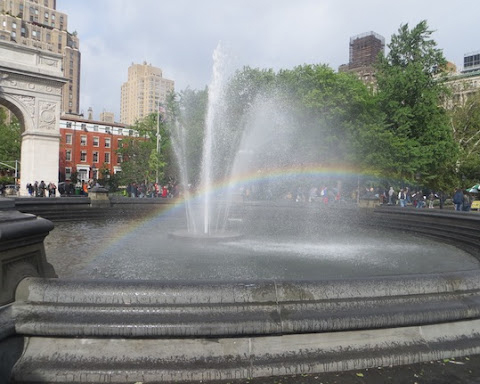 Washington Square is a hot tourist spot, mainly because of the Roman-inspired arch. The park itself is beautiful. However, pay extra attention to the fountain. Easily overlooked, this special moment is worth the visit.
While the fountain in front of the arch is only on in the warmer months, it's worth a visit just to see this - but only at a certain time of the day.
Firstly, it must be sunny, and secondly, it's best to see it when the sun is high in the sky. It's half well-executed planning, half luck. But beautiful if you catch it.
Bonus: Hidden holocaust memorial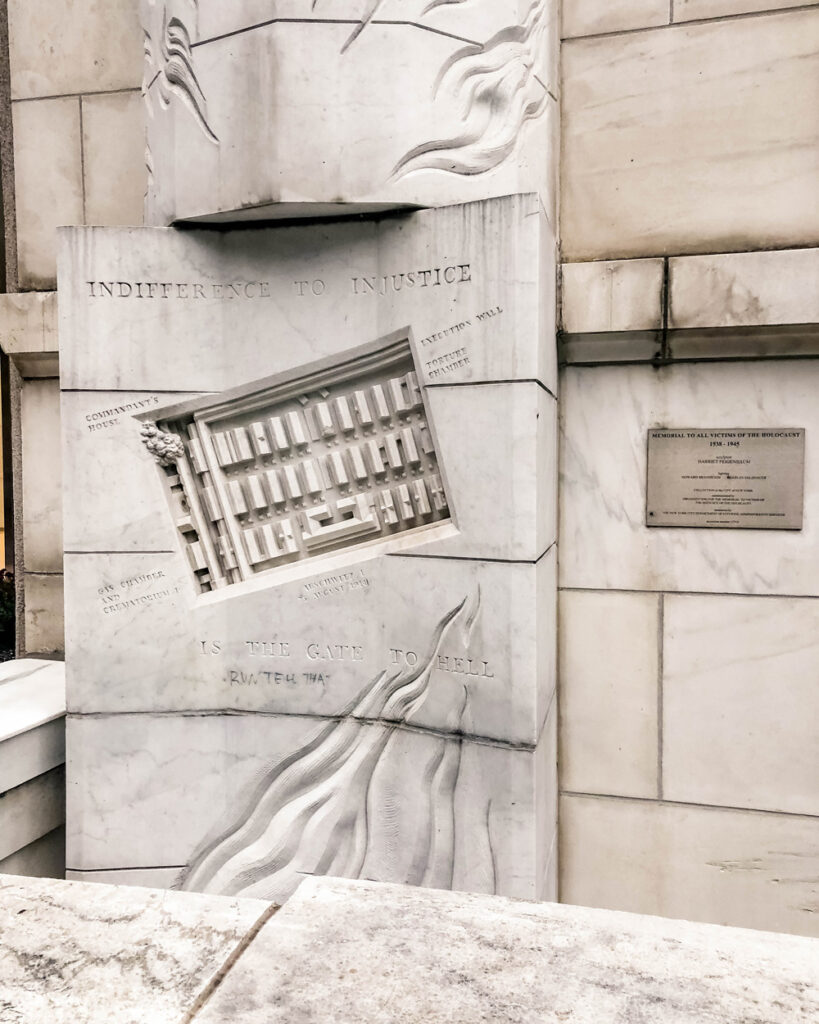 If you are exploring around the Flatiron building and Madison Park, walk on over to the the Appellate Division Courthouse. Hidden next to one of the columns closest to the park is a small memorial on the side of the building.
At eye level is an engraved sculpture of Auschwitz. It's based accurately on an aerial photograph taken by the U.S. Army Air Force in 1944. The camp was only liberated by Ukraine in 1945, a year later. It shows in surprising detail the execution wall, torture and gas chambers, officers' buildings, and more.
Basically, this memorial implicates that the U.S. knew about the concentration camps but did nothing about it. Around the sculpture are the words: "Indifference to Injustice… Is the Gate to Hell" - Pretty fitting for being inscribed on a courthouse.
Despite its size, this was one of the more moving things I saw during my visit. The impact of this tiny memorial is powerful.
What is some of your favourite unique things to see and do in NYC?
Share in the comments and I might add it to the post! I love discovering new, unique and boutique spots around the world. Visit my travel page to discover more.