Are you looking for the perfect weekend escape from the hustle and bustle of Sydney? I have THE perfect place for you to go. Think wineries, great food, views for days, constant events and all the best spots to sit back and relax, or party it up with your friends - there are so many great things to do in Hunter Valley Wine Country!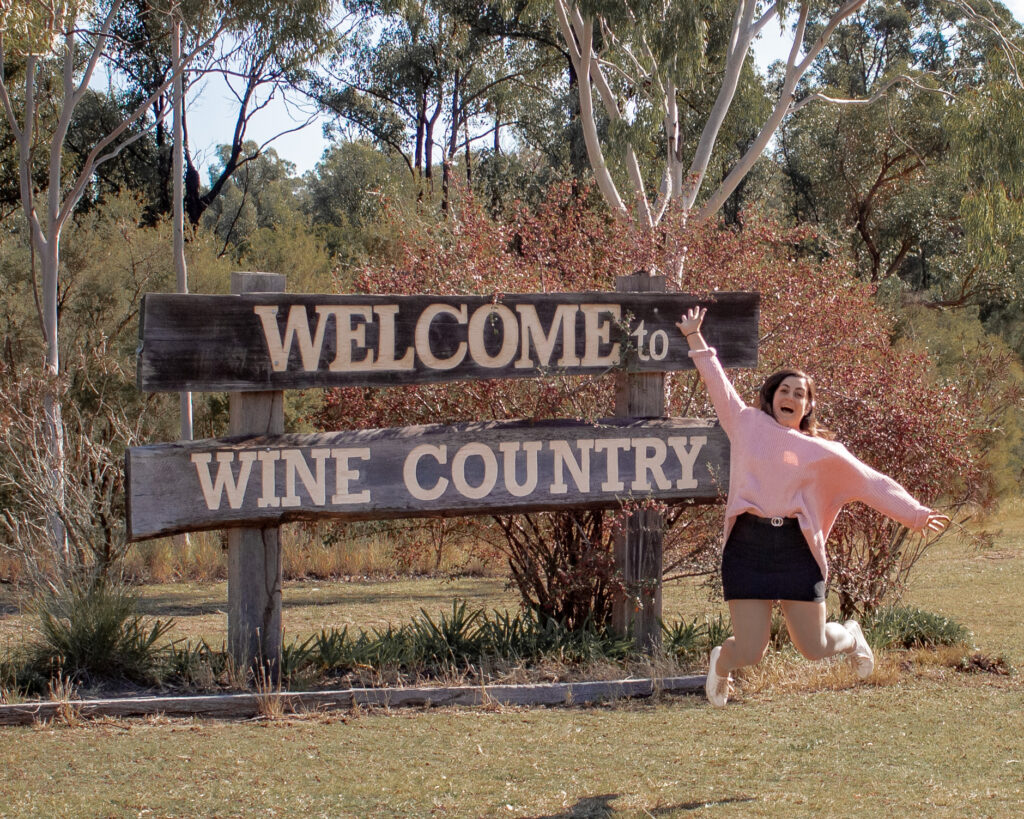 Getting there from Sydney
The Hunter Valley is located within a few hours of Sydney. If you drive, it shouldn't take you more than 3 hours to get there once you're on the highway.
Get some girls together and do a road trip. I recommend taking a few stops along the way and have fun blasting some tunes. if you don't have your own car, you can rent one through a rental company, or there is CarNextDoor or GoGet to help you get on your way.
If hiring or driving a car is not an option, there are other ways to get to the Hunter Valley.
Train services run from Sydney's Central Station to Newcastle suburbs, and Hunter Line train services run between Newcastle and the Hunter Valley towns of Maitland and Singleton. There are also some regional trains that run between Sydney and the Maitland area, close to hunter valley.
But the best option, in my opinion, is hiring a van with a driver for the day! There are many tour companies that offer this service.
Some that I know of include Hunter Valley Wine Tours. They pick you up from their Sydney location, drive you to the Hunter Valley with some wineries, food and sights, then drive you back again. No need to worry about going overboard!
Places to Stay
Staying in the Hunter Valley overnight can come included with multi-day tours, but I like to splurge a little and stay either on a winery or in one of the resorts.
I've stayed in both Cyprus Lakes, Wine Country Villas, the Crowne Plaza and in an airbnb in nearby Singleton. My favourite for a romantic couple getaway was the Villas, overlooking the vineyard. For groups and families, I would recommend Cyprus Lakes.
Cyprus Lakes
Cyprus Lakes is giant and includes so much with your stay like a pool, restaurant, even a golf course. You can book them directly, or some are found on booking.com or Airbnb. The villas are beautiful, nestled in a bush setting, so expect privacy and great views.
You can get a 2 or 3 bedroom villa, so there's room for all your friends and family. It's located just up the road from Hunter Valley Gardens, and pretty much in the centre of all the wineries. So you're close by all the main things to do in Hunter Valley.
The Crowne Plaza
The Crowne Plaza was great, I can't fault them at all, but are a bit out of the way if you are getting around the Hunter Valley yourself. Crowne Plaza would suit couples or groups that are just interested in a luxe hotel with all the amenities.
There are also quite a few Airbnbs around the area. Search for the suburb of Pokolbin to stay close to the wineries, or Lovedale is also a good and close area (but a bit further out).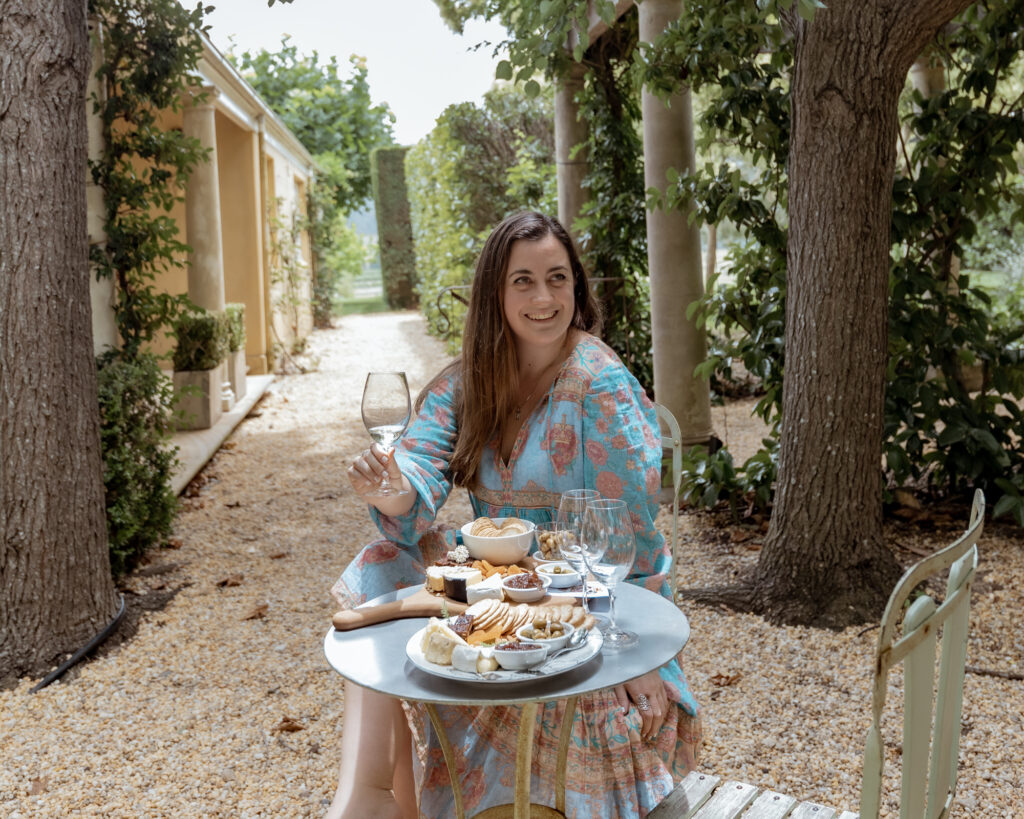 Places to Eat
Brunch and lunch
Peterson House
Peterson House is famous for its sparkling wine and its breakfast menu. Start your day here with some food and a drink at Restaurant Cuvee, as it's conveniently located at the gateway to the Hunter Valley winery area. The views are spectacular! Then why not make the cellar door and chocolate shop located on the grounds your first pitstop on a day of adventure.
The Deck Cafe
The Deck Cafe is located in Lovedale, and is a bit further out of the way than some other cafes in the area. But this is one worth the trek. The food looks and tastes great, and the outdoor seating overlooking the dam is beautiful. It has a rustic, vintage charm that keeps me coming back for a little bit of foodie escapism.
The Smelly Cheese Shop
You cannot go to the Hunter Valley and not stop in at the Smelly Cheese Shop. Located in Pokolbin, this quaint shop is right in the middle of the action. I highly recommend coming here to pick up some picnic supplies (they don't just sell smelly cheese!). A picnic is one of the best things to do in Hunter Valley. Grab some bread, cheese and other delicacies and when you grab a bottle or two from your cellar door visits, you have lunch all sorted to enjoy in one of the amazing vineyards in the area.
Dinner
Oishii Japanese and Thai
One of my favourite restaurants in the Valley, Oishii is delicious food overlooking Teatree Creek, right in the centre of things. The atmosphere is buzzing, and if you have a larger group for a weekend getaway, you can request to be placed in their private dining area.
Pick a local bottle of wine, grab some sushi or a curry and dive right in. If you do plan on drinking a few at dinner, make sure you have a taxi on standby as walking back to accommodation could be risky on the dark streets.
Bistro Molines
This restaurant is a bit out of the way, but for good reason. Winding your way through the hills on the way to this hidden gem is an adventure in itself. When making a reservation, ask to have an outside table. The view when you get seated is breathtaking, with rolling hills and vineyards as far as the eye can see.
Bistro Molines is a quaint, rustic french restaurant. I highly recommend coming here for sunset to celebrate a special occasion. But make sure one of you can drive, or be prepared to spend extra on a taxi, as it is out of the way from the Valley itself.
If you prefer to stay closer to home, any winery in the area will usually have their own restaurant attached to it. And they are all amazing! Take a look around while on your wine tasting tours and find the perfect place to circle back to for dinner for you and your group.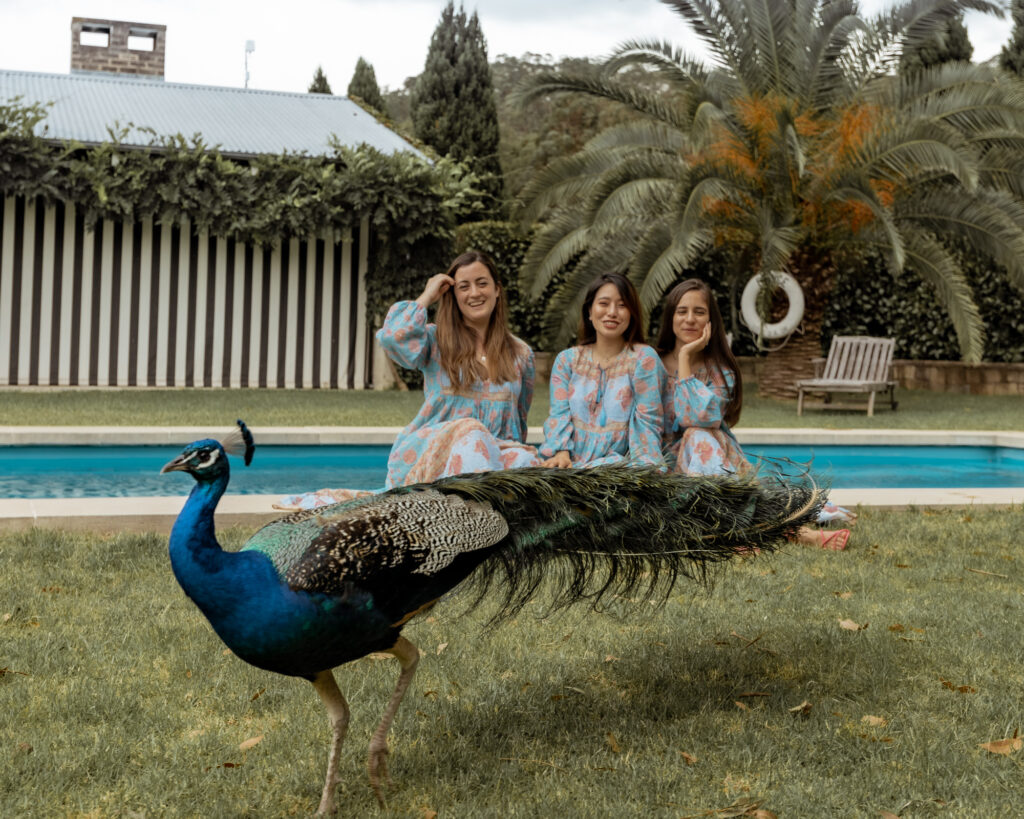 Things to do in Hunter Valley
Hunter Valley is a great place to shop for unique, boutique fashion, homewares and more.
One of my favourite places to go is Peppers Creek, with a little bit of everything on offer. Peppers Creek also has the most beautiful indoor/outdoor chapel overlooking the vineyards - check it out, even if you aren't religious it can be a great photo opportunity.
The local markets are also a great place to pick up a little something. Some of my favourite jewellery, I picked up at Handmade in the Hunter. These markets are located in Kevin Sobels Wines and they are on most weekends, but check the website for more information.
Even in the cooler months, there are many events on to go and check out. Hunter Valley Wine Festival is a perfect weekend escape and is on in June. Full of good wine, food, beer, cider, and more all in one place - it's a great day out. Then why not stay overnight and go explore more things to do in Hunter Valley the next day (if the hangover isn't too much).
If you have time, you can also head out to Broke. A little further from Sydney than Pokolbin, Broke has more wineries, restaurants and shops that have less of the crowds, but just as worthy of a visit. Krinklewood Biodynamic Winery is a great place to start, with beautiful grounds and wines to taste.
Hunter Valley is also a popular place for festivals, concerts, events and more. No matter which weekend you choose, there will more than likely be something to entertain you.
Last, but not least, even if wines aren't your thing, Hunter Valley has some amazing spas. Why not treat you and your girls (or guys) to a spa day! Massages, facials, mani pedis.. the works!
My top 6 wineries in Hunter Valley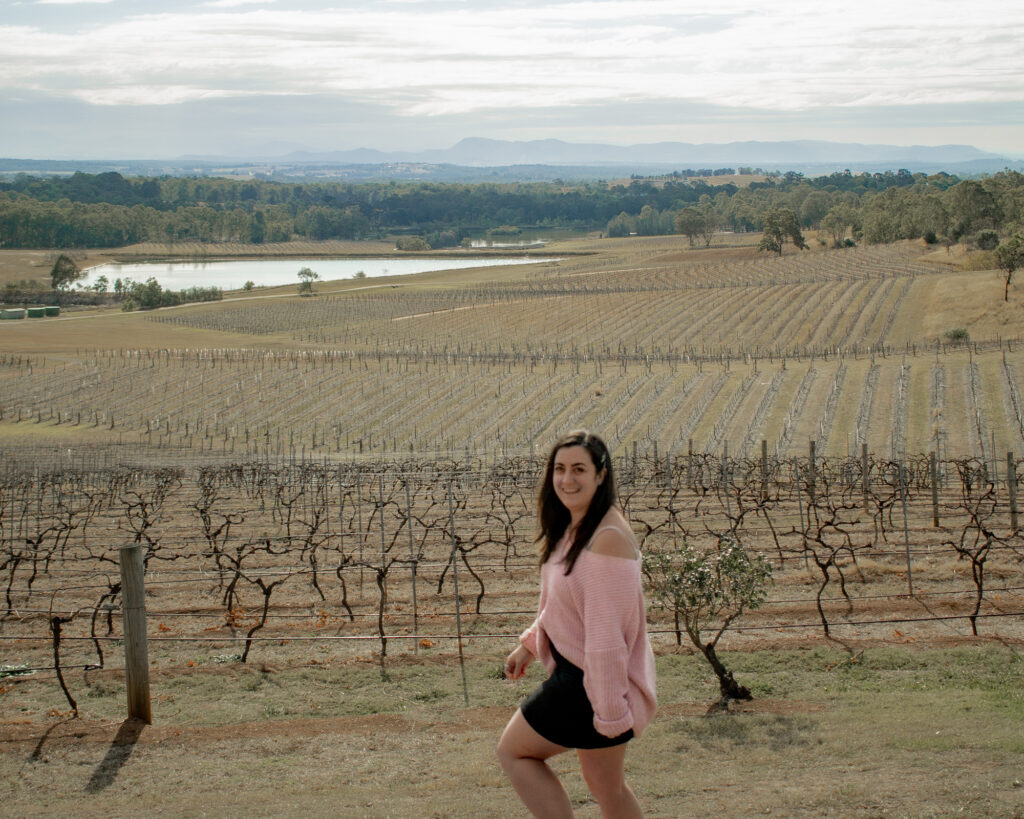 Audrey Wilkinson
Audrey Wilkinson has the best view of Hunter valley, hands down. I personally love their rose wines and dessert wines. Grab a bottle after your tasting to go and sit outside on the hill and enjoy the sunshine and vistas.
Blueberry Hill
Blueberry Hill wines is my pick for the hidden gem of the Hunter Valley. It is a bit further out of the way, but their set up is worth the visit. It's small and boutique, with beautiful views and food while you have your wine tasting. But I highly recommend packing a picnic to sit in their outdoor area for a quiet lunch.
Hungerford Hill
Hungerford Hill wines are in my top picks because of the interesting buildings. Their wines are good, but I recommend visiting this winery for the photo opportunity, especially if you love unique architecture.
Tempus Two
One of the most infamous wineries in the Hunter, your visit wouldn't be complete without stopping in at Tempus Two. This winery is situated in the main area of Pokolbin with restaurants, shops, views and, of course, a great selection of wines.
Peterson Wines
If sparkling wines are more your speed, you can't go past Peterson Wines. They are famous for their bubbly. I recommend starting your tasting tour here, as their restaurant is great for brunch. They also have a chocolate shop next door, so pick up some treats while you're there.
Krinklewood Vineyard
If cheese boards, peacocks and a european style courtyard amongst the vines isn't enough to get you to head out to Broke and see this winery, I don't know what is. Even though Krinklewood is a bit further out, this winery is a must on my list for things to do in Hunter Valley!
Honorary mention: Hunter Distillery
While not technically a winery, Hunter Distillery is a must when in the area. Most tours stop in here for a pit stop between the wineries. Hunter Distillery has a huge selection of different flavoured gin, vodkas, schnapps and liqueurs, which you can drink straight, mixed, or even with food (I love to have my mango liqueur over ice cream).
---
So, have I convinced you yet? Let me know if you are going, have gone and what you enjoyed or if you have any questions!
If you have any other tips for things to do in Hunter Valley, let me know in the comments!
---
Looking for a staycation weekend instead? Check out my blog review of the Shangri-La Sydney.
I am a huge fan of staycations. We don't always have the money to go on a lavish overseas holiday. A quick weekend away (or not so far away) works just as well to revitalise our spirits.
Last year I got the chance to stay at one of my absolute bucket list hotels - The Shangri-La Sydney. Knowing that The Shangri-La has some of the best views, amenities, and service, I was excited to live it up for a night in this amazing hotel.
Location
The Shangri-La Hotel Sydney is located right in the heart of The Rocks. This area of the city is one of the oldest with sandstone buildings, cobblestone streets and a modern twist here and there.
Many of the rooms here have stunning views of the Sydney Harbour Bridge and Sydney Opera House. Alternatively, you get sweeping views of Darling Harbour and the city on the other side - something to marvel at, especially at night.
Before we checked in to start our staycation, we visited the infamous Morrison Bar & Oyster Room. These guys have $1 oysters and yummy burgers to enjoy and with a glass or pint of your favourite drink, how can you resist?
If Oysters and Burgers aren't tickling your fancy, there are a host of other restaurants, cafes and bars within stumbling distance of the hotel that you can enjoy. The hotel even has it's own restaurant and bar that you can experience, but more on those later.
The Shangri-La Sydney Stay
The building hosts a number of rooms for all walks of life. All rooms are spacious and beautifully decorated.
We chose to stay in the Horizon Club Sydney Harbour Room, with views of the bridge and Opera House. The best part of the entire stay is the view from your room as the sun rises over the Opera House, lighting up the sky with pinks and oranges as you sit curled up in your cosy blanket. Even if you aren't a morning person, you need to wake up early for this.
It also came with the extra perks of the Horizon Club such as free breakfast, canapes, drinks and the coveted late checkout. Any extra time you can get to enjoy the full experience of the hotel is worth it.
The arrival at the Shangri-La Sydney is also one of the best I've ever had. The check-in is prompt and polite. Tip: even if you don't have a Horizon Club room, ask for a late checkout and they will do what they can to accommodate you.
Welcoming someone into your home is a pleasure, and Shangri-La Sydney do it well!
When you get to your room, what we found extra delightful was the welcome tea waiting for us, warm and delicious. It came with a small note. We learned providing tea on arrival is a symbol of welcoming guests and neighbours into your home. It is a way of showing respect to those visiting.
Safe to say this first interaction set the tone for our whole staycation.
The rooms also give you the option of a pillow ordering service, free wi-fi access, a TV and DVD system and access to the gym, pool, spa services and more offered within the building. There is a workspace too if you must work. It also comes with international plugs, so no need to worry about which cord goes where when setting up your space.
We wandered around the hotel for a while, checking out the pool and spa with a quick dip of our toes. The gym was right next door and had everything you might need to get your body moving. It was really spacious for a hotel gym!
We also looked at the spa offerings and was pretty tempted by the massage and facial. If I stayed here again I would definitely make the time to spend a couple of hours in that relaxing space.
Altitude Restaurant and Blu Bar
Please take note: Blu Bar on 36 (the cocktail bar on level 36) will blow your socks off! This isn't an exaggeration.
This is the perfect place to watch the sunset while sipping on a drink or two. Head here before your dinner at Altitude restaurant. Just check sunset times before you go so you are prepared. It is busy, so get there about 30 minutes to an hour before the sun goes down.
The drinks can be a bit pricey, but when else do you get a view overlooking either Watson's Bay or Sydney Harbour with the bridge and Opera House, with an excellently made cocktail in hand.
Just sit back and relax with table service and super friendly and knowledgeable bar tenders catering to you as you watch the sun slowly lower beyond the horizon and the city change into a rainbow of colours before your eyes.
When the sun has set and you are ready for some food, head to Altitude restaurant. Located right next door to the bar, it also has great vantage point over the harbour.
We chose the 3 course menu and it was everything I hoped it to be and more. I wanted that dinner to last forever.
The views, the food, the wine, the service. For that time I got to feel what it's like to be in heaven and I still dream about it even now. (Am I exaggerating too much? I'm not sure.)
To be honest, I let the waiter pick my food for me so I couldn't even tell you what I had. Everything on the menu looked so amazing and I couldn't choose.
When ordering, I told him to chose for me which ever dish he thought I would like the most and he was spot on. If you like surprises, I highly recommend doing the same. I received food I probably wouldn't have picked on my own and this is my favourite way to do it.
We stayed to enjoy the lights twinkling over the city as we had another glass of wine. We really didn't want to leave.
It was a slow, satisfied walk back to our room after this. The night was perfect and the sleep would be the cherry on top. We left the curtains open and enjoyed the view as we drifted off.
Breakfast and canapes with a view
I woke up early the next morning to enjoy the sunrise from our window. The city turned pink, orange and yellow as you could see the streets becoming busier below. It was a surreal feeling.
The previous day we had taken full advantage of the complimentary afternoon tea that was included with the Horizon Club rooms. With sushi, quiches, fruit, scones and so much more available, it was a great opportunity for a bite to eat before our drinks at Blu Bar.
With high expectations, we tore ourselves away from the view to head to breakfast.
Shangri-La Sydney have one of the best spreads for breakfast I have experienced. Bottomless coffee and tea, hot breakfast, cold breakfast - they have it all. I chose some scrambled eggs with avocado, bacon and toast.
The area in which they have the complimentary meals also has sweeping views of Sydney harbour (sensing a trend here?), so we stayed a little while longer and enjoyed the morning eating, sipping and chatting.
With our late checkout time approaching, we headed back to our room to pack up and that was that. One last snap of the view from the room and our 24 hours in Shangri-La Sydney was over.
What's around Shangri-La Sydney
After checking out, which was super simple and quick, we decided it would be an amazing opportunity to explore a bit more of the area. We hadn't left the hotel the whole time we were there.
You can check out the Opera House and The Royal Botanic Gardens - a beautiful, peaceful walk I highly recommend.
You should also have lunch at one of the many cafes around The Rocks - some of my favourites include Firestone Sydney, The Tea Cosy and Caminetto. You can also go for a drink and bite to eat at Opera Bar!
After this you can wander around the free exhibits at the Museum of Contemporary Art, or if you are there on the weekend, check out The Rocks markets.
There is literally so much going on around The Rocks and Circular Quay in Sydney that it is impossible to not have things to do.
To book a Shangri-La Sydney staycation (or vacation), check out booking.com - the cheapest rates and the latest info.
Thinking about booking a stay for your birthday? Check out my blog post on all the freebies you can get on your special day.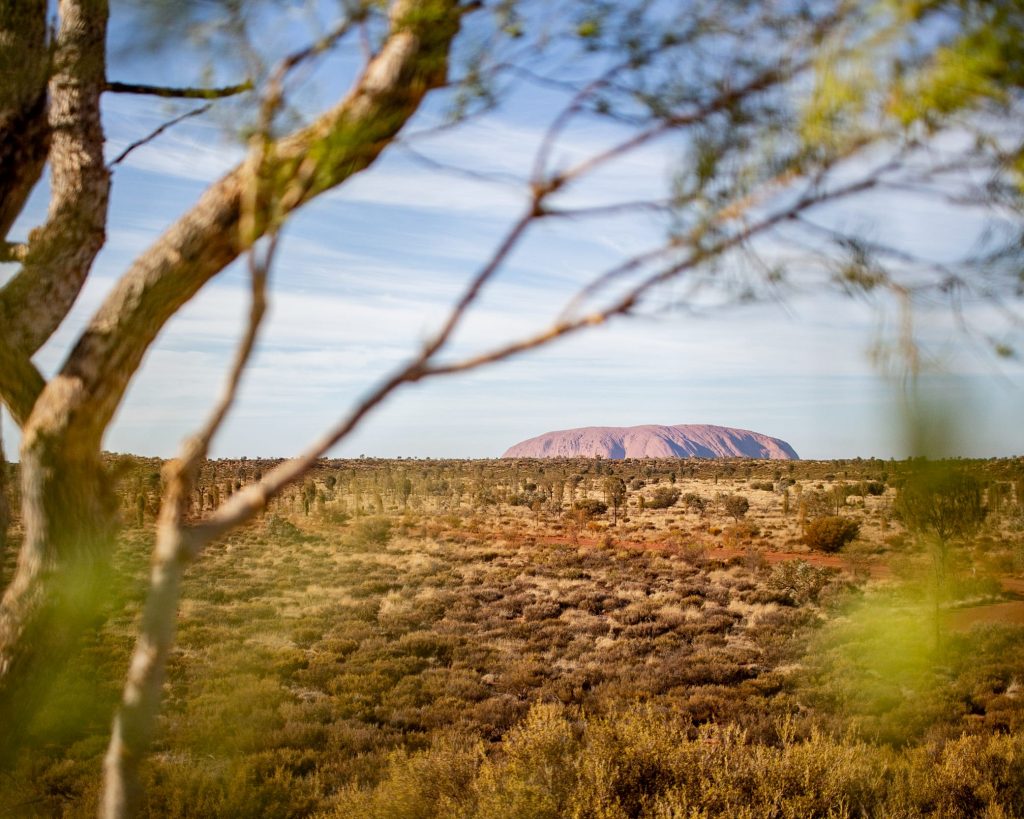 Visiting Uluru is a must. For Aussies, for travellers, for everyone. It's a right of passage - have you really been to Australia if you haven't been to Uluru?
Getting to Uluru
Flying from Sydney, getting to Uluru was a mere 3.5 hours. 3 hours from Melbourne, or 2 hours from Adelaide. Not too bad. You can fly with Jetstar or Virgin Australia into Connellan Airport, the name of the local airport and it's a quick 10 min shuttle ride to the resort from there.
You can also drive from Alice Springs, Darwin or Adelaide and experience more of the landscape that makes this area truly unique. Who doesn't love a good roadtrip?
The mistake that most tourists make in visiting Uluru is that they go during Australian summer.
I understand that this is high travel season for a lot of people, but unless you can handle up to 55C days and a million flies trying to get into every open hole in your face, your best bet is to go during winter. The weather is less humid and cooler (about low to mid 20s during the day and around 10 during the night).
We went at the end of Autumn and it was still hitting 30C when the sun was up. Something to keep in mind considering that once you're out at the rock, there is not a lot of shade to keep you cool.
I've also heard people mention that a day or two is enough to see the area. I highly disagree. We did 4 days and it was just enough time to see everything major there is to see but we also could have done more.
Where to Stay
The only place to really stay close to Uluru-Kata Tjuta National Park is Yulara, which is entirely comprised of Ayers Rock Resort. All hotels, restaurants and amenities are owned by them. It's its own little town with police station, supermarket, petrol station and more.
There's something to suit everyone though, with a campground, backpackers, family hotel, boutique hotel and more high end luxury hotels. We stayed in Desert Gardens Hotel in a Rock View Room, a lovely hotel with the best view of Uluru from the resort. It included a large king size bed, TV, fridge, bath and balcony overlooking the rock. Perfect for a weekend away.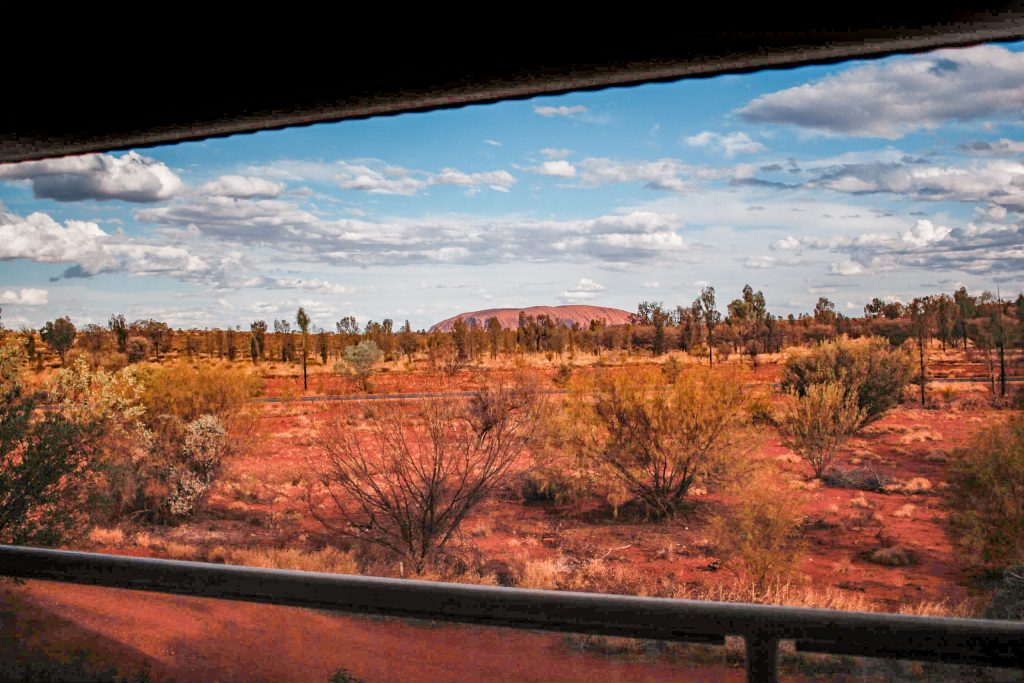 The one good thing about everything being owned by the same resort, is that no matter what you want to do, you can book it all though your own hotel's concierge. We booked our bicycle hire, restaurant dining, bus transfers and more. The staff were super helpful and very friendly. If you don't know what you want to do while there, they can help with that too.
As for food, we ate at several places around the resort. My favourite was either the Pioneer BBQ, a cheaper and more family friendly option, where you choose and cook your own meat - they even have crocodile and kangaroo on offer! - or the Arnguli Restaurant.
We treated ourselves to a meal here and were not disappointed. It was our anniversary and my birthday so we thought, why not? There are several high end restaurants but went with this one for convenience as it is also in the Desert Gardens section of the Resort. Great, indigenous inspired food really put you in the right mindset for the experience!
How to get around
There are a couple of options when considering how to get around the area. We opted for the Uluru Hop On Hop Off bus, and tours that would take us out and show us around. But there is also the option of hiring your own car, picking it up from either the airport or the hotel, and driving yourself around.
While we liked the bus and couldn't really fault the tours at all as we learnt so much from our guides as well as getting food supplied, we decided that hiring a car would have been better, timing wise.
The bus has four or five transfers to Uluru and Kata Tjuta per day and if you miss it, you will need to wait about an hour for the next. There are specific sunrise and sunset bus times (around 6am and 7pm respectively during winter), so don't worry about that.
But having a car is just an extra level of freedom to explore and visit locations further away from Uluru that the bus doesn't take you.
Whether you choose a car or bus, you will need a National Park Pass. They check this either when you enter the National Park (there is a boom gate and operators), or when you start your tour. This gives you entry to see Uluru, Kata Tjuta and the surrounding park area, and will cost $50 pp for 3 days.
The national park opens at 6am and closes at 7.30pm during May, when we went. Sunrise was about 7am and sunset 6pm, so this gives you plenty of time to enjoy the show and then head back home. Just note that once the sun has dipped below the horizon stay another 15 minutes or so as the colours of the desert around you intensify.
Check opening times and book your pass at the National Parks website.
There are specific tours that go out for sunrise and sunset and take you to the specific viewing platforms around the two formations that are built for that purpose. These are really popular though, so just be mindful.
Where are the best views
There are also lookouts in and around the resort that give you uninterrupted views of Uluru and Kata Tjuta.
We found the best lookout was either the Imalung lookout, located right in the centre of the resort looking out over Uluru to the front and Kata Tjuta to the side, or a lookout just off Napala Rd, opposite the war memorial (other side to the turn off onto Kunia St).
Just a note on photography at Uluru - while walking or riding around, please note that there are sections of Uluru that are considered sacred to the local aboriginal people and therefore are not allowed to be photographed or filmed. Don't worry, there are lots of other places just as beautiful that can be photographed so you won't be short on photo ops.
Drone use is also restricted within the National Park. But we found some places just outside of the park that we could lift off and fly around, with just as amazing views of Uluru and surrounds.
Funny story - be careful of Eagles in the area. One tried to attack and take our drone on one of the flights! I've never had my heart racing as much as it was in that moment, with me running to the drone and my partner trying to bring it down so I could catch it and the eagle swooping in.
It must have been hilarious to watch from the outside, but damn it was scary at the time. We were careful to watch out for him after that.
Exploring Uluru itself
When visiting the rock itself, we took 2 days to fully explore around. If you want to do just one, make sure you go early and use the day to your full advantage.
We went the first day in the afternoon, just to explore the Walpa Gorge section. We were there for less than two hours and really enjoyed the relaxed, short walk and reading the plaques explaining the history and culture along the way.
The second day, we went around 10am to pick up our bikes. It took us around 4 hours to ride around the full base. So for walking, I would add a couple of hours onto that. I recommend biking as it's less stress on your body and easier to explore. Either way, just remember to stay hydrated!
In total, the base clocks in at just under 10km. But with each corner revealing more amazing photo opportunities, you'll be stopping every 5 minutes to marvel at it all.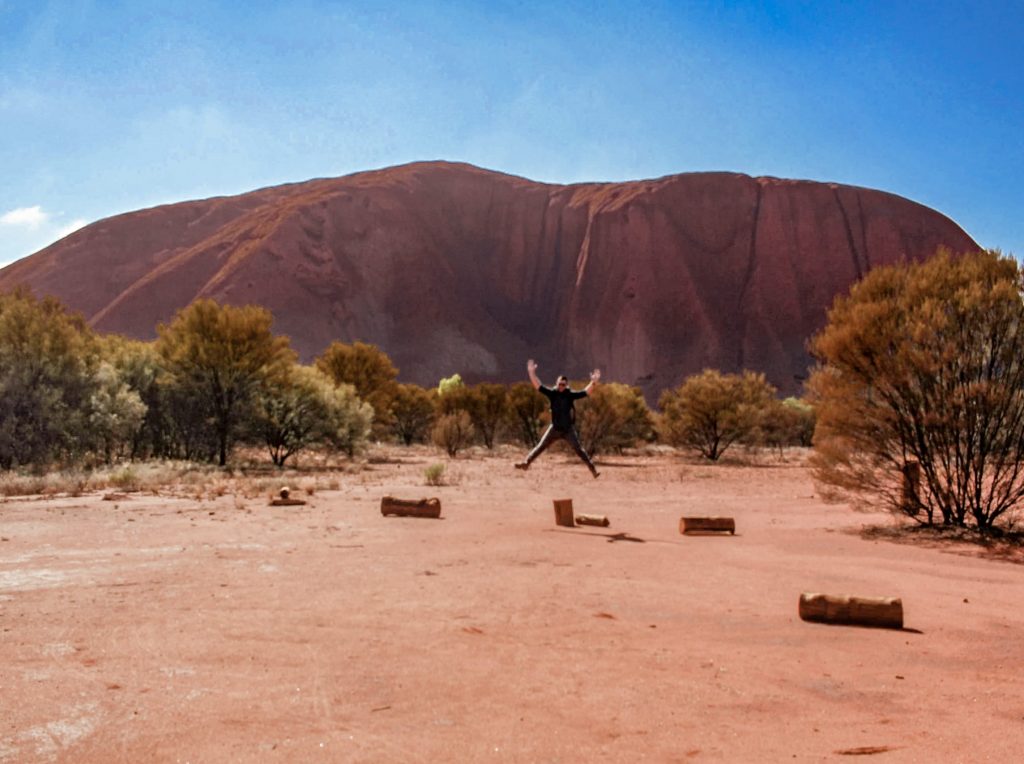 But be prepared. There is barely any shade in some sections, so take with you:
Sunscreen (50+)
Wide brimmed hat
Long sleeve shirt and long pants in a breathable fabric
Sunglasses
Full water bottle (there are refill stations of filtered water at different locations on the base walk)
If you are short on time, the highlights of Uluru include Walpa Gorge and Mutitjulu Waterhole. The bus can drop you at the start of these tracks or they have carparks, if you're driving. They are short, easy walks and have trees for shade so they are suitable for all walking types.
You might also want to add some time in to explore the cultural centre, located 2km from Walpa carpark. You can find refreshments, food and a beautiful art gallery. Talk to the people behind the counter and discover a whole new side to the culture of the area. You can also catch the bus back to the resort from here, so we made this our last stop of the day.
Climbing Uluru
One thing about Uluru - please don't climb it. You are technically allowed to, but there are signs everywhere posted by the National Park and the local aboriginal people asking you not to. It is considered disrespectful and it is actually hurting the rock. You can see the white scar that has been created by years of tourists walking and trampling the rock.
The climb will be closed from October 2019, but until then it is up to you whether you make the attempt or not.
Other than Uluru itself, there is so much to the red centre that you need to explore and discover.
Tours of Uluru and surrounds
We did one tour in our weekend there, a sunrise tour to see Kata Tjuta and the Valley of the Winds. I would absolutely recommend this tour, hosted by AAT Kings. You can book this through the resort.
We started about 5.30am, catching a coach into the National Park and to the sunrise lookout platform where we were provided breakfast and a hot cuppa. It was a bit chilly before the sun was up, so bring a light jumper (as soon as the sun is up, you won't need it anymore!).
It was so peaceful and magical watching the sunrise. We had Kata Tjuta (The Olgas) in front of us, and Uluru to the side (the sun rose behind Uluru from this angle).
After sunrise finished, we were taken deep into the heart of Kata Tjuta to hike through the formation. The first part of the hike was easy, where everyone was invited to join in. The lookout we came to was beautiful, with Mount Olga right in front of us.
After the first lookout, however, they recommended only fit walkers continue on and I could see why. The section from the first lookout to the Valley of the Winds itself was rocky, steep in places and even a bit of bouldering was involved. It was so worth it though. The Valley of the Winds was one of my favourite views on the entire trip. My breath was taken away, in more ways than one.
You can also do trips to Kings Canyon, which takes a few hours to get there and therefore will take up a whole day. They also do overnight tours there. We didn't have quite enough time to enjoy this one, but will be looking into it for our return.
Field of Light - a must experience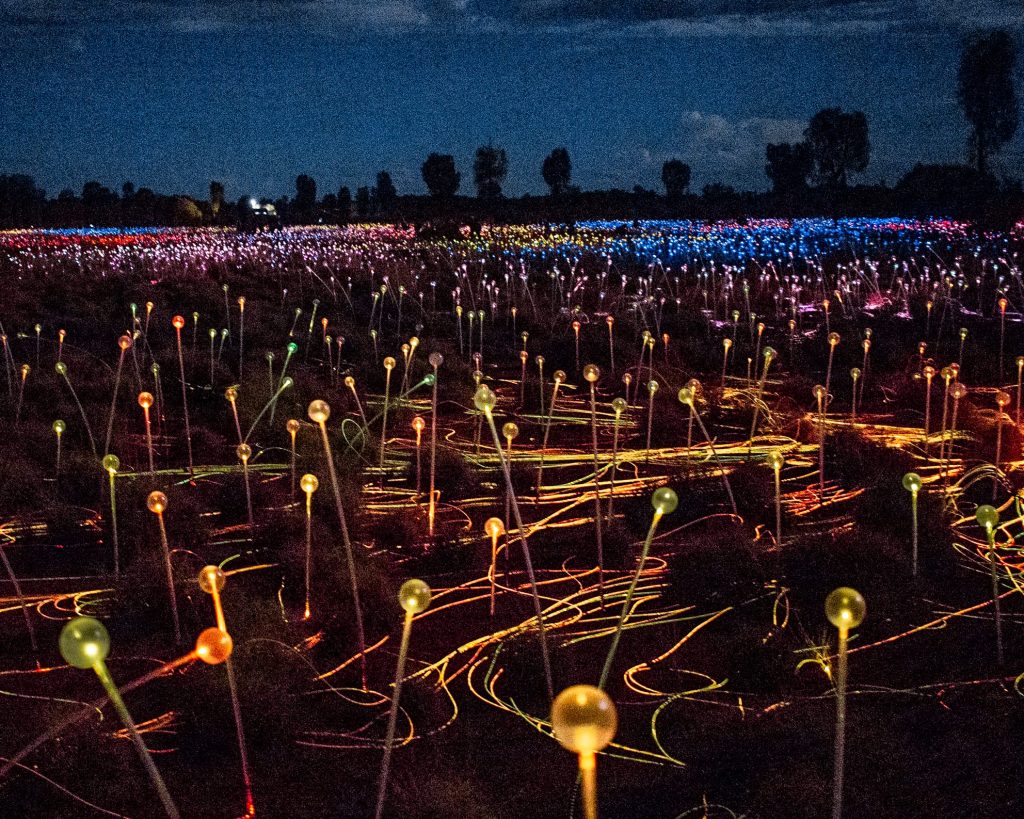 One of my highlights was the Night at Field of Light. This tour is run by the resort and includes an outback dinner (called Sounds of Silence), didgeridoo performance, star talk after nightfall, and entrance into the resident outdoor art installation, Field of Light by Bruce Munro.
It was pushing our budget, but we both knew we had to experience this. And every second was worth it.
They pick you up from your hotel before sunset, drive you to a lookout just outside of the resort boundaries, where you can have a glass of champagne while watching the sunset behind Kata Tjuta in the distance and the light playing off Uluru on the other side. It is truly breathtaking. The way the rock changes colours as the sun sets is awe inspiring.
After the sun dips below the horizon, they take you down the track a little to where they have set up the buffet style dinner and tables. You walk in to the sounds of the didgeridoo and Uluru in the background.
The food was great, with lots of variety and cooked fresh. You also have the choice of more bottomless drinks, so that was appreciated.
After dinner, they give a short talk about the stars from a resident expert. At this point it is completely pitch black and they turn off the lights so that the whole sky is lit up with thousands of stars. You definitely don't get that living in the city.
They then let you wander around the Field of Light, which I have no words to describe. It is magical, just truly magical. Take your time to really appreciate the art and pay attention to the detail and the lights changing colour.
Munro says of the installation "I wanted to create an illuminated field of stems that, like the dormant seed in a dry desert, would burst into bloom at dusk with gentle rhythms of light under a blazing blanket of stars". He succeeds beyond measure.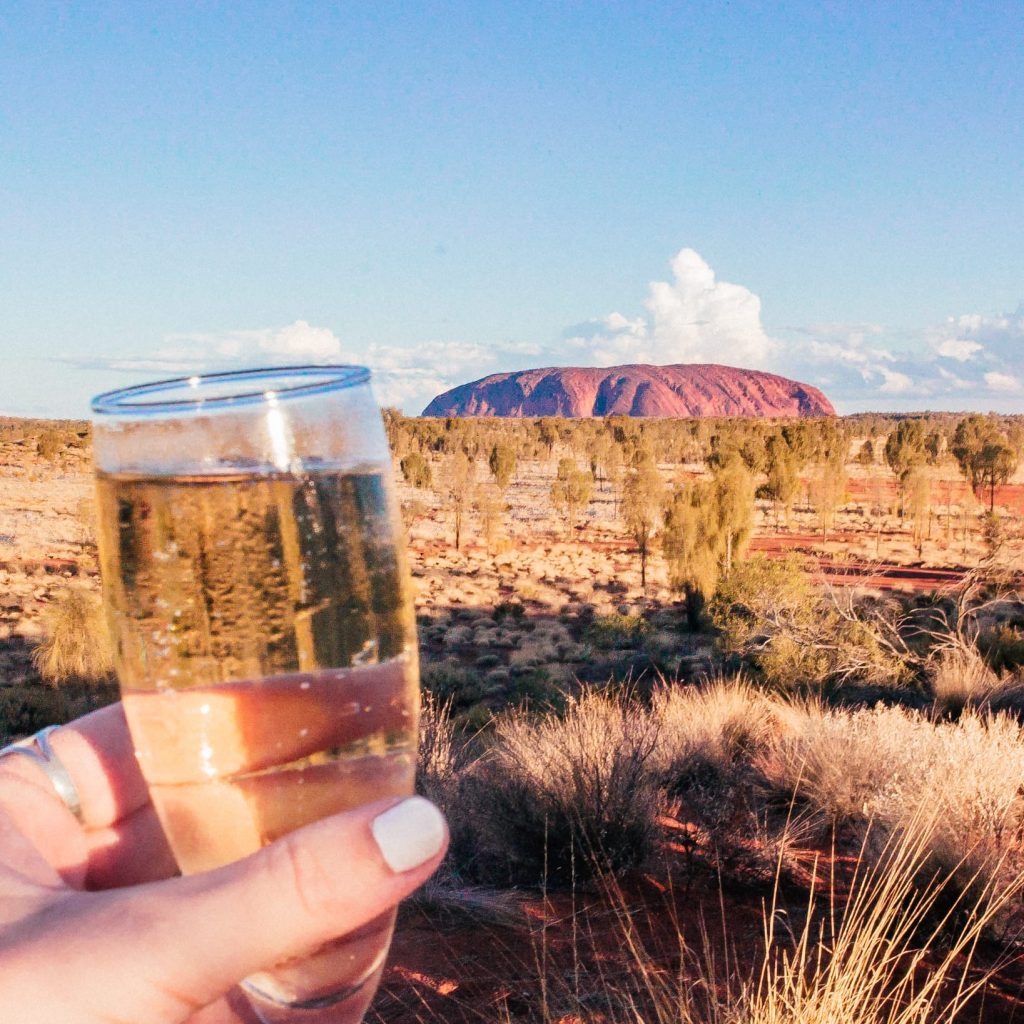 My journey to the red centre, to Uluru and surrounds, was more than I expected. I came back home feeling refreshed spiritually, physically and mentally. I couldn't say this enough - please do yourself a favour and visit and experience this unique, beautiful landscape. There is really nothing like it in the world. You will not regret a single second.
Have you ever been to the Australian Outback? What did you think? Where do you recommend I should go next?