This incredible waterfall pool is only an hour or so drive from Sydney, located in Brisbane Waters National Park, in Woy Woy on the Central Coast of New South Wales.
All up this hike to the Woy Woy waterfall pool is around 20-30 minutes, and just over 2.5km one way. Allow around 1 hour total for walking, and plan to stay any amount of time between 10 mins to a few hours when you get there.
What to bring:
Good walking shoes and comfy clothes that you don't mind getting dirty
Swimmers and a lightweight towel
Water and snacks
Best times to visit:
A day or two after it has been raining
Early morning to avoid more hikers
How to get to the Woy Woy Waterfall Pool:
1. Park at the Tunnel Firetrail entrance
The only entrance to the walk to get to this particular waterfall is off Woy Woy Road. Search for Woy Woy Walk on Google maps, or find the 'Tunnel Firetrail' and follow it until you see where it intersects with the road.
Be mindful of cars behind you on this road, as the parking area can sneak up on you and it is an 80 km/hour speed zone. Slow down and give plenty of warning to other drivers.
Once you're in, there is space for around 8-10 cars if parked correctly.
2. Start the journey down the Tunnel Firetrail
After about 500 metres when you start the trail from the parking area, there will be a gate to climb over (it's there to stop cars going down), and a creek (and mini waterfalls) to walk through.
Be careful crossing this shallow creek as it is rocky and can be slippery with the water running over it, especially after recent rain.
You'll also see some buildings and a creek on the right-hand side as you walk towards the next leg of the journey.
3. Turn off the Tunnel Firetrail
After about an 8-10 minute walk, you'll get to an intersection on the fire trail. There will be a small wooden sign on the right-hand side, which says 'Tunnel Track, Dillons Farm, Rocky Ponds, and Mullet Creek'. Ignore all of these directions!
From this intersection, you'll turn to go left to head towards where the Woy Woy waterfall is. Continue down this trail, which follows the power lines, for another 8-10 minute walk.
4. Start bush bashing!
At the end of that trail, you'll reach a dead end. There will be a tall power pole there to indicate you're in the right spot. Turn to the right of the pole and there will be a small opening in the bush leading down to the top of the falls.
Be careful of spiders and snakes, but it is quite easy to walk through the bush at this stage.
Pass over the top of the falls, being careful of the wet rocks, to the other side where there is another small opening in the bushes across from the entrance.
5. Scramble to the finish
From this point, the hike down to the Woy Woy waterfall is a bit more adventurous. Walk along the small track from the top of the falls until you reach a section that has a couple of larger boulders on your left. Slide down these on your butt, or step if you have enormously long legs, and head to the right.
After another minute of walking, you'll reach the real scramble part. There will be a tall stack of boulders, and it's at this point that you need to make a u-turn and go down the steep hill. This area is super muddy and rough, especially if it's been wet weather. Avoid the wet parts of the rocks as much as possible as they are super slippery. There are some footholds, so just take your time and be brave.
I also stepped in a huge mud puddle at the bottom of this section, so keep an eye on your feet and try to aim for the areas that have grass or rocks.
6. Finish at the trough waterfall pool!
After that crazy section, you're on the home stretch to the Woy Woy waterfall! It's another 1-2 minute walk from there and the worst of it is over so catch your breath and enjoy the views.
Note: the track here is quite narrow and it is on a cliff, so please be mindful and step aside to the left if there are other hikers coming back up the other way.
What to expect at the Woy Woy waterfall
The walk:
Mostly it is even, flat ground but the 200m or so towards the end needs a bit more of an adventurous spirit (and body).
The pool and waterfall:
Leave your stuff up on the rocks so they don't get wet or muddy, then strip to your swimsuit and take the mini trek down to the ledge. The rocks are slippery, but it's wide enough that you don't feel too on the edge.
The trough is a bit of a leap to get into, but there are nooks to get your toes into so it's not too difficult. Once your in, the bottom is filled with soft sand (worn down rock from the falls), and there is a great view out to the valley below. The pool is deep enough that you can swim under the surface without any issues as well.
The waterfall itself can be quite powerful after a rain, but not too powerful that you can't stick your head under for a refreshing, but aggressive, massage.
Other things to see:
There is also the option to trek to the bottom section, where the water from the trough falls down. I even saw some yabbies in the stream down there, and there is a bit more privacy in case other hikers arrive as well.
While you are there, you'll also hear the sounds of the trains passing under you! The train horns go off as they enter the tunnels and because of the echoes, it'll sound like it's coming from all around. It's a pretty cool little side experience.
If you want to check out other day trip adventures from Sydney, take a look at my travel page.
Tasmania is one of my favourite places in the entire world. When coming to this island off the south of Australia, it's like stepping into a different world, an untouched and pristine paradise.
Hobart is the capital of Tasmania and was originally established in 1804 as a convict settlement. There are hints of its rich history everywhere you look. Especially on the waterfront, there are rows of beautiful sandstone buildings, repurposed, but still holding that special, unique look like you just stepped back in time.
With Mount Wellington on one side and the ocean on the other, Hobart in winter is easy-going and a beautiful place to stop, reset and relax. The temps are a lot cooler, being so close to the Antarctic circle. But with fewer crowds, it is a great chance to explore in peace and quiet. There's even a chance for snow!
There really is nothing cosier than watching the fire roaring in an old-time pub while sipping on a mulled wine in one of the oldest cities in Australia.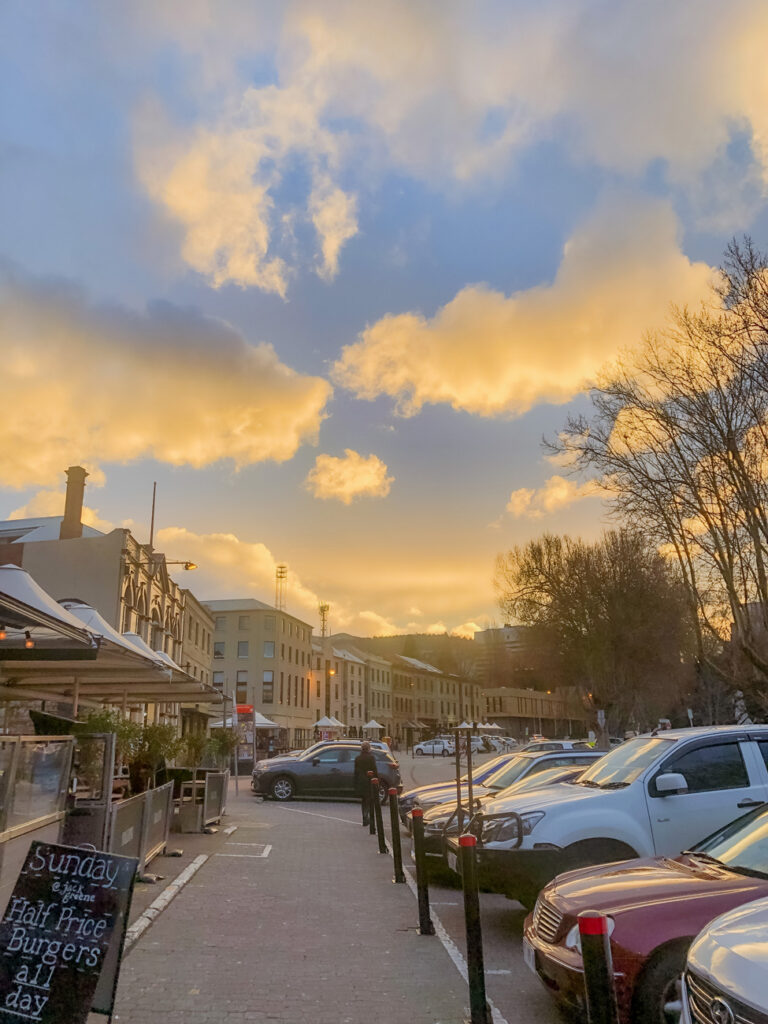 Salamanca Markets
Salamanca Markets are one of the more infamous events not just in Hobart, but all of Tasmania. They are on every Saturday from 8am - 3pm down at the waterfront. You can find anything from produce, clothing, toys, and more being sold by the locals here.
The markets are great for an easy morning stroll. Pick up a coffee, some fresh flowers, and walk through before picking up some produce to take back to your accommodation for a relaxing lunch or dinner. It's also a great place to pick up a unique souvenir.
Salamanca Markets are outside, so make sure you rug up as Hobart in winter is quite chilly. While in the area, check out the nearby museums, restaurants, and bars around the Salamanca area - known for being a vibrant spot, especially at night.
Port Arthur day trip
Port Arthur is one of the biggest tourist attractions in Tasmania and is only a 1.5 hour drive from Hobart. I recommend hiring a car and taking a whole day to go and explore the area. There is no public transport, so if driving is not an option, look at day tours that take you there and back.
Port Arthur is full of deep history. It is the best preserved convict settlement in Australia. Many of the houses built by the convicts for the residents still stand and the old fort and prison ruins show you what it might have been like back in the early days of Australia.
Take one of the free walking tours around or wander yourself - there are many plaques, cards and more to help guide you through and teach you about each aspect of the place, full of tragedy and hardship.
Not only is there so much history to explore, but the area is also naturally beautiful (and haunting) in its own way. With forest on one side and the large basalt cliffs, columns, and ocean on the other, it's a unique place to wander.
I also highly recommend taking the short cruise that is free with entry to the site. This will take you out to the Tasman Sea and back. In Winter it will be cold with that ocean wind though, so bring a warm jacket for the ride.
If you choose to drive, I suggest stopping along the way at several points of interest. Tasman Arch, Devil's Kitchen, the Blowhole, and the natural wonder of the Tessellated Pavement are all must-sees while you are in the area. And if you want to see a Tasmanian Devil, stop in at the Tasmanian Devil Unzoo, a wildlife park dedicated to caring for and conserving the species.
MONA
MONA is the Museum of Old and New Art. It's located in Berriedale, which is an outer suburb of Hobart. Getting there is super easy - just catch the ferry from Brooke Street Pier or drive 15 mins out of the centre of town, either with your own car or uber/taxi. I recommend the ferry as the views along the way are beautiful and approaching the museum from the water is how the creator originally designed it.
The museum is an odd one but thoroughly enjoyed by people of all ages and walks of life. Each person takes something different away but just go in with an open mind. It may be confusing and confronting at some points, but with rotating exhibitions and some beautiful permanent pieces, there's something there for everyone.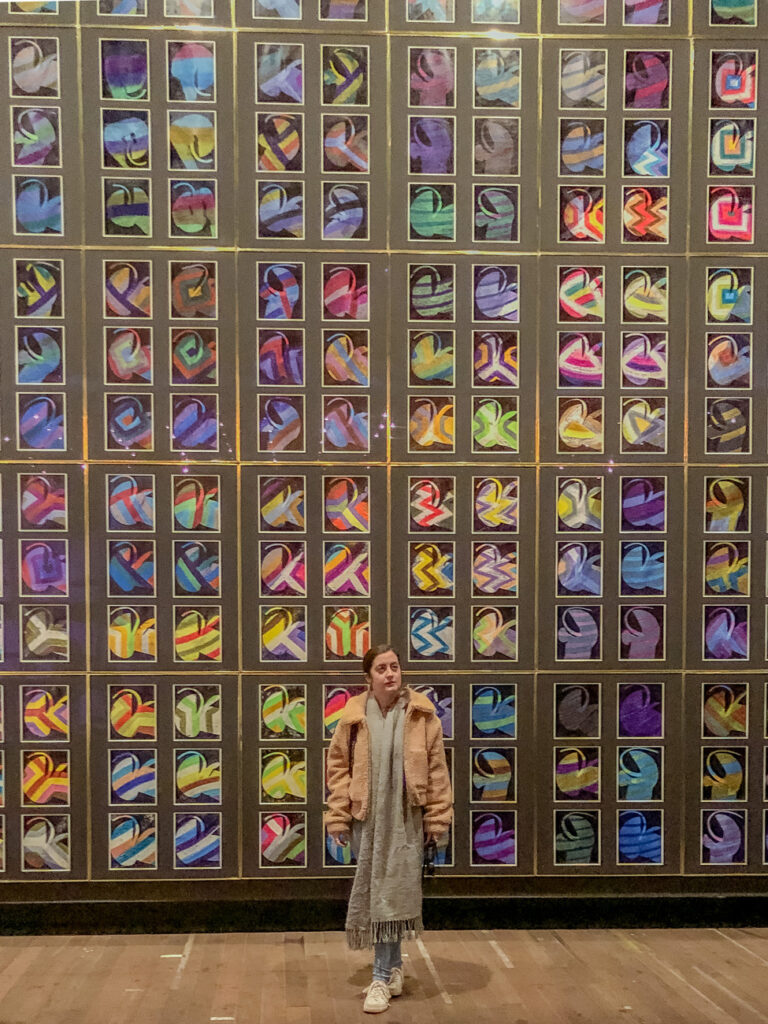 MONA also hosts the annual MOFO and Dark MOFO music and arts festivals which showcase interactive, public art and live performances. Dark MOFO is held in winter and is mostly at night. Grab a drink, get rugged up and be open to the wild ride it is sure to be.
My favourite piece of art in MONA is the Bit.Fall installation. This piece of art consists of drops of water falling from a pipe high up, which when falling create different words that are taken from internet searches. Against the sandstone wall behind it, it is beautiful and mesmerising to watch.
Tasmanian Museum & Art Gallery
If you liked MONA, or if it was a bit much for you, why not also try out the Tasmanian Museum and Art Gallery. It's free to enter and is full of rich history and culture. I learned so much just from a short visit!
Located in an old sandstone building, near Salamanca Markets, it's the perfect place to go if you want to get out of the cold. This museum was built on the old waterfront line and you can still see the line on the footpath where the water used to come to.
In case you haven't got the message by now, Tasmania and Australia have so much history, art and culture. Make an effort to learn some parts of it and you won't be disappointed.
Just down the road is also Maritime Museum of Australia, with information about shipping and whaling activities in Australian history, and Mawson's Huts Replica Museum, where they have rebuilt the huts used in Antarctica by Douglas Mawson & his team who discovered the location of the south magnetic pole. Mawson's Huts Museum does cost a bit of money, but it is interesting nonetheless.
Mt Wellington
Mount Wellington is officially known as kunanyi / Mount Wellington and is located on the western side of Hobart, looming over the city. It is covered in snow most of the year, so visiting in Winter can either be a snowy wonderland or quite hazardous. Keep an eye on the weather before you make your trip up the mountain. If you can make it up the top, there is an enclosed lookout with epic views of the city and surrounding area below.
While driving is obviously the easiest option, especially in winter, there are also many walking trails and a hike from the city to the peak you can challenge yourself with.
If you choose to drive, there is a point halfway up Mt Wellington where you can stop, wander to the lookout and there are also toilets and a bbq area. Be mindful that if the weather is less than favourable, the top half of the mountain may be closed and you'll be stopped here, at The Springs. If you want a little bit of an adventure and the weather allows it, park your car here and walk the rest of the way up. From The Springs to The Pinnacle, it is about a 4km trek, but with a difficult grade.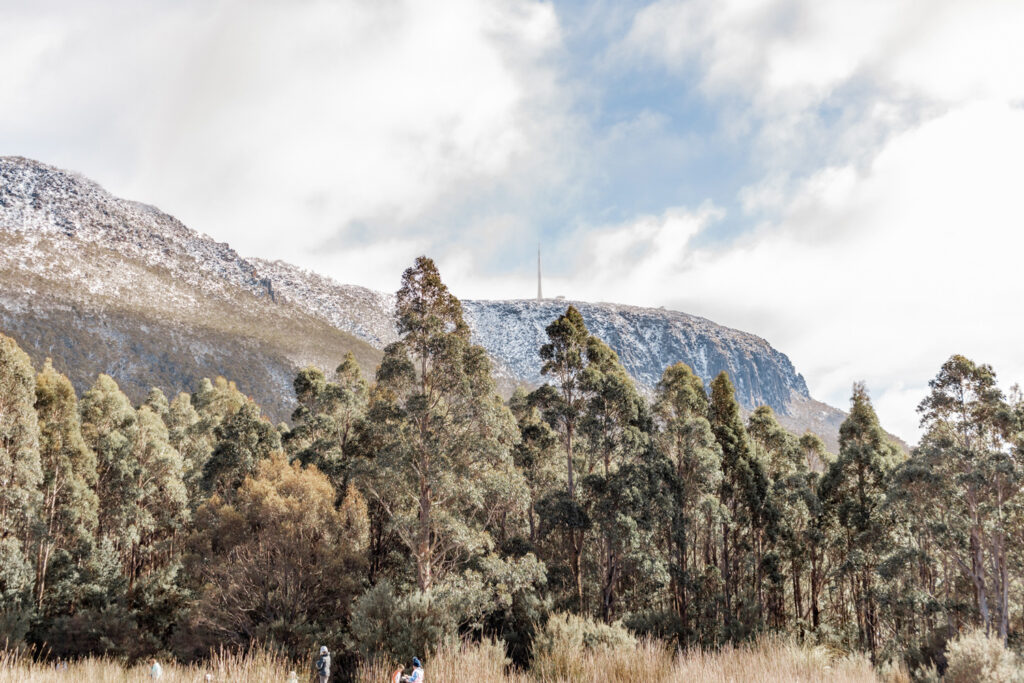 If you want to take on the full hike up Mt Wellington, you can start at Hobart Rivulet, where you can leave your car in the parking area just off Molle Street. Or at the Cascade Trail, just opposite Cascade Brewery, which skips the more urban part of the walk to the base of the mountain. Either way, set aside a whole day to climb and explore Mt Wellington. It is about a 14km hike, or a little less if you start at Cascade Trail.
Drinks on the Pier
Taking an evening to stop and watch the world pass you by is highly recommended in the sleepy city of Hobart. Stop in at one of the bars or restaurants on the Elizabeth St Pier or Brooke St Pier and watch the boats sail in and out as the sun goes down.
As for bars to choose from, there's Tavern 42 Degrees South, which is a bit more upbeat but with some of the best views if you choose to sit outside cosy under a heater. The Glass House Hobart is located on Brooke St Pier and is a bit more easy-going. Or The Story Bar, on the other side, is a bit more upmarket and is fully enclosed, but unbeatable views of the city lights at night.
View all these places on the map.
Hobart restaurant and bar scene
While I'm sure Hobart isn't the first place you think of when I say foodie heaven, they have some pretty cool places. Your first place to look would be Salamanca Rd and Battery Point. Think old-timey pubs, cute cafes and a bar on every corner. My favourite pub we visited was Preachers, mainly because there's a bus parked in their courtyard that's renovated for seating.
Surprisingly, Hobart also has a great selection of alternative options too. When looking for vegetarian and vegan food, I didn't have to look far. My favourite places were the Kombi Cafe and Smoothie Bar, and the Honey Badger Dessert Cafe. Kombi Cafe caters to all alternative diets, including gluten-free, vegan, and allergy-friendly foods. Honey Badger Dessert Cafe speaks for itself - make sure you get their infamous hot chocolate and any of the food is delicious with pancakes, waffles, and more!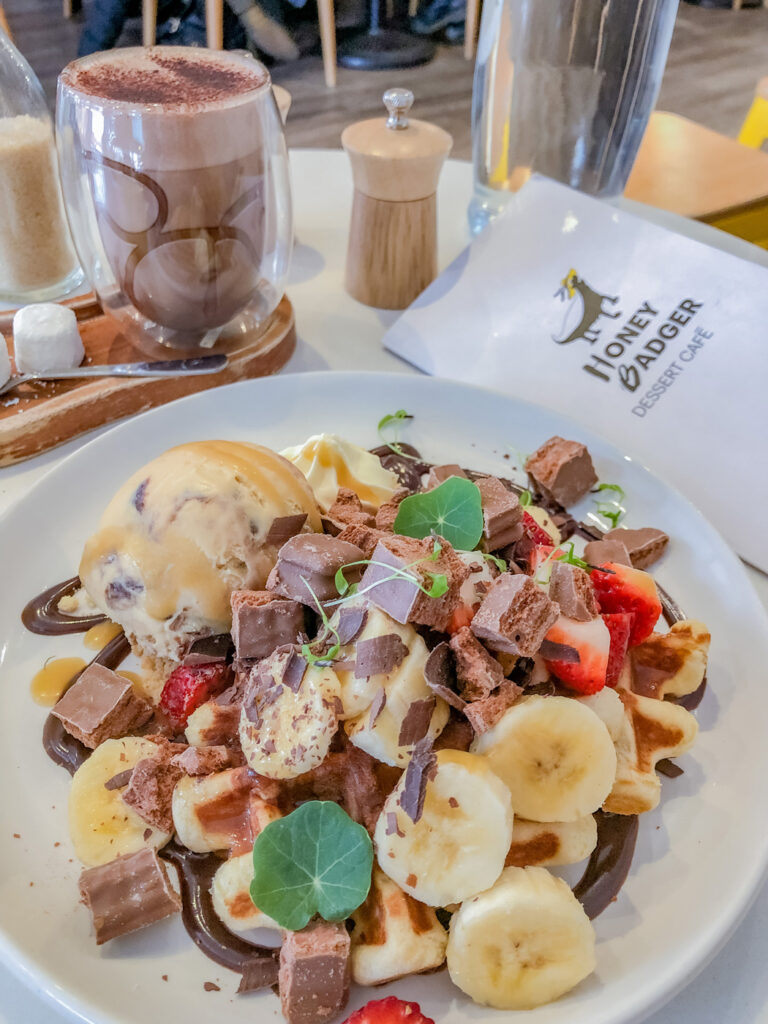 If you're staying a bit further north, there's still no shortage of amazing, insta-worthy places to eat at. I recommend Pancho Villa for dinner. Pancho Villa is a Mexican restaurant that is decked out like an old school cathedral, stained glass and all. Definitely get the guac and some pictures here. Also, for brunch or cafe vibes, go to Born in Brunswick. With clean interiors and food that is drool-worthy in looks and taste, you just can't go wrong.
Will you give Hobart in winter a chance?
Hobart is one of my favourite cities, all year round. I hope after reading this that you give Hobart in winter a second thought and it helps you plan things to do and see while you are there. Also, why not combine this with a roadtrip around the rest of Tasmania?
Let me know if you have any places to add and if you try any of them after reading this post.
Map of places in Hobart
Are you looking for the perfect weekend escape from the hustle and bustle of Sydney? I have THE perfect place for you to go. Think wineries, great food, views for days, constant events and all the best spots to sit back and relax, or party it up with your friends - there are so many great things to do in Hunter Valley Wine Country!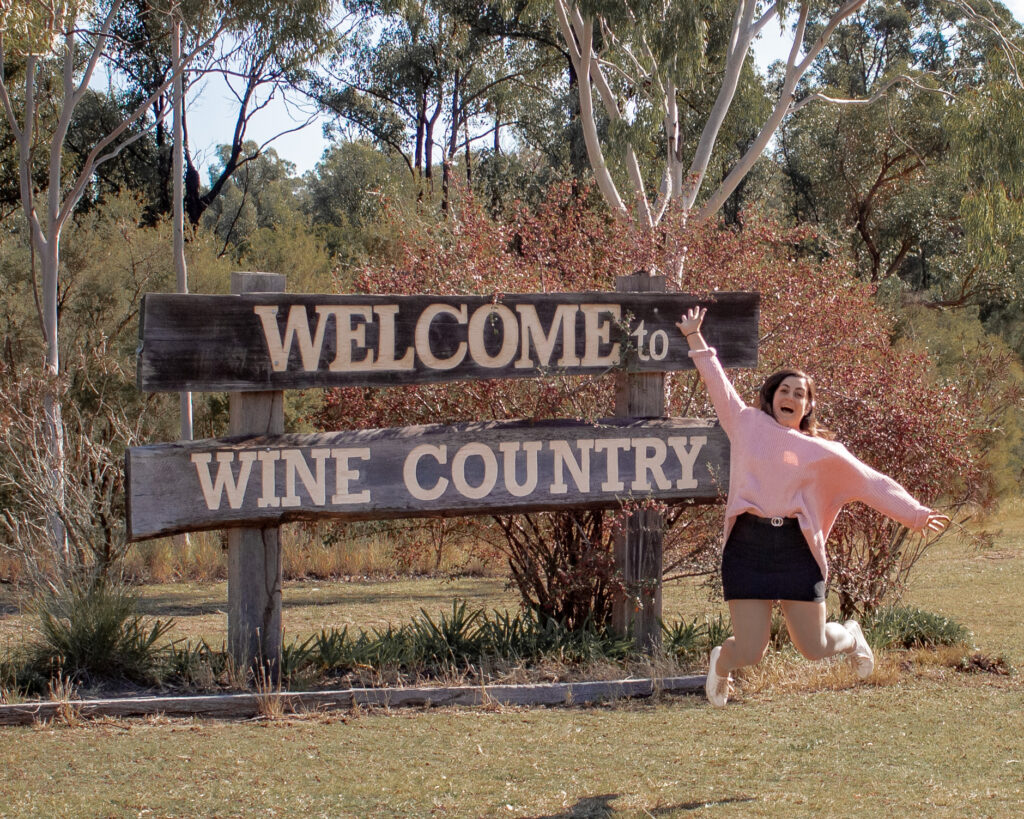 Getting there from Sydney
The Hunter Valley is located within a few hours of Sydney. If you drive, it shouldn't take you more than 3 hours to get there once you're on the highway.
Get some girls together and do a road trip. I recommend taking a few stops along the way and have fun blasting some tunes. if you don't have your own car, you can rent one through a rental company, or there is CarNextDoor or GoGet to help you get on your way.
If hiring or driving a car is not an option, there are other ways to get to the Hunter Valley.
Train services run from Sydney's Central Station to Newcastle suburbs, and Hunter Line train services run between Newcastle and the Hunter Valley towns of Maitland and Singleton. There are also some regional trains that run between Sydney and the Maitland area, close to hunter valley.
But the best option, in my opinion, is hiring a van with a driver for the day! There are many tour companies that offer this service.
Some that I know of include Hunter Valley Wine Tours. They pick you up from their Sydney location, drive you to the Hunter Valley with some wineries, food and sights, then drive you back again. No need to worry about going overboard!
Places to Stay
Staying in the Hunter Valley overnight can come included with multi-day tours, but I like to splurge a little and stay either on a winery or in one of the resorts.
I've stayed in both Cyprus Lakes, Wine Country Villas, the Crowne Plaza and in an airbnb in nearby Singleton. My favourite for a romantic couple getaway was the Villas, overlooking the vineyard. For groups and families, I would recommend Cyprus Lakes.
Cyprus Lakes
Cyprus Lakes is giant and includes so much with your stay like a pool, restaurant, even a golf course. You can book them directly, or some are found on booking.com or Airbnb. The villas are beautiful, nestled in a bush setting, so expect privacy and great views.
You can get a 2 or 3 bedroom villa, so there's room for all your friends and family. It's located just up the road from Hunter Valley Gardens, and pretty much in the centre of all the wineries. So you're close by all the main things to do in Hunter Valley.
The Crowne Plaza
The Crowne Plaza was great, I can't fault them at all, but are a bit out of the way if you are getting around the Hunter Valley yourself. Crowne Plaza would suit couples or groups that are just interested in a luxe hotel with all the amenities.
There are also quite a few Airbnbs around the area. Search for the suburb of Pokolbin to stay close to the wineries, or Lovedale is also a good and close area (but a bit further out).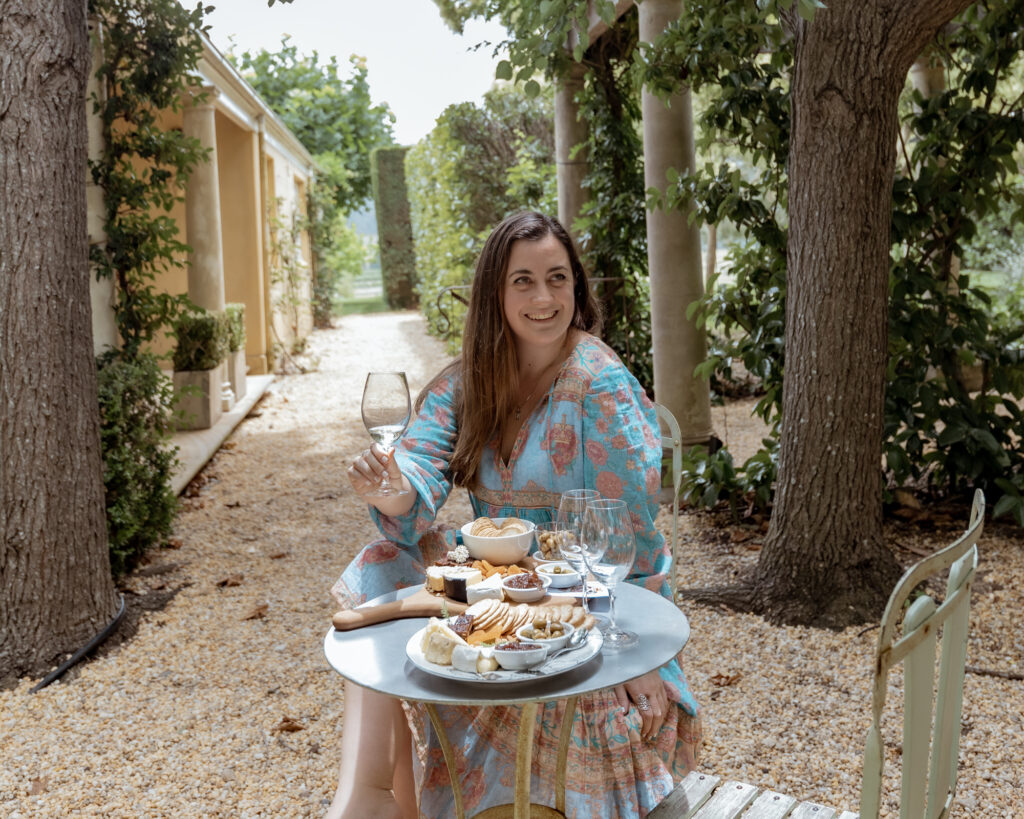 Places to Eat
Brunch and lunch
Peterson House
Peterson House is famous for its sparkling wine and its breakfast menu. Start your day here with some food and a drink at Restaurant Cuvee, as it's conveniently located at the gateway to the Hunter Valley winery area. The views are spectacular! Then why not make the cellar door and chocolate shop located on the grounds your first pitstop on a day of adventure.
The Deck Cafe
The Deck Cafe is located in Lovedale, and is a bit further out of the way than some other cafes in the area. But this is one worth the trek. The food looks and tastes great, and the outdoor seating overlooking the dam is beautiful. It has a rustic, vintage charm that keeps me coming back for a little bit of foodie escapism.
The Smelly Cheese Shop
You cannot go to the Hunter Valley and not stop in at the Smelly Cheese Shop. Located in Pokolbin, this quaint shop is right in the middle of the action. I highly recommend coming here to pick up some picnic supplies (they don't just sell smelly cheese!). A picnic is one of the best things to do in Hunter Valley. Grab some bread, cheese and other delicacies and when you grab a bottle or two from your cellar door visits, you have lunch all sorted to enjoy in one of the amazing vineyards in the area.
Dinner
Oishii Japanese and Thai
One of my favourite restaurants in the Valley, Oishii is delicious food overlooking Teatree Creek, right in the centre of things. The atmosphere is buzzing, and if you have a larger group for a weekend getaway, you can request to be placed in their private dining area.
Pick a local bottle of wine, grab some sushi or a curry and dive right in. If you do plan on drinking a few at dinner, make sure you have a taxi on standby as walking back to accommodation could be risky on the dark streets.
Bistro Molines
This restaurant is a bit out of the way, but for good reason. Winding your way through the hills on the way to this hidden gem is an adventure in itself. When making a reservation, ask to have an outside table. The view when you get seated is breathtaking, with rolling hills and vineyards as far as the eye can see.
Bistro Molines is a quaint, rustic french restaurant. I highly recommend coming here for sunset to celebrate a special occasion. But make sure one of you can drive, or be prepared to spend extra on a taxi, as it is out of the way from the Valley itself.
If you prefer to stay closer to home, any winery in the area will usually have their own restaurant attached to it. And they are all amazing! Take a look around while on your wine tasting tours and find the perfect place to circle back to for dinner for you and your group.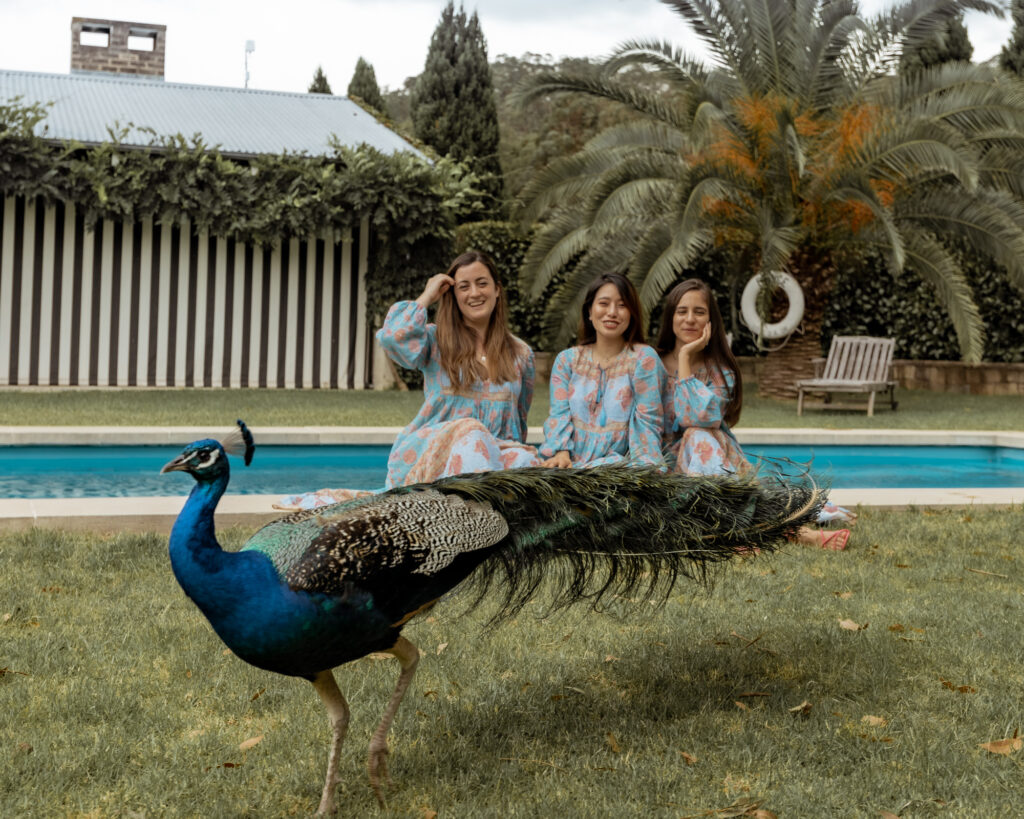 Things to do in Hunter Valley
Hunter Valley is a great place to shop for unique, boutique fashion, homewares and more.
One of my favourite places to go is Peppers Creek, with a little bit of everything on offer. Peppers Creek also has the most beautiful indoor/outdoor chapel overlooking the vineyards - check it out, even if you aren't religious it can be a great photo opportunity.
The local markets are also a great place to pick up a little something. Some of my favourite jewellery, I picked up at Handmade in the Hunter. These markets are located in Kevin Sobels Wines and they are on most weekends, but check the website for more information.
Even in the cooler months, there are many events on to go and check out. Hunter Valley Wine Festival is a perfect weekend escape and is on in June. Full of good wine, food, beer, cider, and more all in one place - it's a great day out. Then why not stay overnight and go explore more things to do in Hunter Valley the next day (if the hangover isn't too much).
If you have time, you can also head out to Broke. A little further from Sydney than Pokolbin, Broke has more wineries, restaurants and shops that have less of the crowds, but just as worthy of a visit. Krinklewood Biodynamic Winery is a great place to start, with beautiful grounds and wines to taste.
Hunter Valley is also a popular place for festivals, concerts, events and more. No matter which weekend you choose, there will more than likely be something to entertain you.
Last, but not least, even if wines aren't your thing, Hunter Valley has some amazing spas. Why not treat you and your girls (or guys) to a spa day! Massages, facials, mani pedis.. the works!
My top 6 wineries in Hunter Valley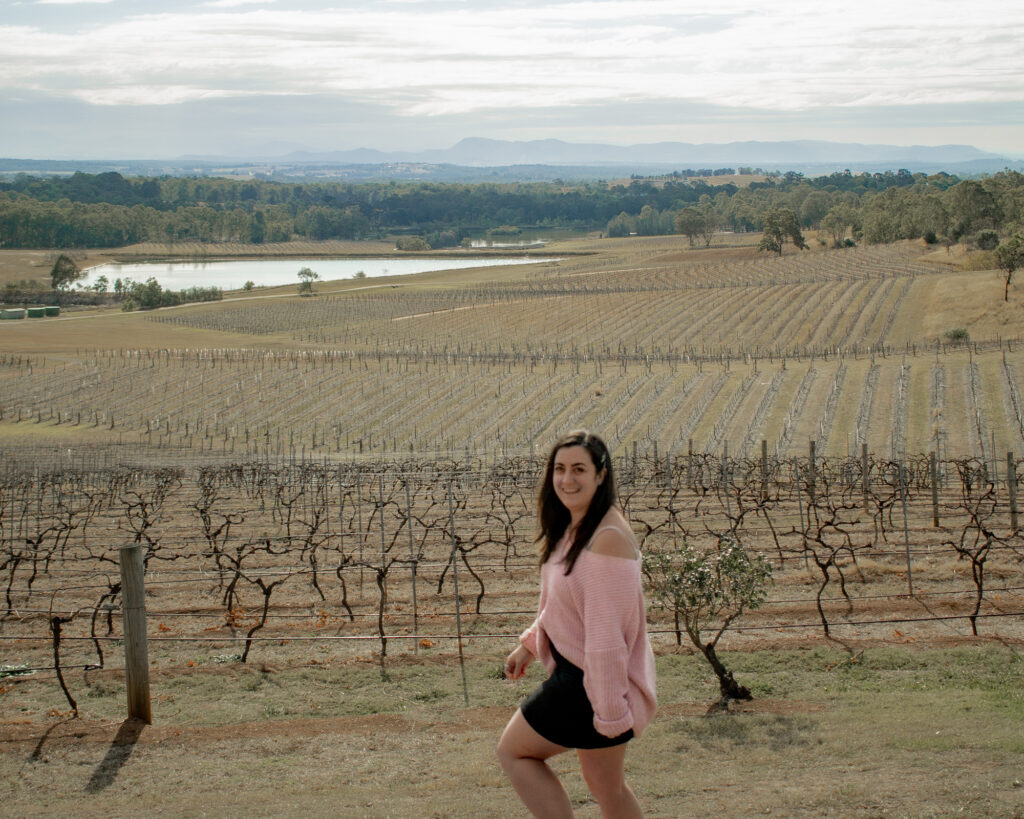 Audrey Wilkinson
Audrey Wilkinson has the best view of Hunter valley, hands down. I personally love their rose wines and dessert wines. Grab a bottle after your tasting to go and sit outside on the hill and enjoy the sunshine and vistas.
Blueberry Hill
Blueberry Hill wines is my pick for the hidden gem of the Hunter Valley. It is a bit further out of the way, but their set up is worth the visit. It's small and boutique, with beautiful views and food while you have your wine tasting. But I highly recommend packing a picnic to sit in their outdoor area for a quiet lunch.
Hungerford Hill
Hungerford Hill wines are in my top picks because of the interesting buildings. Their wines are good, but I recommend visiting this winery for the photo opportunity, especially if you love unique architecture.
Tempus Two
One of the most infamous wineries in the Hunter, your visit wouldn't be complete without stopping in at Tempus Two. This winery is situated in the main area of Pokolbin with restaurants, shops, views and, of course, a great selection of wines.
Peterson Wines
If sparkling wines are more your speed, you can't go past Peterson Wines. They are famous for their bubbly. I recommend starting your tasting tour here, as their restaurant is great for brunch. They also have a chocolate shop next door, so pick up some treats while you're there.
Krinklewood Vineyard
If cheese boards, peacocks and a european style courtyard amongst the vines isn't enough to get you to head out to Broke and see this winery, I don't know what is. Even though Krinklewood is a bit further out, this winery is a must on my list for things to do in Hunter Valley!
Honorary mention: Hunter Distillery
While not technically a winery, Hunter Distillery is a must when in the area. Most tours stop in here for a pit stop between the wineries. Hunter Distillery has a huge selection of different flavoured gin, vodkas, schnapps and liqueurs, which you can drink straight, mixed, or even with food (I love to have my mango liqueur over ice cream).
---
So, have I convinced you yet? Let me know if you are going, have gone and what you enjoyed or if you have any questions!
If you have any other tips for things to do in Hunter Valley, let me know in the comments!
---
Looking for a staycation weekend instead? Check out my blog review of the Shangri-La Sydney.
New York City is full of wonderful and exciting activities and places to see. Below I list some of my absolute favourite unique things to see and do in NYC that you may or may not have heard of before.
Hopefully this will help you get off the beaten path a little and see more of this concrete jungle than you would if you stuck to just the usual popular tourist spots!
Hess triangle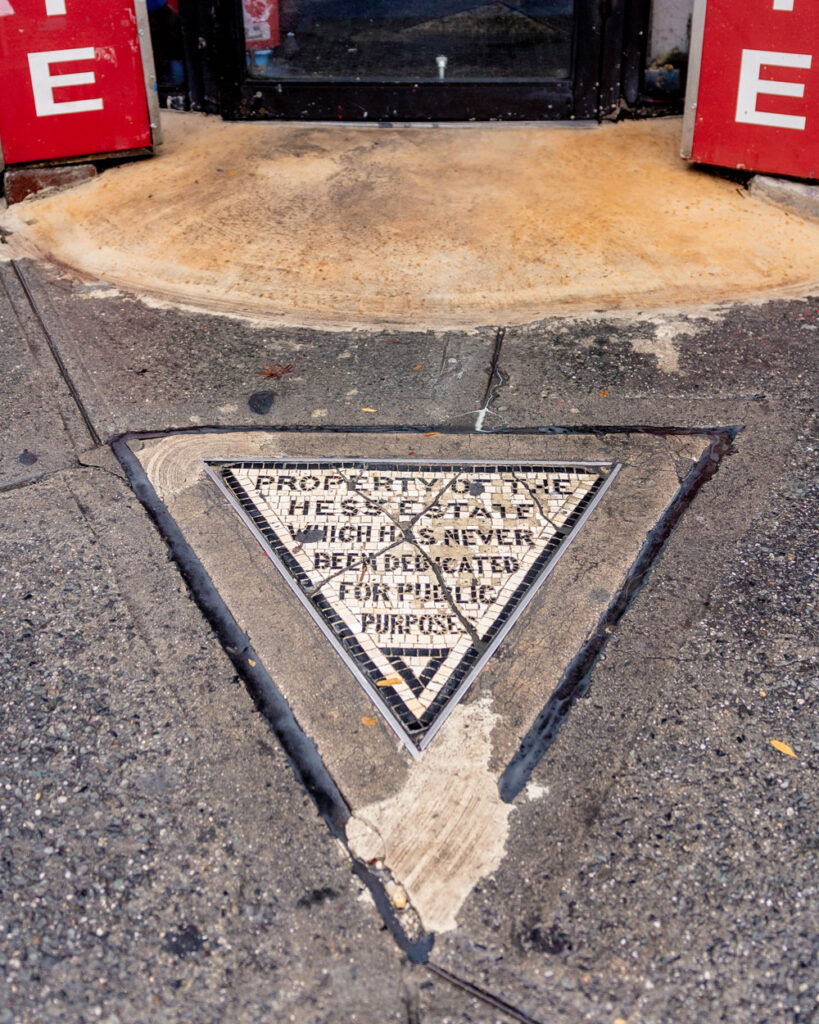 We're starting with my favourite! It's small, you could walk past it without even noticing, but the story behind it makes this one of my favourite spots in NYC.
Here's how the story goes...
David Hess owned an apartment building on this spot in the 1910s, when the city government claimed it to demolish it and widen Seventh Avenue. The Hess family fought the city but exhausted all the legal avenues and eventually had to give the building up.
The thing is - the survey conducted when claiming the building actually missed this one triangular section of footpath and the heirs of the Hess estate claimed possession of the land. The city asked the family to donate the piece, but they refused and instead installed a plaque on it.
It reads: "Property of the Hess Estate which has never been dedicated for public purposes."
It was the smallest plot of land in NYC until 1938, when it was sold to the store now located on the site. But the plaque still remains - the ultimate symbol of rebellion against authority.
Smallest museum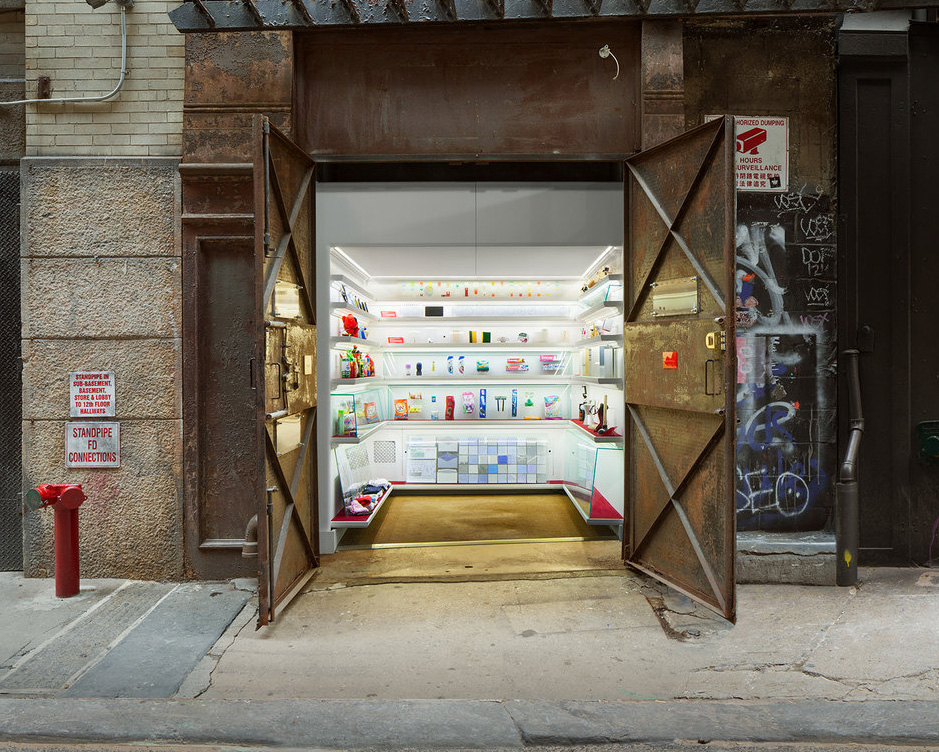 NYC has no shortage of museums. One of the smallest museums you can go visit is Mmuseumm, located in Cortlandt Alley. This museum is dedicated to modern artifacts related to journalism.
The most alluring aspect of this tiny museum is that it's actually in an old freight elevator! And it's accessible 24 hours a day through peep holes in the door.
Maths museum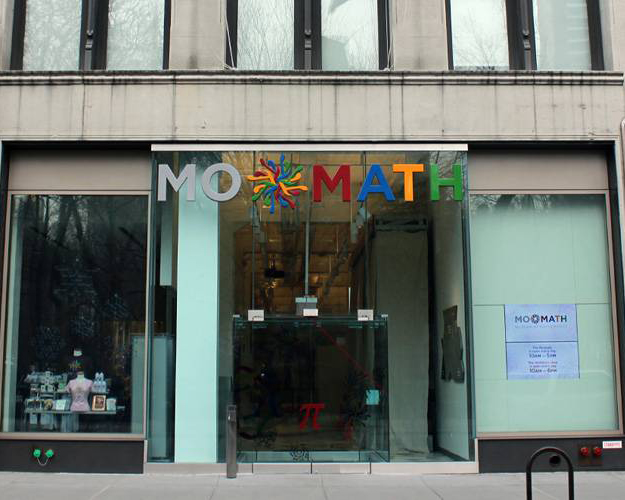 Another museum that you might want to visit is the National Museum of Mathematics. While it doesn't exactly sound that amazing at face value, the exhibits are interesting and most are even interactive!
This museum is great for kids, but also for the not so little kids at heart. Go in with an inquisitive spirit and you'll have a blast! Learn how maths plays a role in everyday life, sparking the curiosity in everybody with their cool displays.
Highly recommend visiting this one, even for a short time, or especially when it's raining!
Albertine bookstore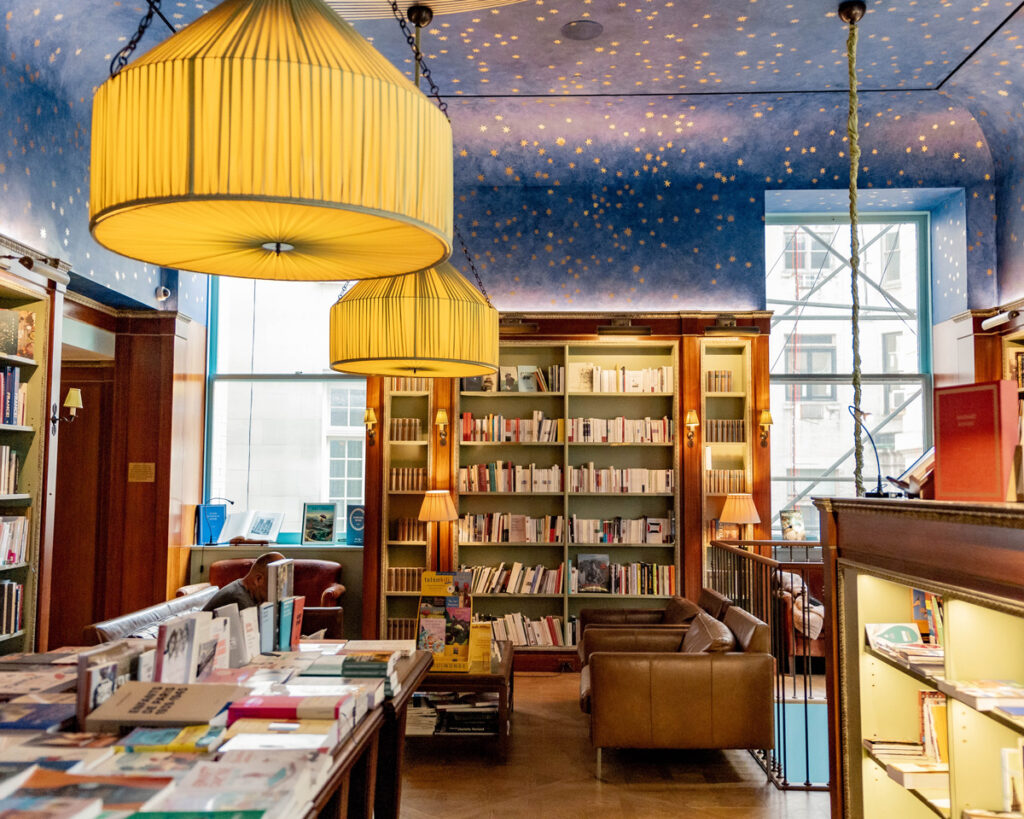 Albertine bookstore is one of the prettiest bookstores in NYC. It's also a French-American bookstore.
Sit in the reading room, pull out a book or graphic novel, and get lost in the celestial ceiling above you. Yep, that's right. The entire top floor of the bookstore is decorated like the night sky, with astrology signs and painted planets.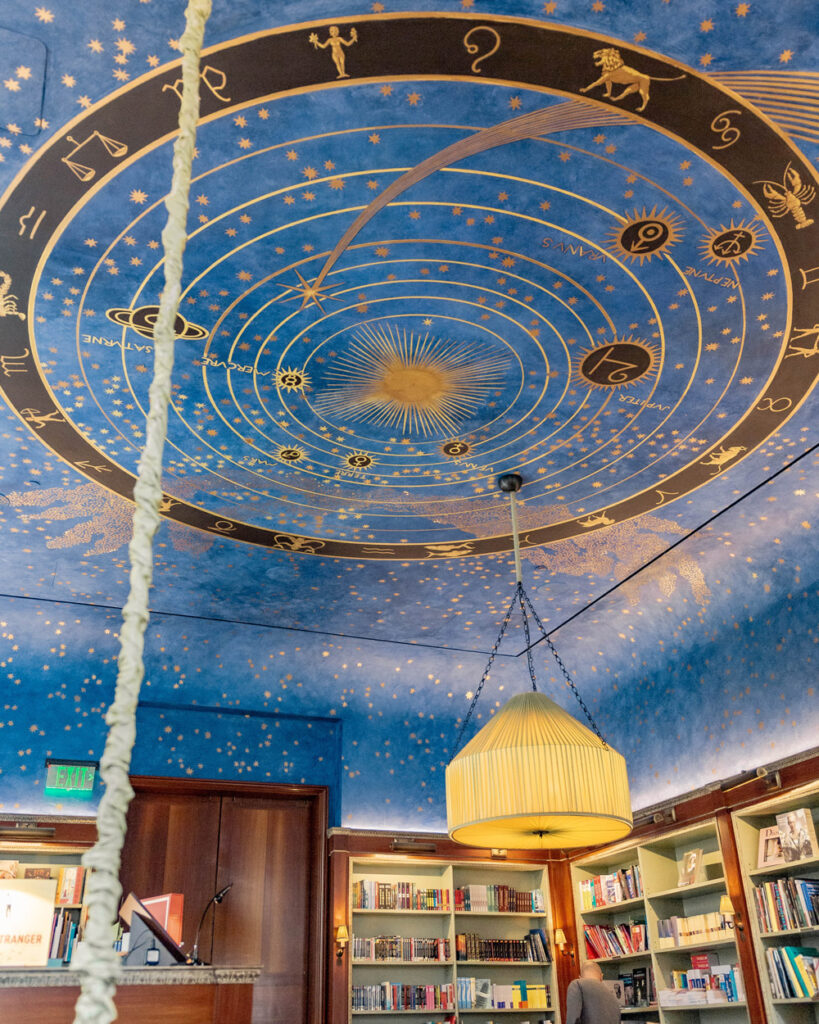 Downstairs, on the way in there is also a room decorated to look like something from the Palace of Versailles. Covered with ornate gold detailing and rich, luxurious fabrics.
This is the perfect place to stop in for a respite from the hustle and bustle of the city outside. Grab a picture, read a book and relax.
Street art in Bowery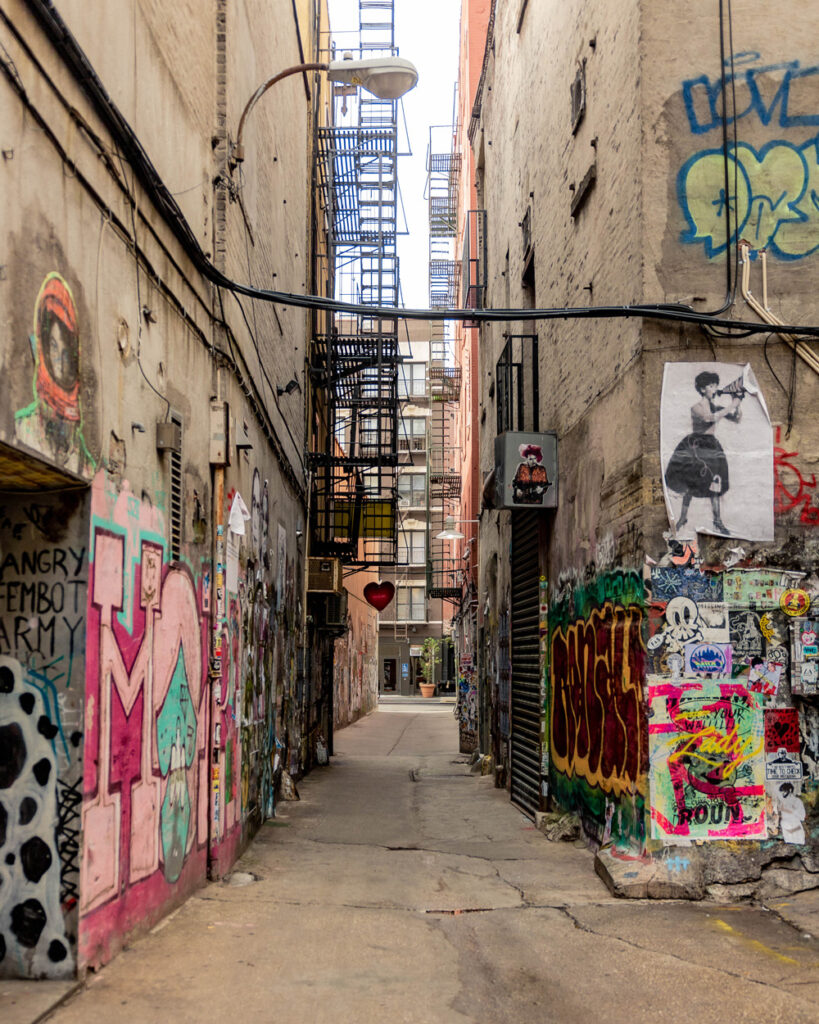 Bowery is a suburb on the lower side of Manhattan. Full of trendy bars, hip cafes and that typical NYC feel, Bowery is my favourite place to stay while in the city.
For what I consider to be a stereotypical NYC laneway, with fairy lights, hidden cafes and bars, and walls plastered with street art, I would recommend visiting Freeman Alley.
Bowery Mural is also a great place to check out some street art on a larger scale. This spot is considered an open-air museum, with the art changing regularly, sometimes even painted by a well-known artist.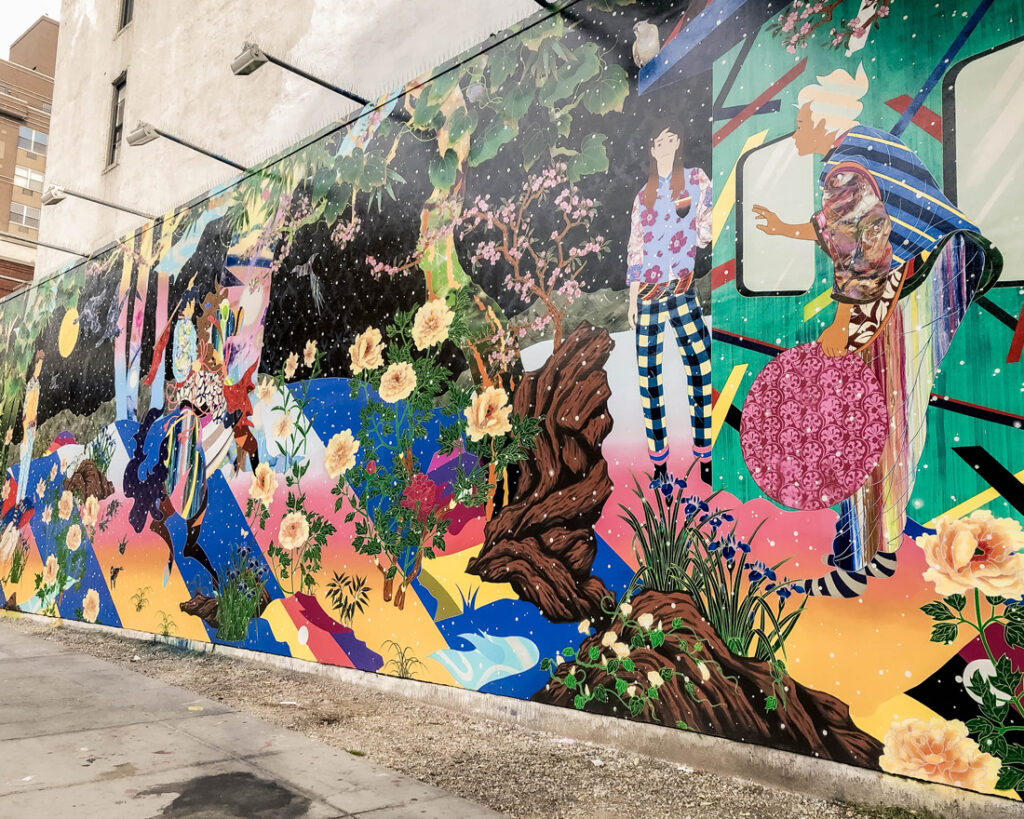 Street art, however, is everywhere in NYC, not just in Bowery. Keep an eye open as you walk the streets and enjoy the creativity found around every corner.
Rainforest inside an office building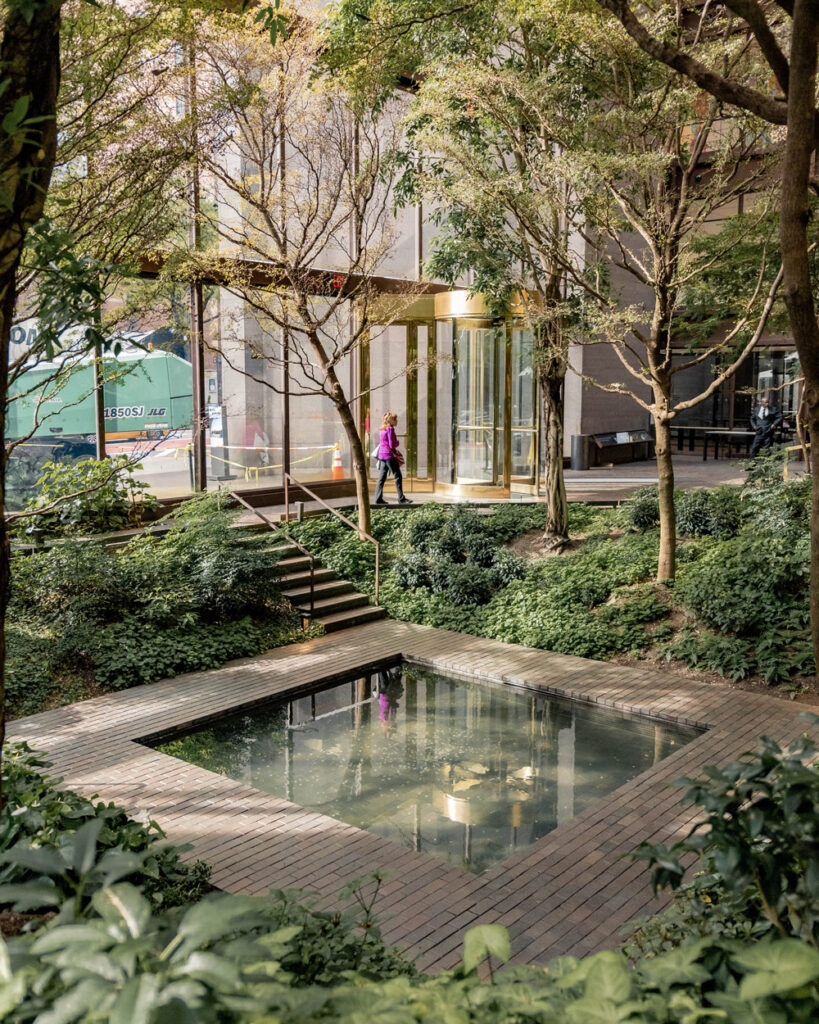 The Ford Foundation building is located in East Midtown. What is so special about this building is that it contains a rainforest in it's lobby.
Built in the 60s, this design inspired many other indoor garden spaces in office buildings.
While it is a great place to visit when raining, I recommend visiting on a sunny day around noon. The sun filtering through the skylights high above, hitting the trees down through to the small reflection pool is magical.
The Earth Room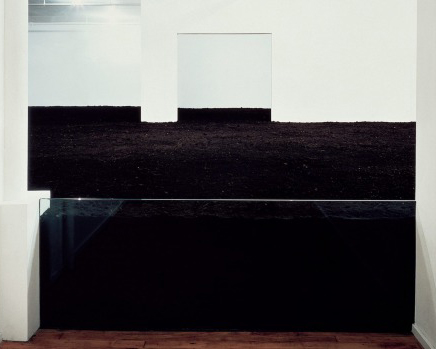 The Earth Room is an interesting sculpture exhibit on show in NYC. It is located on Wooster Street in SoHo, on the second floor of an otherwise inconspicuous building. Heading up the stairs, you get hit with the smell first.
The Earth Room is exactly that. A large room filled with soil. Almost 200 square metres of it. It's been there for 3 decades. And it's worth $1 million dollars.
Viewing this unusual piece of art is strangely calming. It's quiet, damp and feels like you've stepped into a very old forest, surrounded by nature in the middle of one of the biggest cities in the world. Stand still for a moment and take it all in - this is one of the most unique experiences you could possibly have in this metropolis.
New York Transit Museum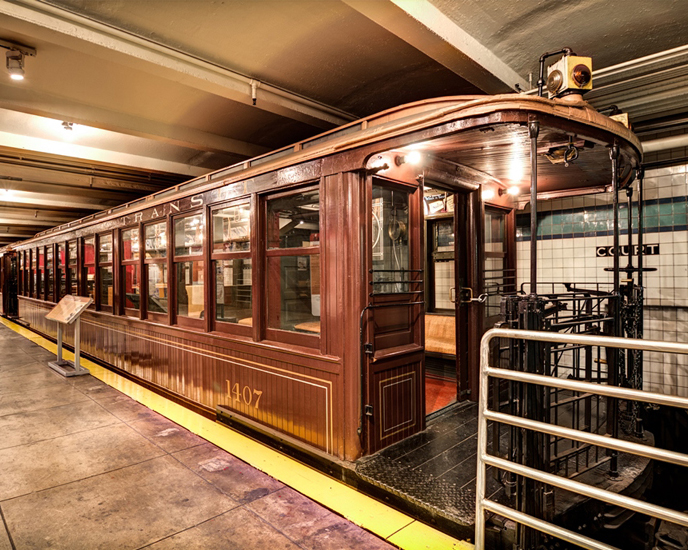 Even though I haven't personally been to the Transit Museum, it's been on my to-visit list for a long time.
Located in Brooklyn in an old abandoned subway station, NYC Transit Museum is a chance to explore the transportation of yesteryear.
Sit inside old subway cars and get some retro style photos. Find out how things worked before the handy Metro Card came into play. This museum is more fun than it seems and will be a great history lesson for all visitors.
TWA Hotel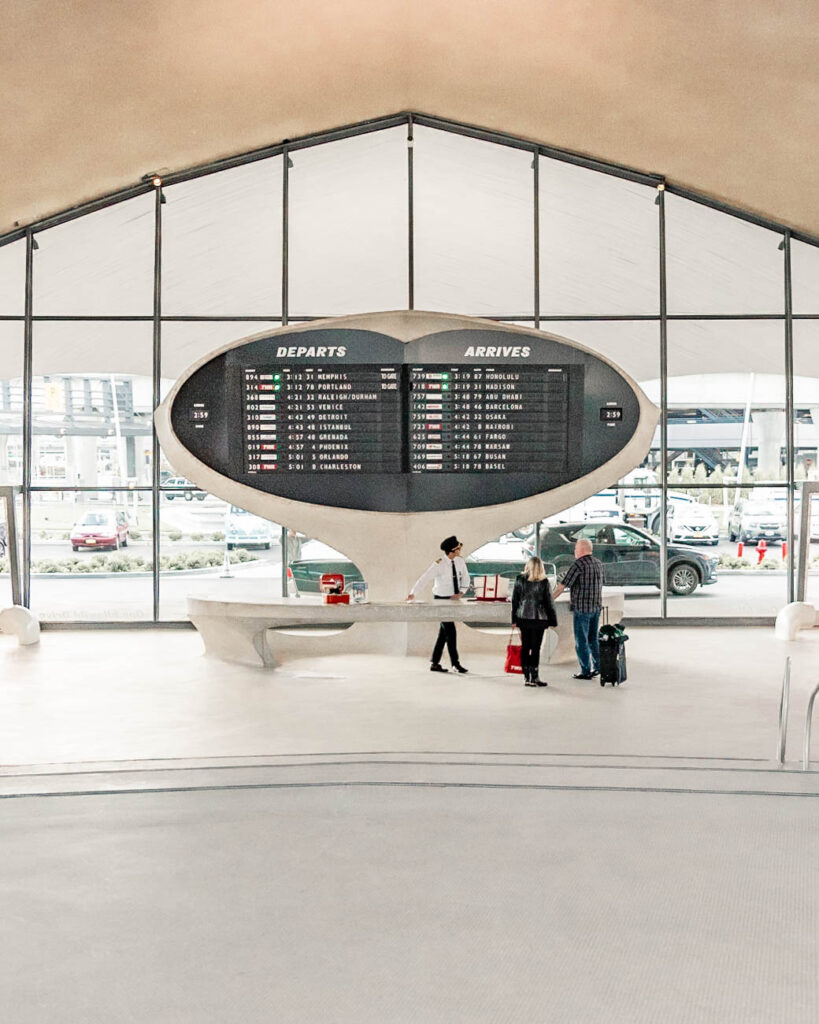 On your way in or out of NYC and have some time to kill? Head to Terminal 5 of JFK Airport to check out the TWA Hotel.
TWA was an airline that built their own terminal at JFK back in the 60s. They wanted it to be super futuristic and stylish. But as soon as they finished building the terminal, they went bankrupt. This place was empty for decades as they tried to figure out what to do with it.
They recently reopened it in May 2019 as a hotel! It is the only hotel actually located in JFK airport and was one of my favourite experiences on my last trip to NYC.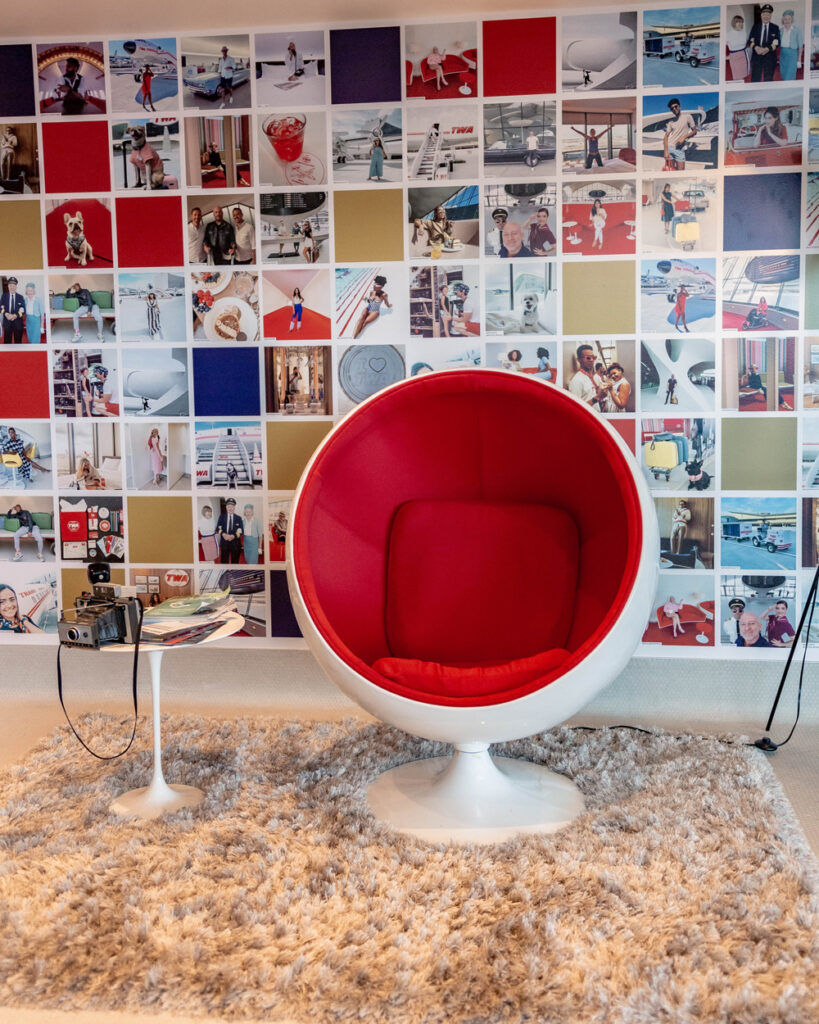 Everything is airport themed, with a retro twist. It's bright and open with little pockets of fun like photobooths, a library, twister (as in the game) room, and my favourite part, a bar in an old converted airplane.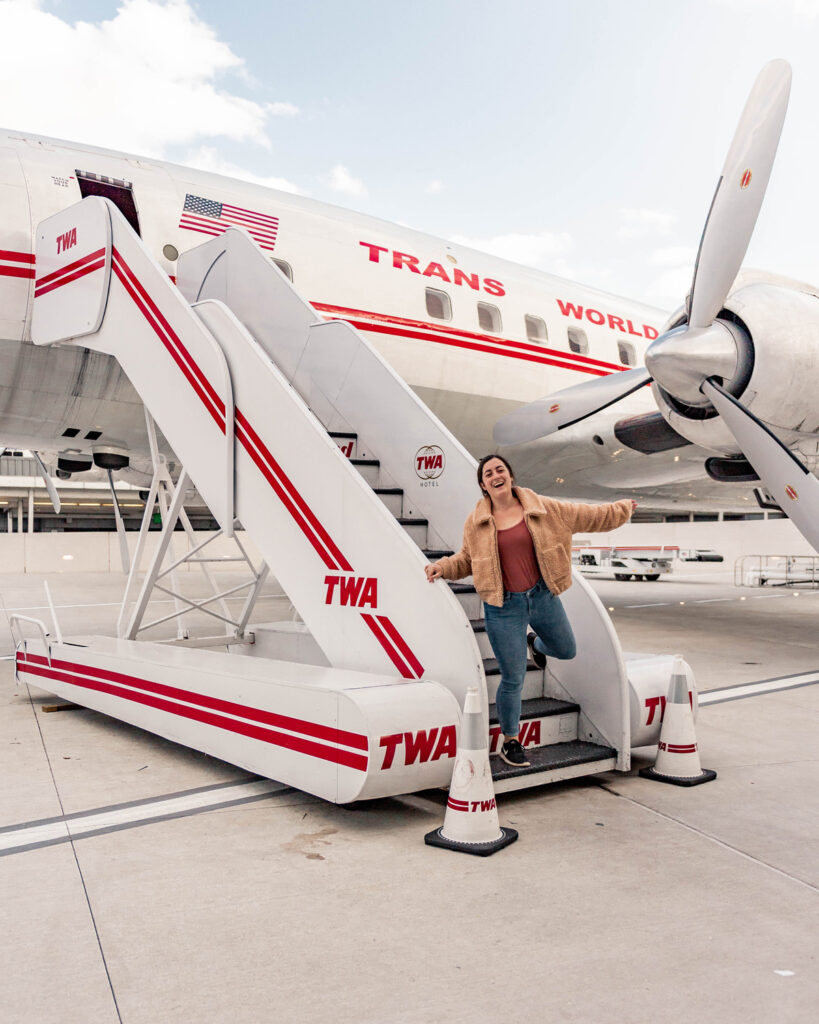 It is totally worth a stay if you have an overnight stopover. I know I will be staying if I have the chance!
Rainbow at Washington Square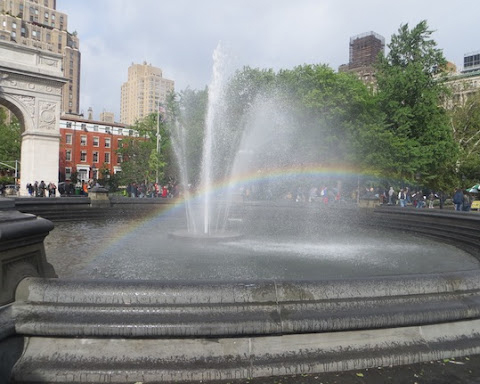 Washington Square is a hot tourist spot, mainly because of the Roman-inspired arch. The park itself is beautiful. However, pay extra attention to the fountain. Easily overlooked, this special moment is worth the visit.
While the fountain in front of the arch is only on in the warmer months, it's worth a visit just to see this - but only at a certain time of the day.
Firstly, it must be sunny, and secondly, it's best to see it when the sun is high in the sky. It's half well-executed planning, half luck. But beautiful if you catch it.
Bonus: Hidden holocaust memorial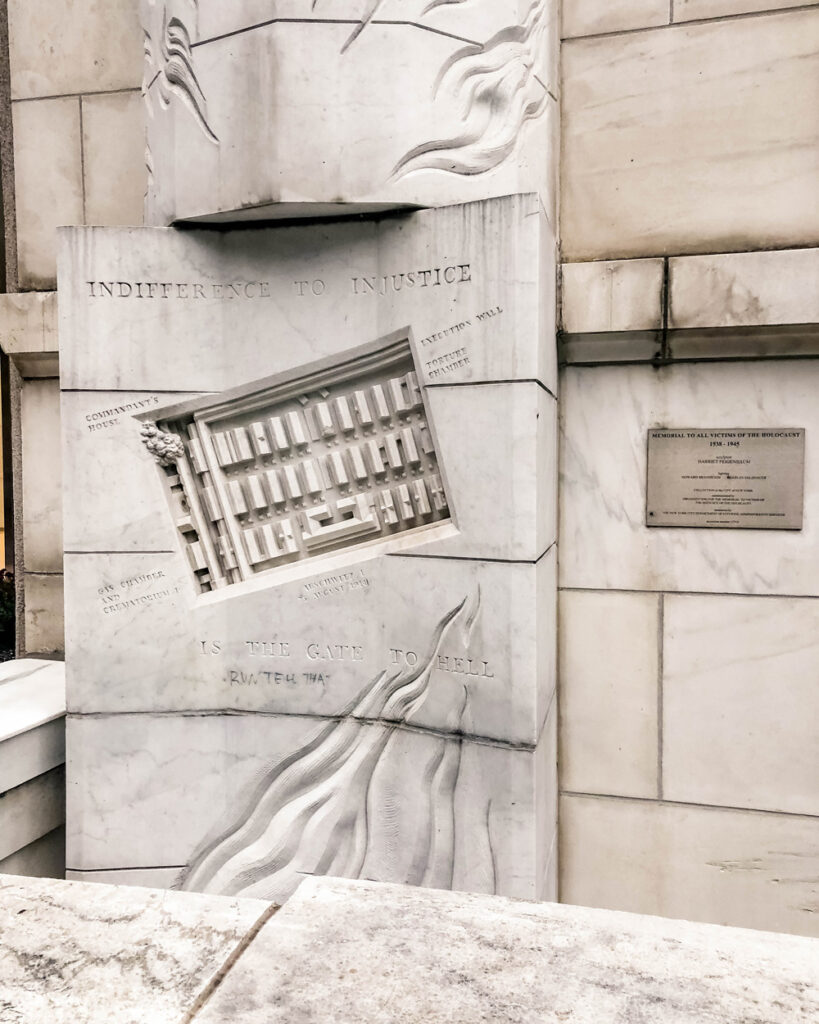 If you are exploring around the Flatiron building and Madison Park, walk on over to the the Appellate Division Courthouse. Hidden next to one of the columns closest to the park is a small memorial on the side of the building.
At eye level is an engraved sculpture of Auschwitz. It's based accurately on an aerial photograph taken by the U.S. Army Air Force in 1944. The camp was only liberated by Ukraine in 1945, a year later. It shows in surprising detail the execution wall, torture and gas chambers, officers' buildings, and more.
Basically, this memorial implicates that the U.S. knew about the concentration camps but did nothing about it. Around the sculpture are the words: "Indifference to Injustice… Is the Gate to Hell" - Pretty fitting for being inscribed on a courthouse.
Despite its size, this was one of the more moving things I saw during my visit. The impact of this tiny memorial is powerful.
What is some of your favourite unique things to see and do in NYC?
Share in the comments and I might add it to the post! I love discovering new, unique and boutique spots around the world. Visit my travel page to discover more.
I am a huge fan of staycations. We don't always have the money to go on a lavish overseas holiday. A quick weekend away (or not so far away) works just as well to revitalise our spirits.
Last year I got the chance to stay at one of my absolute bucket list hotels - The Shangri-La Sydney. Knowing that The Shangri-La has some of the best views, amenities, and service, I was excited to live it up for a night in this amazing hotel.
Location
The Shangri-La Hotel Sydney is located right in the heart of The Rocks. This area of the city is one of the oldest with sandstone buildings, cobblestone streets and a modern twist here and there.
Many of the rooms here have stunning views of the Sydney Harbour Bridge and Sydney Opera House. Alternatively, you get sweeping views of Darling Harbour and the city on the other side - something to marvel at, especially at night.
Before we checked in to start our staycation, we visited the infamous Morrison Bar & Oyster Room. These guys have $1 oysters and yummy burgers to enjoy and with a glass or pint of your favourite drink, how can you resist?
If Oysters and Burgers aren't tickling your fancy, there are a host of other restaurants, cafes and bars within stumbling distance of the hotel that you can enjoy. The hotel even has it's own restaurant and bar that you can experience, but more on those later.
The Shangri-La Sydney Stay
The building hosts a number of rooms for all walks of life. All rooms are spacious and beautifully decorated.
We chose to stay in the Horizon Club Sydney Harbour Room, with views of the bridge and Opera House. The best part of the entire stay is the view from your room as the sun rises over the Opera House, lighting up the sky with pinks and oranges as you sit curled up in your cosy blanket. Even if you aren't a morning person, you need to wake up early for this.
It also came with the extra perks of the Horizon Club such as free breakfast, canapes, drinks and the coveted late checkout. Any extra time you can get to enjoy the full experience of the hotel is worth it.
The arrival at the Shangri-La Sydney is also one of the best I've ever had. The check-in is prompt and polite. Tip: even if you don't have a Horizon Club room, ask for a late checkout and they will do what they can to accommodate you.
Welcoming someone into your home is a pleasure, and Shangri-La Sydney do it well!
When you get to your room, what we found extra delightful was the welcome tea waiting for us, warm and delicious. It came with a small note. We learned providing tea on arrival is a symbol of welcoming guests and neighbours into your home. It is a way of showing respect to those visiting.
Safe to say this first interaction set the tone for our whole staycation.
The rooms also give you the option of a pillow ordering service, free wi-fi access, a TV and DVD system and access to the gym, pool, spa services and more offered within the building. There is a workspace too if you must work. It also comes with international plugs, so no need to worry about which cord goes where when setting up your space.
We wandered around the hotel for a while, checking out the pool and spa with a quick dip of our toes. The gym was right next door and had everything you might need to get your body moving. It was really spacious for a hotel gym!
We also looked at the spa offerings and was pretty tempted by the massage and facial. If I stayed here again I would definitely make the time to spend a couple of hours in that relaxing space.
Altitude Restaurant and Blu Bar
Please take note: Blu Bar on 36 (the cocktail bar on level 36) will blow your socks off! This isn't an exaggeration.
This is the perfect place to watch the sunset while sipping on a drink or two. Head here before your dinner at Altitude restaurant. Just check sunset times before you go so you are prepared. It is busy, so get there about 30 minutes to an hour before the sun goes down.
The drinks can be a bit pricey, but when else do you get a view overlooking either Watson's Bay or Sydney Harbour with the bridge and Opera House, with an excellently made cocktail in hand.
Just sit back and relax with table service and super friendly and knowledgeable bar tenders catering to you as you watch the sun slowly lower beyond the horizon and the city change into a rainbow of colours before your eyes.
When the sun has set and you are ready for some food, head to Altitude restaurant. Located right next door to the bar, it also has great vantage point over the harbour.
We chose the 3 course menu and it was everything I hoped it to be and more. I wanted that dinner to last forever.
The views, the food, the wine, the service. For that time I got to feel what it's like to be in heaven and I still dream about it even now. (Am I exaggerating too much? I'm not sure.)
To be honest, I let the waiter pick my food for me so I couldn't even tell you what I had. Everything on the menu looked so amazing and I couldn't choose.
When ordering, I told him to chose for me which ever dish he thought I would like the most and he was spot on. If you like surprises, I highly recommend doing the same. I received food I probably wouldn't have picked on my own and this is my favourite way to do it.
We stayed to enjoy the lights twinkling over the city as we had another glass of wine. We really didn't want to leave.
It was a slow, satisfied walk back to our room after this. The night was perfect and the sleep would be the cherry on top. We left the curtains open and enjoyed the view as we drifted off.
Breakfast and canapes with a view
I woke up early the next morning to enjoy the sunrise from our window. The city turned pink, orange and yellow as you could see the streets becoming busier below. It was a surreal feeling.
The previous day we had taken full advantage of the complimentary afternoon tea that was included with the Horizon Club rooms. With sushi, quiches, fruit, scones and so much more available, it was a great opportunity for a bite to eat before our drinks at Blu Bar.
With high expectations, we tore ourselves away from the view to head to breakfast.
Shangri-La Sydney have one of the best spreads for breakfast I have experienced. Bottomless coffee and tea, hot breakfast, cold breakfast - they have it all. I chose some scrambled eggs with avocado, bacon and toast.
The area in which they have the complimentary meals also has sweeping views of Sydney harbour (sensing a trend here?), so we stayed a little while longer and enjoyed the morning eating, sipping and chatting.
With our late checkout time approaching, we headed back to our room to pack up and that was that. One last snap of the view from the room and our 24 hours in Shangri-La Sydney was over.
What's around Shangri-La Sydney
After checking out, which was super simple and quick, we decided it would be an amazing opportunity to explore a bit more of the area. We hadn't left the hotel the whole time we were there.
You can check out the Opera House and The Royal Botanic Gardens - a beautiful, peaceful walk I highly recommend.
You should also have lunch at one of the many cafes around The Rocks - some of my favourites include Firestone Sydney, The Tea Cosy and Caminetto. You can also go for a drink and bite to eat at Opera Bar!
After this you can wander around the free exhibits at the Museum of Contemporary Art, or if you are there on the weekend, check out The Rocks markets.
There is literally so much going on around The Rocks and Circular Quay in Sydney that it is impossible to not have things to do.
To book a Shangri-La Sydney staycation (or vacation), check out booking.com - the cheapest rates and the latest info.
Thinking about booking a stay for your birthday? Check out my blog post on all the freebies you can get on your special day.
New Zealand is a wild, free and beautiful country. It's isolated, rugged and just all around epic. If you've ever seen a Lord of the Rings movie, you would see why.
One of my must-do's in New Zealand is the PurePods experience. PurePods are sustainable cabins made entirely of heavy duty glass (floors and ceilings too!) so you can see and experience everything around you. Lay in bed and watch the starry night skies above, or wander barefoot on the heated glass floor while hovering above the native plants growing underneath.
The people behind the PurePods want you to be fully immersed in Pure New Zealand. This means no wifi, BYO food and drinks (we'll get to this later), and an unforgettable experience you'll be raving about for years to come.
Sustainability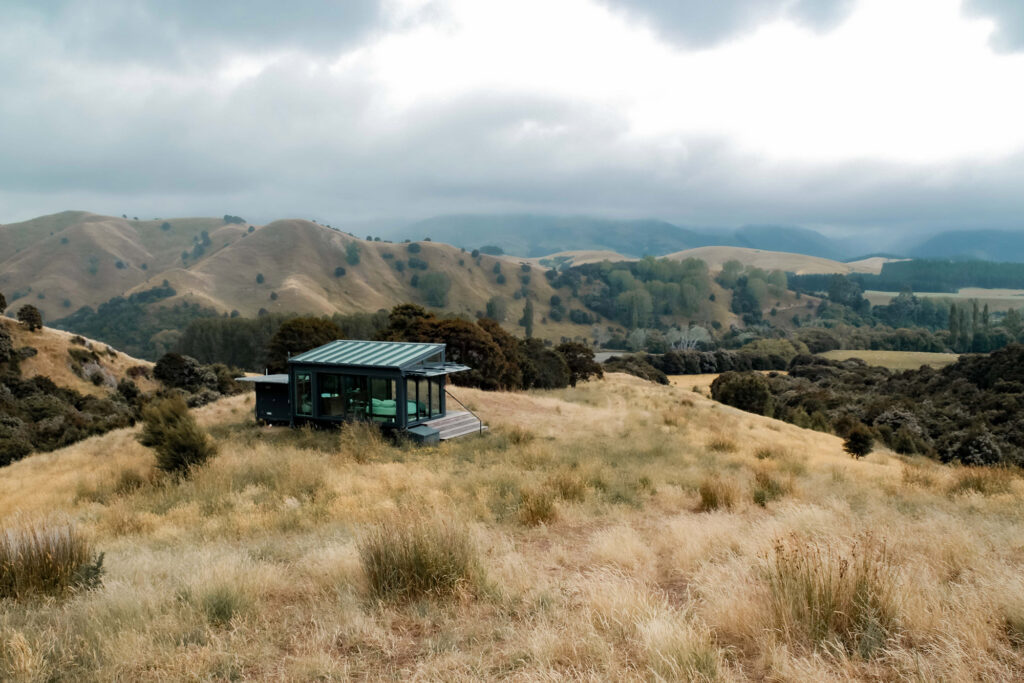 The PurePods glass cabins are designed to leave no footprint, operating fully off-grid, and are the epitome of minimalist luxury. The fact that it uses less energy in 24 hours than a hairdryer does in 15 minutes blew my mind. I am always looking for ways to be better to the planet, and this one was good for me too.
The cabins are built above the ground, so as not to impact the growth of the fauna around and underneath it. They use solar power to charge the batteries and heat the water, gas for the BBQ and cooktop, and a bio-fuel capable boiler in the winter months for extra heating and hot water. I can only imagine how amazing it would be to be all cosy in the PurePod, while watching the snow cover the hills around you. We might have to come back for winter here.
But don't worry, there is a USB outlet to charge your devices if you need it. However, I used my phone so little in lieu of enjoying the moment, that I didn't even need to charge it in the end!
Getting to the PurePods
There are 6 PurePods to choose from, and we ended up going with the Manakau PurePod, located about 30 min drive from Kaikoura or 2.5 hours from Christchurch to the secure carpark, then a 15 minute walk from there through bush to the pod.
Yes, there is a short hike from the carpark to get to your cabin, but that's the beauty of it. It's private and isolated, being one with nature literally in the middle of nowhere. All Purepods are placed on farmland, with help from local farmers who maintain the PurePod, and they know when it is occupied and are committed to your privacy. You only have the animals and the stars for company during your entire stay.
After the agonising decision of which pod we wanted to stay in, we booked online easily through booking.com. Click through to see more photos of the Purepod, plus reviews from other guests, and more.
Once you have booked, only then do they give you directions and instructions on how to get to your PurePod. We drove over rivers, bridges and gravel roads to get to the farmstead where we would leave our car. There was a hairy spot on the way where we weren't sure if our rental car would make it over a particular rickety bridge (it had been raining heavily the previous day), but that's all part of the experience and it's a funny story to tell after the fact.
We parked our car safely in the carpark provided, where we were assured the landowners would watch over it. We only packed what we needed for the night and left the rest of our luggage locked away.
What we brought with us
A change of clothes
Pyjamas, if you even need them.
Toiletries
A book to read
A bottle of wine to enjoy on the deck
Our own food for dinner and breakfast plus some snacks that we all sourced locally to enjoy.
We did bring our own food and drink, but the PurePods also have the option to supply you with a basket full of goodies to save you the trouble. We did this experience towards the end of our trip so we had wine, cheeses and yummy food from the local shops we stopped at along the way.
If you choose to have your food supplied, you can also enjoy locally sourced antipasto plate (cheese, pates and crackers). They also give you a choice of meat for you to cook on the BBQ as well as sides and dessert. Breakfast includes muesli with yoghurt and they have vegetarian or gluten free options available as well.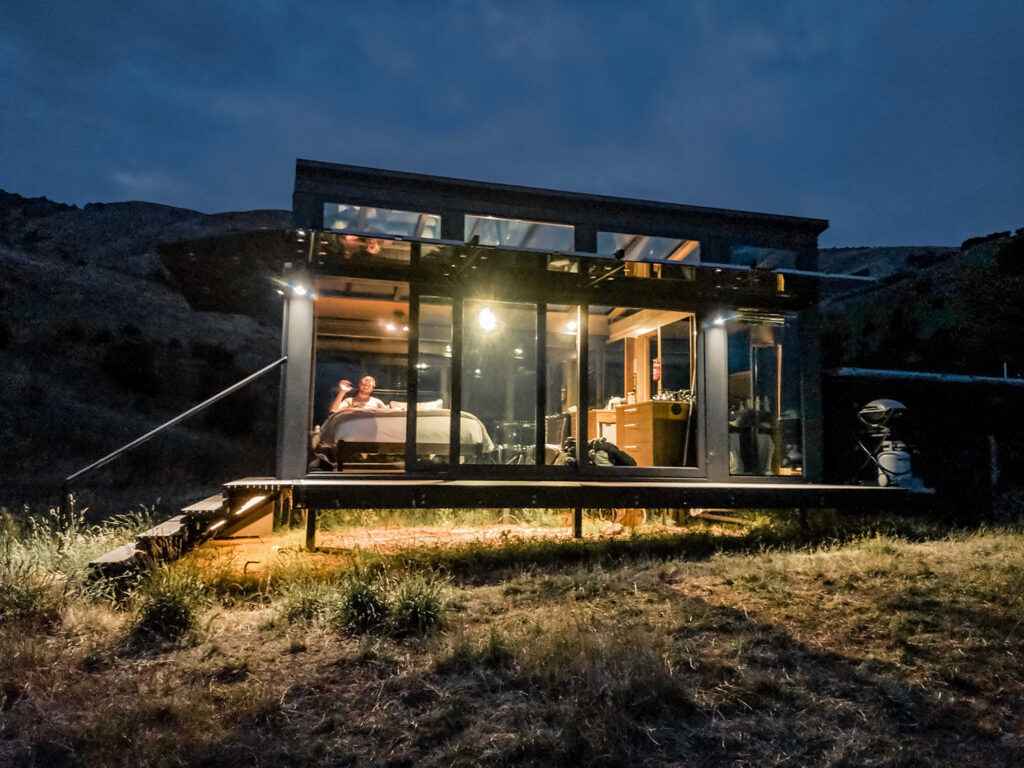 The PurePod has a cooktop in the kitchen and a BBQ on the deck, and there is all the clean, fresh water (sourced from a spring behind the cabin), pantry staples and utensils that you should need.
Which ever option you choose, I highly recommend picking up a bottle of wine or two. New Zealand is famous for their wines and you don't want to miss out on the experience of sipping a glass while watching the sun set over the landscape around you.
What is included
When you arrive in the PurePod, and after you pick up your jaw from the ground, you'll see that they really have thought of everything to keep you comfortable and entertained. The Manakau PurePod included a comfy queen bed, fridge, reclining deck chairs, games, books, and a boom speaker. The fully functioning bathroom also has a toilet and luxurious rain shower, both with views of the outside world.
The unique view from Manakau PurePod is of the Kaikoura Range, almost feeling like it's close enough to touch. Manakau Mountain, the tallest peak, is right in front of you and snow capped for most of the year.
What to do
If sitting back and relaxing isn't your thing, there are also marked trails where you can go for a hike, a wander for a picnic lunch or even just walk up the hill behind the cabin for an amazing view of sunrise or sunset.
We chose to relax and recharge for our stay. We road tripped New Zealand in a camper van and it was literally heaven for us to do nothing but lay back and enjoy. We read our books, bathed in the fresh New Zealand summer sun, played some music as we ate and drank, and just generally switched off.
It started to drizzle rain as the sun set, and this ended up being the highlight of the stay for me. While the sun was throwing colours over the surrounding countryside, we watched the water droplets pitter-patter on the glass roof above us as we snuggled into the soft, warm sheets of the bed. How could it get better than that?
Well, it did. After the sun set, the stars came out to play. Because of the isolation of the cabin, the stars were bright and plentiful. Make sure you turn off the lights in your PurePod so you can fully experience it. And there's even a telescope provided so you can look a little closer. It was magical and otherworldly. I don't think I've ever seen so many stars in one sky before.
As you go to sleep, you can leave the blinds open to wake up with the sun trickling in when the morning comes, or close them (walls and ceiling) for full privacy.
We did leave the blinds open, but ended up sleeping in anyway. I wish we had woken up for sunrise, but until we woke up later in the morning, we hadn't realise just how much we had needed that luxurious night's sleep - the best one I had experienced in weeks.
We were sad to go, but enjoyed it so much I knew we would be back one day.
Book your unforgettable and unique stay through Booking.com today.
Would you stay in a Purepod? What is the coolest place you have stayed in? Let me know in the comments.
Also, if you liked this, you can check out my two week South Island itinerary for New Zealand!
Last year I hopped across the pond from Sydney to New Zealand for the first time. Lots of planning went into this trip and almost nothing happened how it was planned. But I wouldn't change a thing.
We had a couple of restrictions when booking our trip to the Land of the long white cloud.
First: we had to go in December - January time.
Second: we couldn't go for more than 2 weeks.
I love to fly into a place and just go with the flow, letting the universe take me where it wants to go. For this trip, that wasn't possible. But I found that sometimes limits can force you out of your comfort zone, too. We had to be meticulous with timings and only pick the best of the best experiences. It was a trip full of highlights without actually knowing what the highlights were. New Zealand exceeded our expectations and more.
Also, there is no way to see both the South Island and North Island in two weeks, which we originally planned to do. I asked everyone which Island was better and everyone had a different answer. But the general consensus was that the South Island had more untouched, naturally epic sceneries and was the best for hiking and feeling the freedom. We couldn't say no to that.
Below I'll list our itinerary for our 2 week trip of NZ's South Island with suggestions on how to extend the trip if you have a little more time up your sleeve.

Day 1: Christchurch
Flying into Christchurch from Sydney took about 4 hours. There's the option of also flying straight into Queenstown, but it doesn't save much time to justify the extra cost.
To start, I highly recommend hiring a campervan. There's plenty of options around as New Zealand doesn't have great intercity transport, so they expect pretty much all tourists to hire either a car, van or full on house on wheels. We opted for a van, with a bed and small kitchen in the back.
Secondly, if you need it, is a SIM card. Vodafone had the best deal we could find for travellers. You can pick up a SIM at the airport in Duty Free for about $90 and you get 10GB data plus limited talk and text.
After picking up the van and our SIM, we grabbed some groceries and headed out of Christchurch, on our way to Lake Tekapo to spend the first night.
We were immediately struck by how beautiful the scenery was, even just a short drive out of the city. There were mountains popping up on the horizon, beautiful fields and greenery everywhere! We stopped in a small town on the way to switch drivers and grab fish and chips for dinner. One of the best fish and chips I've had - no exaggeration.
We arrived in Lake Tekapo after dark (due to an accident on the highway, we had to go the long way around) and checked into the holiday park. It's right on the lakefront and close enough to town so you can take a small self-guided tour before settling in.
We booked the Mt John Observatory tour through Earth & Sky Observatory (now known as the Dark Sky Project) for that night. Tekapo is under a dark sky reserve, meaning light pollution is strictly controlled. It is the only one of its kind in the Southern Hemisphere, and one of only eight in the world.
Unfortunately, this was one of the first things that didn't go as planned. After waiting up until midnight, we arrived at the tour office only to find it was too cloudy to see anything and the tour had been cancelled. Thankfully they refunded us without trouble and we headed to bed for our first night in New Zealand.
Day 2: Lake Tekapo & Aoraki/Mount Cook
Waking up late on the second day, we wandered around Lake Tekapo village stopping for coffee and breakfast in the Creedy Cow. Prices here are comparable to Australian prices - about $30-40 for coffee and small breakfast for two.
There's a few places of interest around the area if you want to wander around after a meal.
Church of the Good Shepherd
A beautiful, small stone chapel located just as you drive into town from the East. It overlooks Lake Tekapo and it's interdenominational, which I love. It's popular for weddings, and anyone is welcome to walk around.
Tekapo Springs
Just past the Holiday park is Tekapo Springs, perfect summer or winter for some relaxation overlooking the Lake in hot and cool pools. There are many hot springs scattered around New Zealand, some natural and some man made. These are man made springs, but worth the trip if you have time. They also do a guided hot pool and star gazing tour at night.
We only opted for a short walk around part of the lake - the full lake is bigger than you think! - took some photos with the lupin flowers and looked around the Church before heading off to Mount Cook.
There aren't any supermarkets in Mount Cook, only consisting of a small accommodation village, the museum, the campsite and a whole bunch of walking tracks. So before heading to Mount Cook, make sure you pick up anything you might need, including:
Petrol
Food & drinks
Supplies
The main campsite is the White Horse Hill Campground. It's located at the base of the Hooker Valley Track, the most famous track that leads to Mount Cook. To get a spot, you'll need to arrive early - it fills up pretty fast. There's a kitchen area and bathrooms but no showers, so be prepared.
Day 3: Aoraki/Mount Cook
The Hooker Valley Track is popular. It will take about 3 hours from the campsite. The walk is beautiful, crossing 2 swing bridges over the river and even passing by some small waterfalls if you go after fresh rain. The bridges are a great photo op, if you can get them to yourself. The big reveal at the end is breathtaking. There is a blue lake, complete with icebergs, with Mount Cook rising up behind. There's also a picnic area, so take some snacks or have lunch there before heading back to camp.
We couldn't stay long at the viewing area, as despite clear and warm weather on the way in, a summer storm quickly rolled in. All of a sudden, it was cold, wet and icy. It was bad. Luckily we took some raincoats with us as we were previously warned about the weather having the ability to turn at a moment's notice. When we reached camp again, the rain had slowed but the damage was done - we were soaked through and freezing. With no showers, we put on fresh clothes and bundled up in the car with the heating on until it was time to come out for food.
All I can say is, please pack for all weather conditions when visiting New Zealand - even in the summer. Even if the sun is out, it can still get quite chilly. I found layering is the best way to go.
Day 4-7: Queenstown
We packed up our camp early the next morning and drove out with beautiful, sunny skies and great views of Mount Cook along the road.
On the way to Queenstown, we stopped in Arrowtown for a little wander around. Splurge a little and grab some fine wine and local produce before heading onto Queenstown.
There is so much to do in Queenstown. It's the adventure capital of New Zealand, perhaps even the world. There's people from all walks of life, all ages and all backgrounds coming together in one town. And it is beautiful.
We chose to stay at Queenstown Lakeview Holiday Park. It's central to everything, especially close to the Skyline and gondola, and relatively cheap. The views of sunset over the lake can't be beat.
There are so many experience booking offices, so there will be no trouble finding something to keep you occupied. We opted for booking our tours and experiences beforehand, through bookme.co.nz - they have last minute deals for some of the best experiences. For our budget and timeframe, this worked perfectly for us.
We opted for a jet boat ride along the shotover river. We also chose to do the ice bar experience - where everything (and I mean everything) is made of ice - the giant zipline and a wine tour. We considered also signing up for the giant swing/bungee, but chickened out at the last minute. I don't think I'm quite ready for that leap just yet.
But hands down, the best view you're going to get over Queenstown is the skyline - a gondola taking you up through Ben Lomond Scenic Reserve. They have a BMX track, ziplining, bungee jumping and luge rides. On the way down, stop at the Stratosfare Restaurant for some dinner, and watch the sunset over the lake and mountains, but get there early as the good tables start filling up about 6.30pm.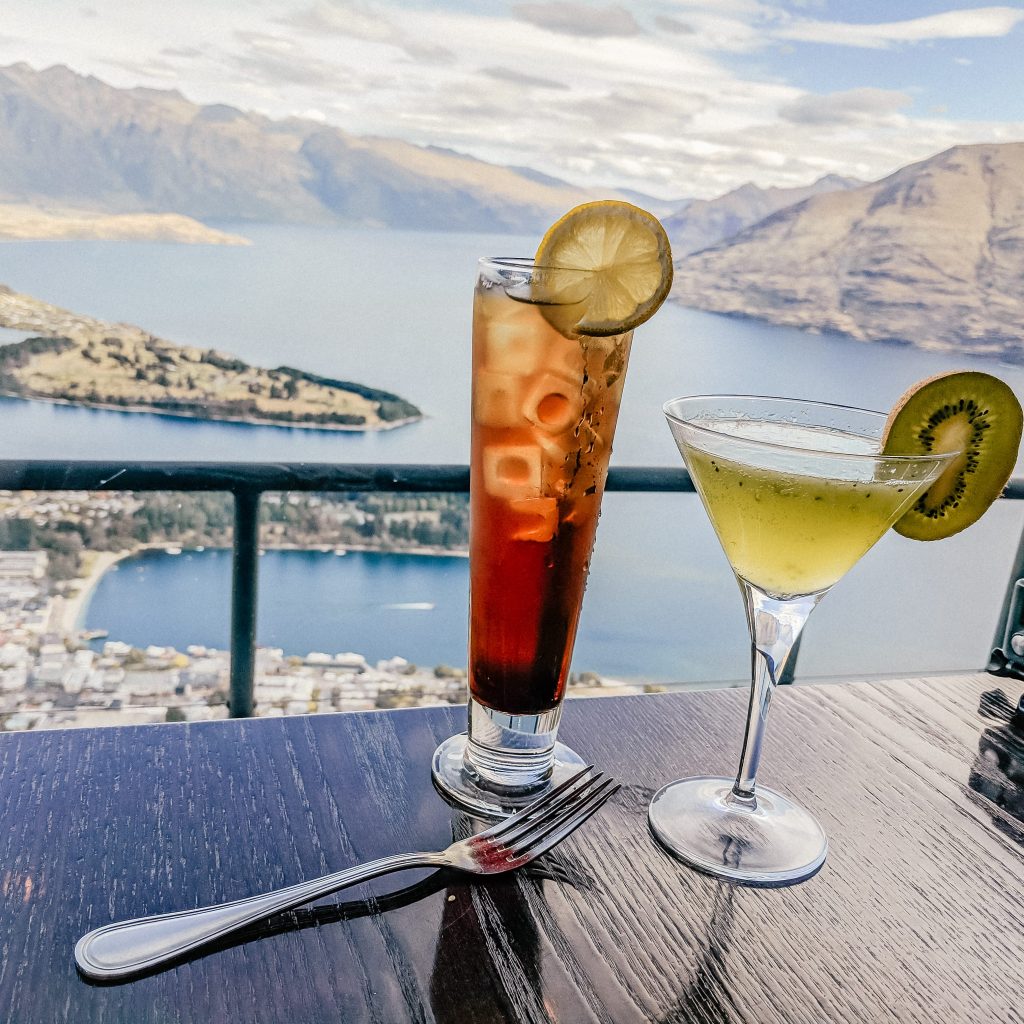 Overall, we stayed four days here, but could stay longer and still not get bored. There's plenty of restaurants, bars, walks and more to do around the area and everyone is super friendly.
Hint: a great insta worthy location is the Basket of Dreams - found on the hike up Queenstown Hill.
Day 8-9: Te Anau & Milford Sound
Te Anau is a 2 hour drive south of Queenstown and is known as the gateway to Milford Sound. Book a cruise and either drive yourself through the national park or pick a cruise that comes with a coach transfer. We chose the coach, but if I did it again I would choose to drive ourselves - the park itself seemed to be full of great mini adventures and beautiful views that I would have loved to stop and explore a bit more.
Milford Sound itself is like nothing else in the world. Rain or shine, all weathers have their pros. With clear skies you can see the epic, rising cliffs as you travel out to the Tasman Sea and back. In rain, you get amazing waterfalls left, right and centre. Some cruises even take you right up to them, letting the pounding water literally smack you in the face. So exhilarating. There's also seals, birds and if you're lucky, dolphins.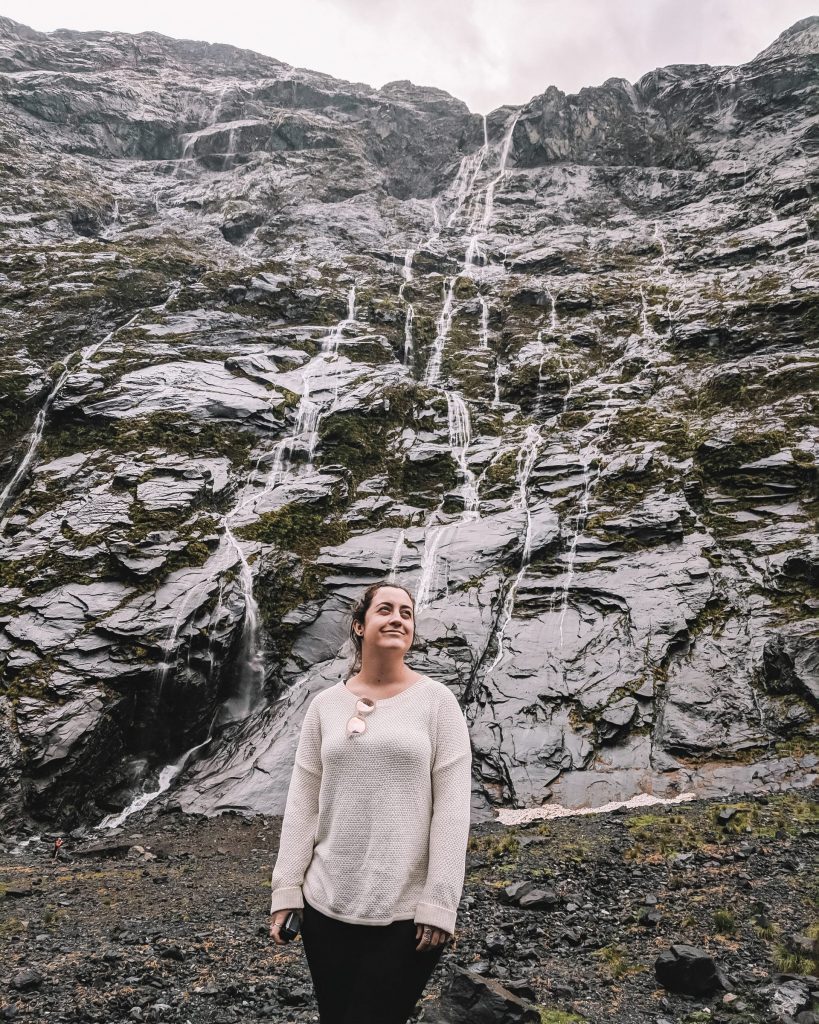 Back in Te Anau, the glowworm cave tour is a must. They sail you across the lake from the small village, over to the other side where you squeeze through a tiny entrance to reveal caverns lit up with the glowworms.
If you'd rather just take it easy, you can take the Kepler track walk. The first part of this trek is an easy stroll, but starts getting into more of a hike the further you go
Day 10: Lake Wanaka
Driving back up through Queenstown again and up to Lake Wanaka, we stopped at the Cardrona Bra Fence on our way through. As you can guess, it is completely covered in bras, donated by women from all over the world in support of Breast Cancer awareness. If you have a chance, please donate at the box located next to the fence.
Once at Wanaka, you can't not go to The Wanaka Tree. It is probably the most photographed tree in the world. Take some snaps, have a picnic on the lakeside beach, enjoy the view. The super blue lake coupled with the mountain range in the distance is a view you just can't pass up.
You can also choose to stay here and hike Roy's Peak. It's a full day hike and at the top will take in all of Lake Wanaka and surrounds, an experience we unfortunately had to pass up in favour of saving time.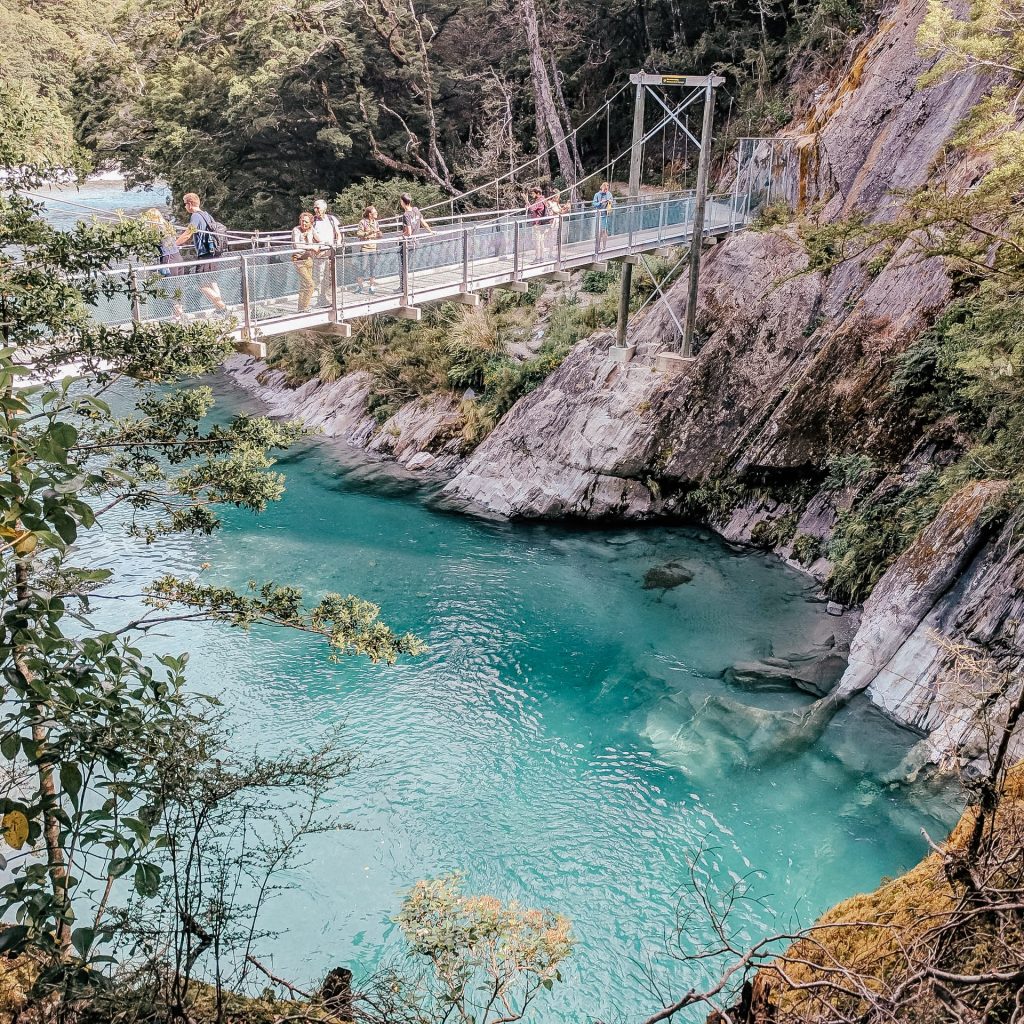 We instead opted to stay at a campground just north of the town, on the way to Franz Josef Glacier. The campgrounds in New Zealand are well maintained, safe and cheap - most of them only $8pp per night. We stayed at Cameron's Flat Campground, which has the added bonus of being within walking distance of the famous Blue Pools track. It was a short, easy walk down to a suspended bridge and a waterfall flowing over a pebble beach and crystal clear river.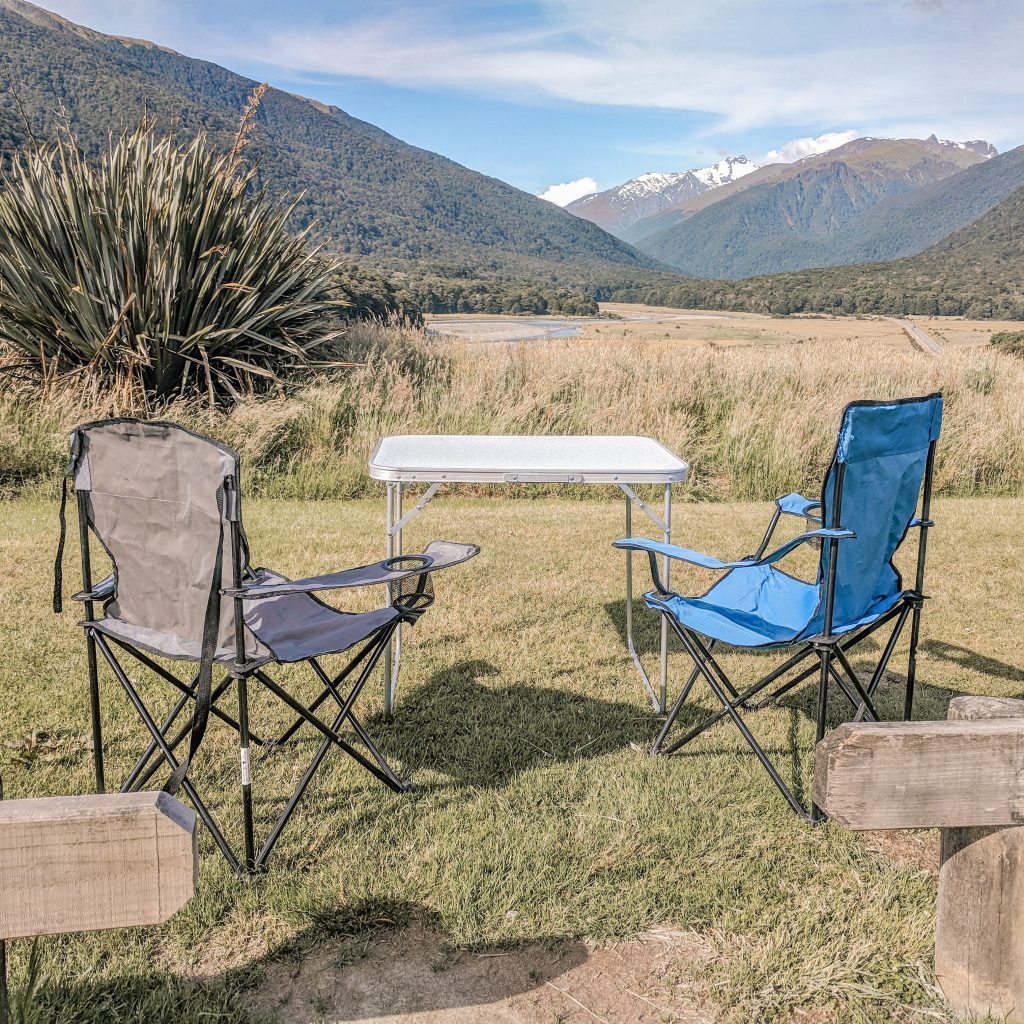 Day 11-12: Franz Josef Glacier
After packing up our camp in the morning, we headed to Franz Josef. It was a longer drive than previous days, but there were plenty of opportunities to stop along the way. First was Fantail Falls. It's located just off the highway and will take a few minutes to walk to the clearing. People have made lots of rock stacks all over the river bed, creating a beautiful frame for the falls on the other side.
Further along, the highway turns to follow the coastline, offering spectacular views of the ocean all along the stretch of road. There's plenty of places to stop for photo ops and more.
It's amazing how the landscape can change so drastically - moving from mountains and dramatic cliff sides, to rainforest canopies enveloping you as you drive along the west coast. Mt Aspiring national park is so beautiful. We even were lucky enough to see a Pukeko, a native bird of NZ.
Franz Josef is a cute village nestled amongst stunning scenery and one of the best ways to see it is from the air. We had booked Helicopter Line with a heli-hike, which is a helicopter ride up to Franz Josef Glacier where you do a guided walk through some of the amazing structures formed by the ice. They also do trips to the Fox Glacier.
We almost missed this opportunity, since the weather turned bad and our booked time got cancelled due to low hanging clouds. Luckily, Helicopter Line managed to get us on the next cleared flight - the day was saved. It was an unforgettable experience and the highlight of our trip. The whole experience lasts about 3 hours before you head back down. It's hard to explain without actually seeing it for yourself. Definitely a bucket list item to cross off the list.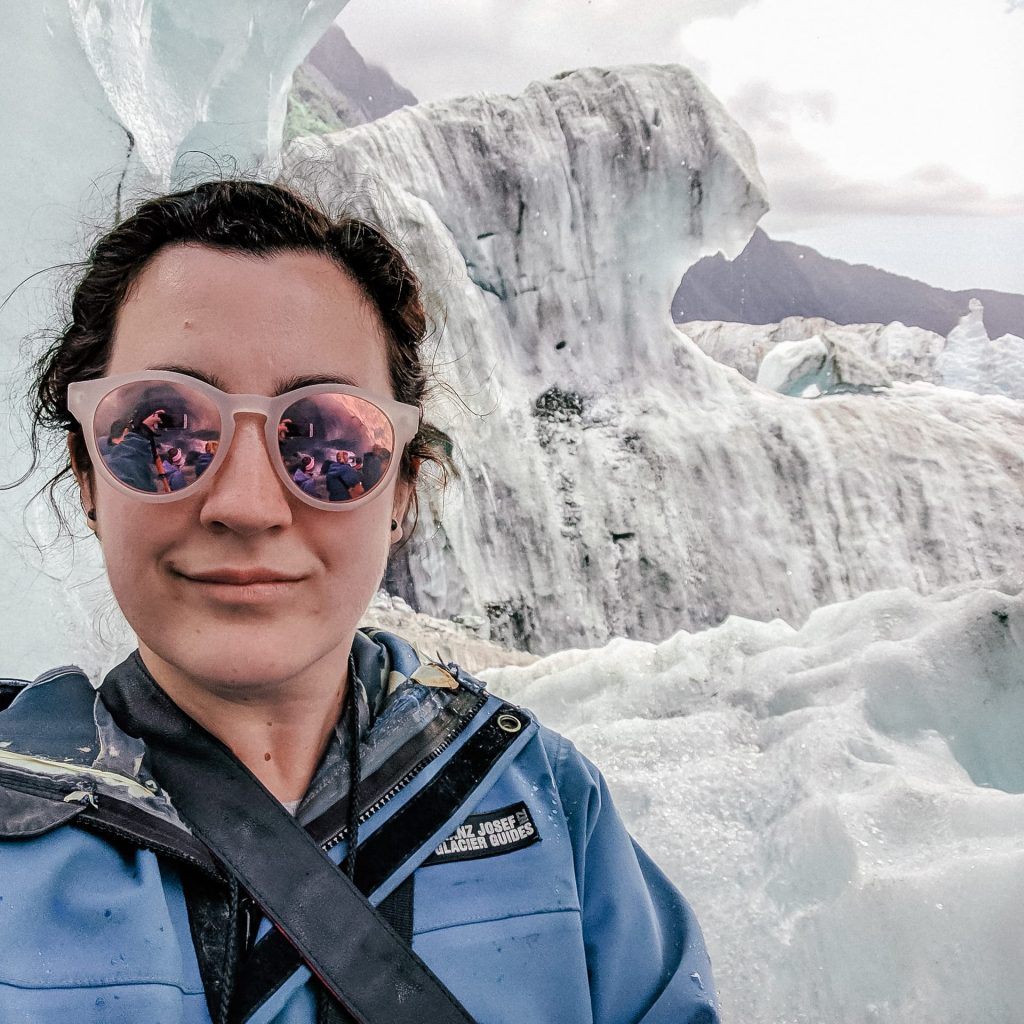 After the hike, give the hot pools a visit. We chose a private pool, which has a private shower and change area with it. The pool is nestled amongst the forest and is the perfect place for some quality time and tranquility to relax and recharge. You get the whole pool to yourselves for an hour and really saved us after the cold and wet weather the previous day had brung us.
We also chose to stay in an Airbnb, after over a week in the van. Our whole time at Franz Josef left us feeling like brand new people - refreshed, happy and ready to finish our trip. We headed to Arthurs Pass to stay at Avalanche Creek Shelter for the night, a campground right in the middle of town. There were no showers, but we did find a communal shower in town that you can use for a small fee.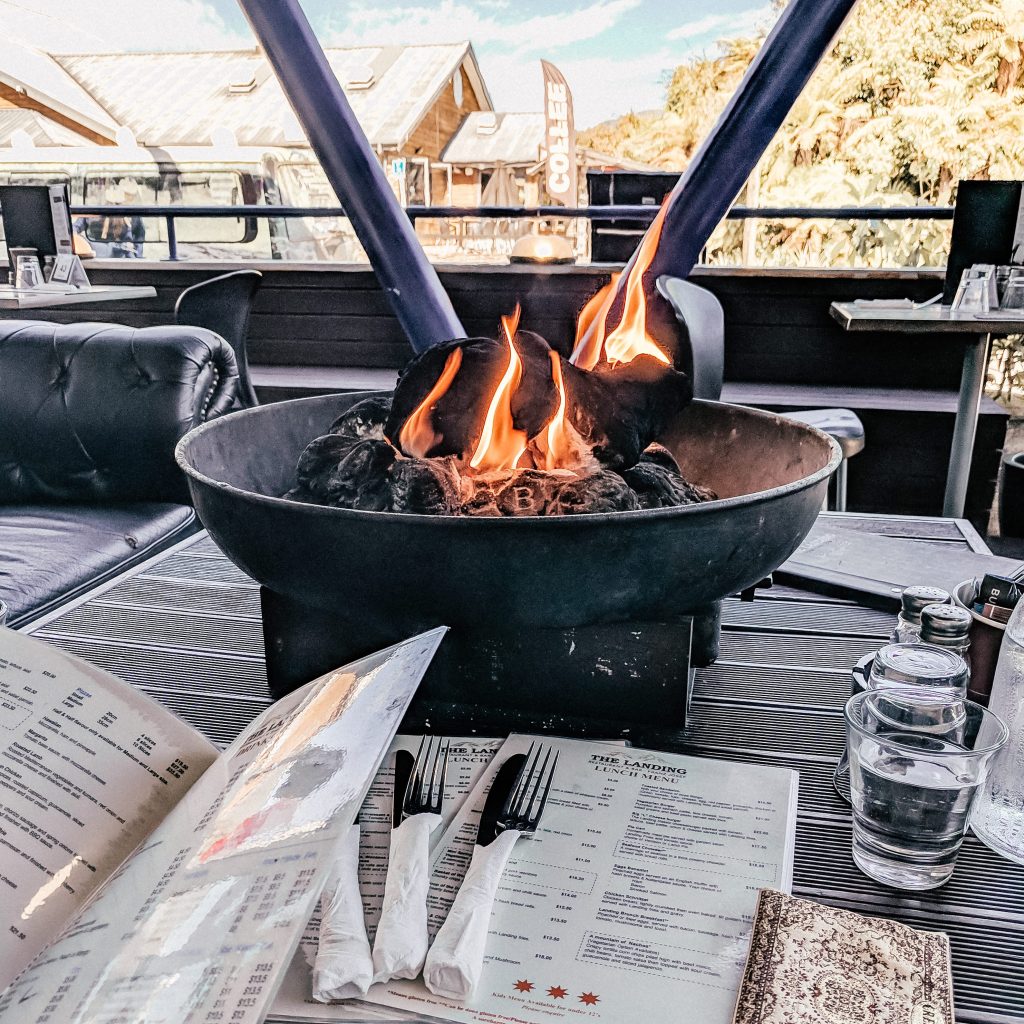 Day 13: Arthur's Pass & Castle Hill
This was the longest driving day we had done so far. We got up early in the morning to do a small hike up to Devils Punchbowl Waterfall. A short 30 minute hike with a lot of stairs but a beautiful, roaring waterfall at the end.
After the hike, we headed to Kura Tawhiti/Castle Hill, a natural rock formation found on the way to Kaikoura. We stopped for lunch, taking a picnic up to the track that is overlooking the area. It felt quite spiritual and a great spot to just soak up the atmosphere amongst the amazing limestone boulders that form the hill.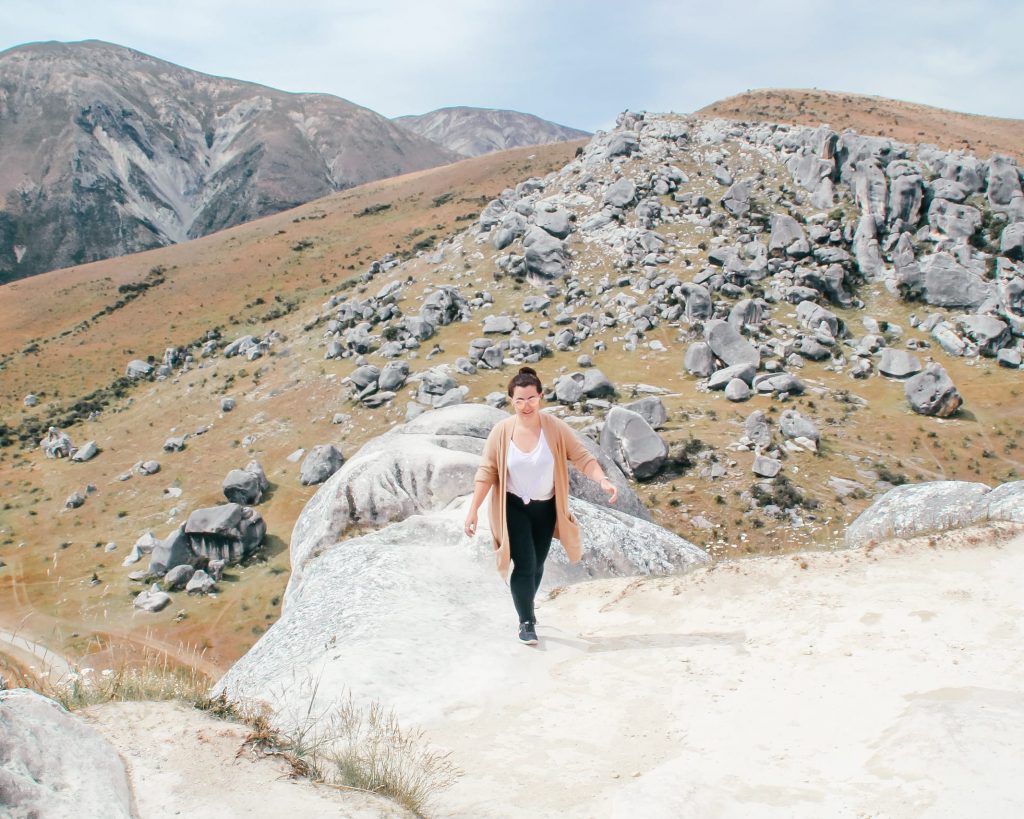 But, the night I had been looking forward to most was coming up tonight! Before the trip I had heard about the Purepods located around New Zealand. They are small cabins made completely of glass, promoting sustainability and minimalist luxury. You feel like you are immersed in the landscape, being able to both watch the stars above you and the flowers growing beneath your feet all while snuggled up in the comfy warm bed. But don't worry about privacy - there was not another person in sight for as far as the eye could see. Watch out for the sheep and cattle though, as the one we stayed in near Kaikoura was set up on farmland. It was a truly magical and unique experience and would definitely recommend to anyone going to New Zealand. If you want to learn more about the Purepods, how to stay there and what it's all about, I have another blog post on this exact topic. You won't regret it.
While around Kaikoura, we would have loved to do the Ohau Waterfall walk with the Kaikoura Seal Colony, but unfortunately the area was closed due to the recent earthquakes that caused the coastline around there to be unstable. Ohau Waterfall is famous for seeing baby seals up close and will be on our list for our next visit.
We instead opted for Kaikoura Kayaks, another way to see the seal colonies and even some dolphins if you're lucky. They take you out from the main town and approach the waterfall area from the sea.
Due to the closure of the coast, we also had to miss out on heading further north up to Nelson and surrounds - famous for their wine, nature walks and biking. You can add this area onto your trip but because of its isolation from other areas of the South Island, I would recommend making the most of it and add a few days onto your timeline when you go up. There's a few things we would have loved to see:
Marlborough wine region
Abel Tasman national park
Rabbit island
The gardens and more
Day 14-15: Christchurch
I know, I said that this itinerary was for two weeks, but I added an extra day because you will need it to see some more of the beautiful city that is Christchurch.
Despite it being a small, quiet city it has so much to offer. We stayed at the Chateau on the Park, a Double-Tree by Hilton, which I would recommend but I also would stay somewhere a bit closer to the city next time. Although, the walk through the botanic gardens to the city was beautiful. They even have gondola rides up and down the beautiful river in the gardens.
After arriving, we took a wander through the Re:Start container mall. The earthquake I mentioned earlier hit hard for Christchurch, killing 185 people, injuring many more and causing severe damage to the city. The Re:Start container mall was a great example of the New Zealander resilience. Originally meant to be a temporary structure, it was so popular it remained open until early 2019.
There is also a great restaurant scene - check out Little High Eatery and especially Bacon Bros, an infamous burger joint and popular with locals and tourists alike. There is also awesome graffiti art dotted around the city and some memorials for the tragic history of the area. So just wander around and take it all in.
One installation is the 185 White Chairs. Each chair represents an individual who died during the 2011 earthquake. It's a powerful reminder and really hits home the extent of it all. Right next door is the Cardboard Cathedral. It was also meant to only be a temporary solution to the old church's destruction, but became a permanent fixture due to its popularity.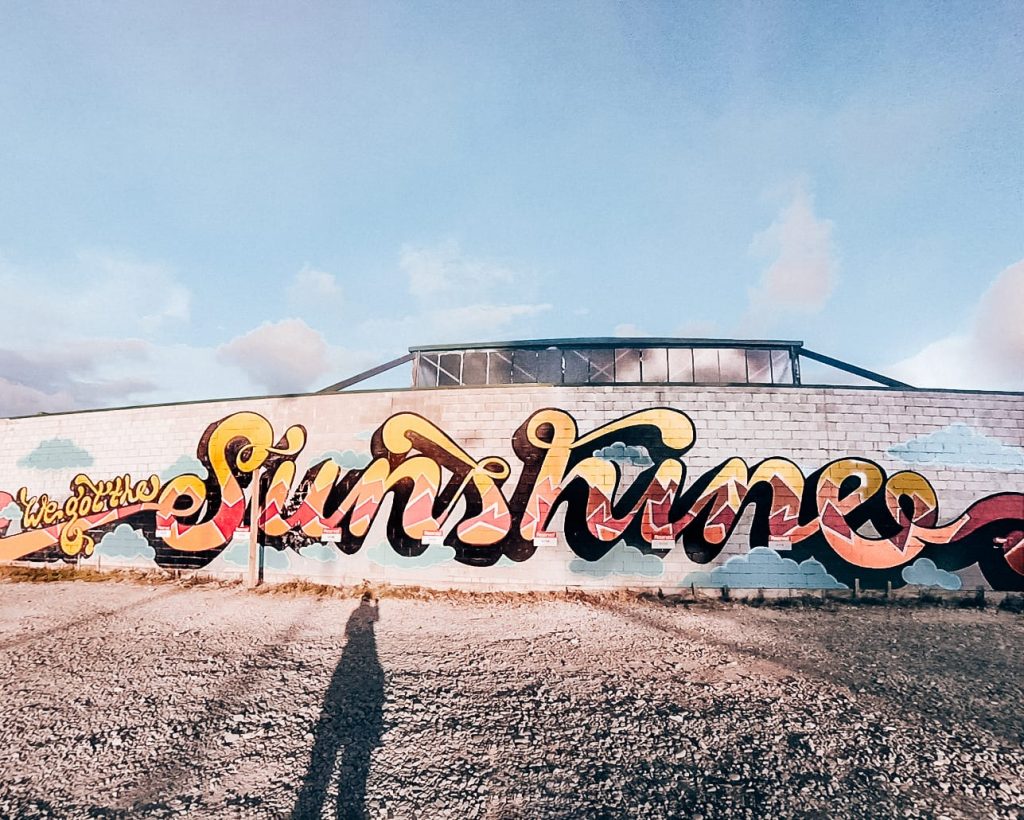 That brings an end to our trip to South Island, New Zealand. On the way out, if you have time, also check out the International Antarctic Centre. It's located within walking distance of the airport and have storage for your luggage so you can pop over if you have time to kill before your flight. They have a Antarctic storm simulator room, Hagglan rides, huskies, and penguins. We spent an hour or so here and it wasn't enough!
It was a sad moment to leave New Zealand. It was like nothing else in the world. But I will be back. Perhaps even in the winter, when the mountain ranges are covered in snow, and we can experience a completely different side to this amazing country.
Have you been to New Zealand's South Island? What experiences would you recommend?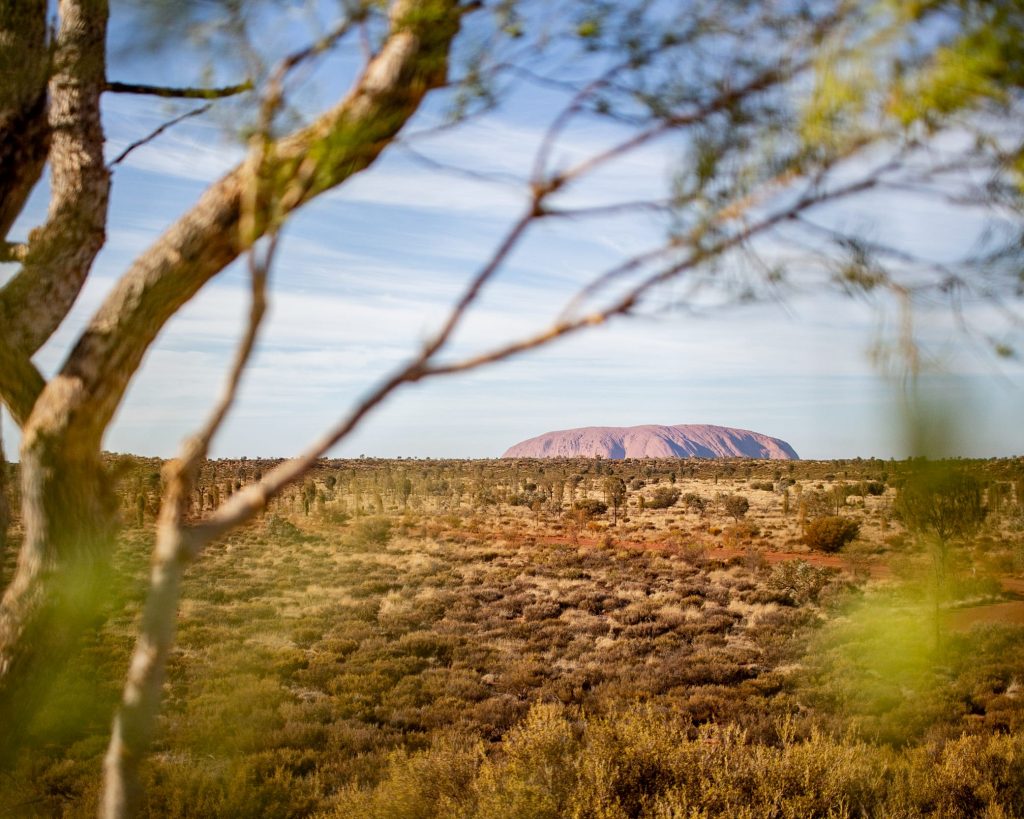 Visiting Uluru is a must. For Aussies, for travellers, for everyone. It's a right of passage - have you really been to Australia if you haven't been to Uluru?
Getting to Uluru
Flying from Sydney, getting to Uluru was a mere 3.5 hours. 3 hours from Melbourne, or 2 hours from Adelaide. Not too bad. You can fly with Jetstar or Virgin Australia into Connellan Airport, the name of the local airport and it's a quick 10 min shuttle ride to the resort from there.
You can also drive from Alice Springs, Darwin or Adelaide and experience more of the landscape that makes this area truly unique. Who doesn't love a good roadtrip?
The mistake that most tourists make in visiting Uluru is that they go during Australian summer.
I understand that this is high travel season for a lot of people, but unless you can handle up to 55C days and a million flies trying to get into every open hole in your face, your best bet is to go during winter. The weather is less humid and cooler (about low to mid 20s during the day and around 10 during the night).
We went at the end of Autumn and it was still hitting 30C when the sun was up. Something to keep in mind considering that once you're out at the rock, there is not a lot of shade to keep you cool.
I've also heard people mention that a day or two is enough to see the area. I highly disagree. We did 4 days and it was just enough time to see everything major there is to see but we also could have done more.
Where to Stay
The only place to really stay close to Uluru-Kata Tjuta National Park is Yulara, which is entirely comprised of Ayers Rock Resort. All hotels, restaurants and amenities are owned by them. It's its own little town with police station, supermarket, petrol station and more.
There's something to suit everyone though, with a campground, backpackers, family hotel, boutique hotel and more high end luxury hotels. We stayed in Desert Gardens Hotel in a Rock View Room, a lovely hotel with the best view of Uluru from the resort. It included a large king size bed, TV, fridge, bath and balcony overlooking the rock. Perfect for a weekend away.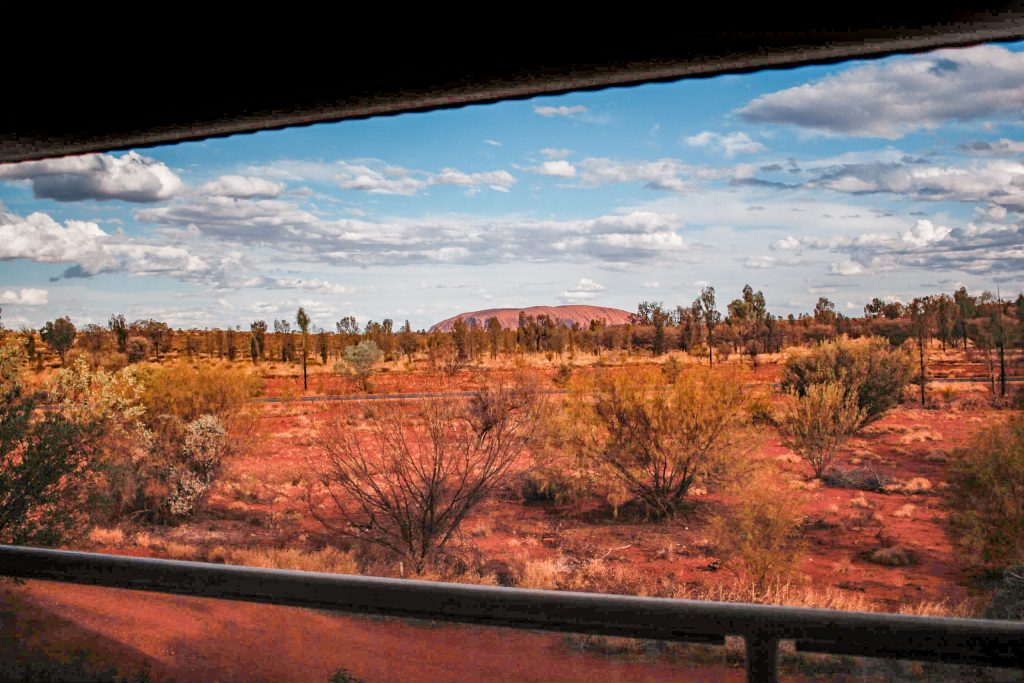 The one good thing about everything being owned by the same resort, is that no matter what you want to do, you can book it all though your own hotel's concierge. We booked our bicycle hire, restaurant dining, bus transfers and more. The staff were super helpful and very friendly. If you don't know what you want to do while there, they can help with that too.
As for food, we ate at several places around the resort. My favourite was either the Pioneer BBQ, a cheaper and more family friendly option, where you choose and cook your own meat - they even have crocodile and kangaroo on offer! - or the Arnguli Restaurant.
We treated ourselves to a meal here and were not disappointed. It was our anniversary and my birthday so we thought, why not? There are several high end restaurants but went with this one for convenience as it is also in the Desert Gardens section of the Resort. Great, indigenous inspired food really put you in the right mindset for the experience!
How to get around
There are a couple of options when considering how to get around the area. We opted for the Uluru Hop On Hop Off bus, and tours that would take us out and show us around. But there is also the option of hiring your own car, picking it up from either the airport or the hotel, and driving yourself around.
While we liked the bus and couldn't really fault the tours at all as we learnt so much from our guides as well as getting food supplied, we decided that hiring a car would have been better, timing wise.
The bus has four or five transfers to Uluru and Kata Tjuta per day and if you miss it, you will need to wait about an hour for the next. There are specific sunrise and sunset bus times (around 6am and 7pm respectively during winter), so don't worry about that.
But having a car is just an extra level of freedom to explore and visit locations further away from Uluru that the bus doesn't take you.
Whether you choose a car or bus, you will need a National Park Pass. They check this either when you enter the National Park (there is a boom gate and operators), or when you start your tour. This gives you entry to see Uluru, Kata Tjuta and the surrounding park area, and will cost $50 pp for 3 days.
The national park opens at 6am and closes at 7.30pm during May, when we went. Sunrise was about 7am and sunset 6pm, so this gives you plenty of time to enjoy the show and then head back home. Just note that once the sun has dipped below the horizon stay another 15 minutes or so as the colours of the desert around you intensify.
Check opening times and book your pass at the National Parks website.
There are specific tours that go out for sunrise and sunset and take you to the specific viewing platforms around the two formations that are built for that purpose. These are really popular though, so just be mindful.
Where are the best views
There are also lookouts in and around the resort that give you uninterrupted views of Uluru and Kata Tjuta.
We found the best lookout was either the Imalung lookout, located right in the centre of the resort looking out over Uluru to the front and Kata Tjuta to the side, or a lookout just off Napala Rd, opposite the war memorial (other side to the turn off onto Kunia St).
Just a note on photography at Uluru - while walking or riding around, please note that there are sections of Uluru that are considered sacred to the local aboriginal people and therefore are not allowed to be photographed or filmed. Don't worry, there are lots of other places just as beautiful that can be photographed so you won't be short on photo ops.
Drone use is also restricted within the National Park. But we found some places just outside of the park that we could lift off and fly around, with just as amazing views of Uluru and surrounds.
Funny story - be careful of Eagles in the area. One tried to attack and take our drone on one of the flights! I've never had my heart racing as much as it was in that moment, with me running to the drone and my partner trying to bring it down so I could catch it and the eagle swooping in.
It must have been hilarious to watch from the outside, but damn it was scary at the time. We were careful to watch out for him after that.
Exploring Uluru itself
When visiting the rock itself, we took 2 days to fully explore around. If you want to do just one, make sure you go early and use the day to your full advantage.
We went the first day in the afternoon, just to explore the Walpa Gorge section. We were there for less than two hours and really enjoyed the relaxed, short walk and reading the plaques explaining the history and culture along the way.
The second day, we went around 10am to pick up our bikes. It took us around 4 hours to ride around the full base. So for walking, I would add a couple of hours onto that. I recommend biking as it's less stress on your body and easier to explore. Either way, just remember to stay hydrated!
In total, the base clocks in at just under 10km. But with each corner revealing more amazing photo opportunities, you'll be stopping every 5 minutes to marvel at it all.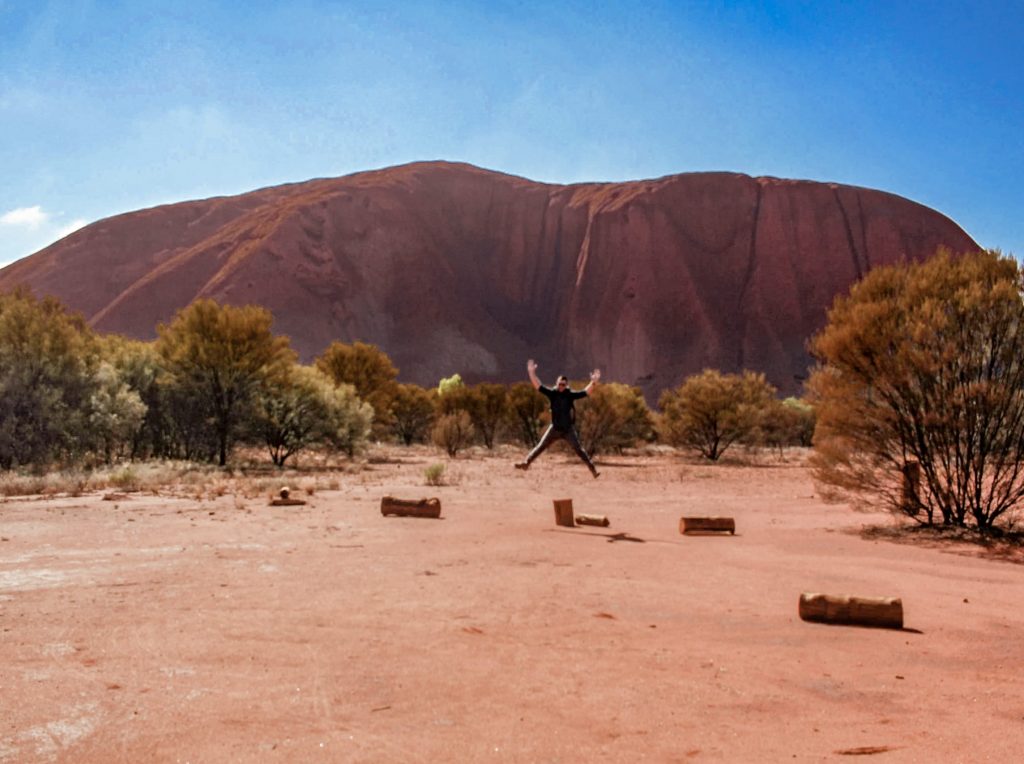 But be prepared. There is barely any shade in some sections, so take with you:
Sunscreen (50+)
Wide brimmed hat
Long sleeve shirt and long pants in a breathable fabric
Sunglasses
Full water bottle (there are refill stations of filtered water at different locations on the base walk)
If you are short on time, the highlights of Uluru include Walpa Gorge and Mutitjulu Waterhole. The bus can drop you at the start of these tracks or they have carparks, if you're driving. They are short, easy walks and have trees for shade so they are suitable for all walking types.
You might also want to add some time in to explore the cultural centre, located 2km from Walpa carpark. You can find refreshments, food and a beautiful art gallery. Talk to the people behind the counter and discover a whole new side to the culture of the area. You can also catch the bus back to the resort from here, so we made this our last stop of the day.
Climbing Uluru
One thing about Uluru - please don't climb it. You are technically allowed to, but there are signs everywhere posted by the National Park and the local aboriginal people asking you not to. It is considered disrespectful and it is actually hurting the rock. You can see the white scar that has been created by years of tourists walking and trampling the rock.
The climb will be closed from October 2019, but until then it is up to you whether you make the attempt or not.
Other than Uluru itself, there is so much to the red centre that you need to explore and discover.
Tours of Uluru and surrounds
We did one tour in our weekend there, a sunrise tour to see Kata Tjuta and the Valley of the Winds. I would absolutely recommend this tour, hosted by AAT Kings. You can book this through the resort.
We started about 5.30am, catching a coach into the National Park and to the sunrise lookout platform where we were provided breakfast and a hot cuppa. It was a bit chilly before the sun was up, so bring a light jumper (as soon as the sun is up, you won't need it anymore!).
It was so peaceful and magical watching the sunrise. We had Kata Tjuta (The Olgas) in front of us, and Uluru to the side (the sun rose behind Uluru from this angle).
After sunrise finished, we were taken deep into the heart of Kata Tjuta to hike through the formation. The first part of the hike was easy, where everyone was invited to join in. The lookout we came to was beautiful, with Mount Olga right in front of us.
After the first lookout, however, they recommended only fit walkers continue on and I could see why. The section from the first lookout to the Valley of the Winds itself was rocky, steep in places and even a bit of bouldering was involved. It was so worth it though. The Valley of the Winds was one of my favourite views on the entire trip. My breath was taken away, in more ways than one.
You can also do trips to Kings Canyon, which takes a few hours to get there and therefore will take up a whole day. They also do overnight tours there. We didn't have quite enough time to enjoy this one, but will be looking into it for our return.
Field of Light - a must experience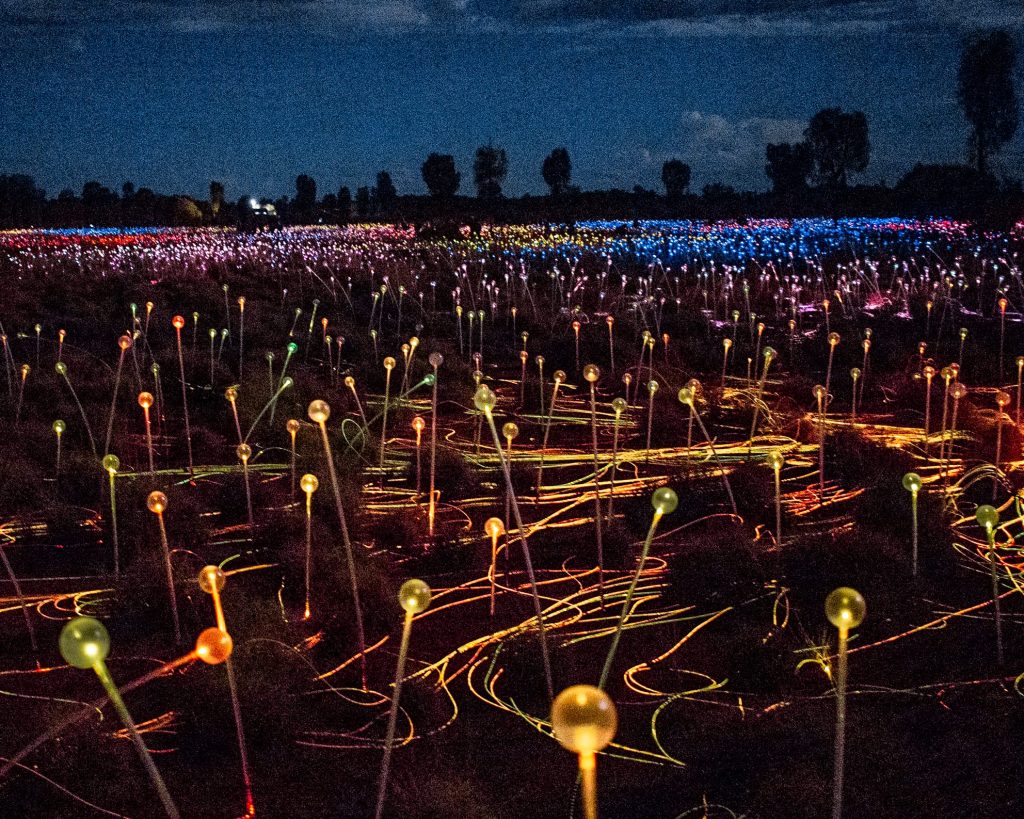 One of my highlights was the Night at Field of Light. This tour is run by the resort and includes an outback dinner (called Sounds of Silence), didgeridoo performance, star talk after nightfall, and entrance into the resident outdoor art installation, Field of Light by Bruce Munro.
It was pushing our budget, but we both knew we had to experience this. And every second was worth it.
They pick you up from your hotel before sunset, drive you to a lookout just outside of the resort boundaries, where you can have a glass of champagne while watching the sunset behind Kata Tjuta in the distance and the light playing off Uluru on the other side. It is truly breathtaking. The way the rock changes colours as the sun sets is awe inspiring.
After the sun dips below the horizon, they take you down the track a little to where they have set up the buffet style dinner and tables. You walk in to the sounds of the didgeridoo and Uluru in the background.
The food was great, with lots of variety and cooked fresh. You also have the choice of more bottomless drinks, so that was appreciated.
After dinner, they give a short talk about the stars from a resident expert. At this point it is completely pitch black and they turn off the lights so that the whole sky is lit up with thousands of stars. You definitely don't get that living in the city.
They then let you wander around the Field of Light, which I have no words to describe. It is magical, just truly magical. Take your time to really appreciate the art and pay attention to the detail and the lights changing colour.
Munro says of the installation "I wanted to create an illuminated field of stems that, like the dormant seed in a dry desert, would burst into bloom at dusk with gentle rhythms of light under a blazing blanket of stars". He succeeds beyond measure.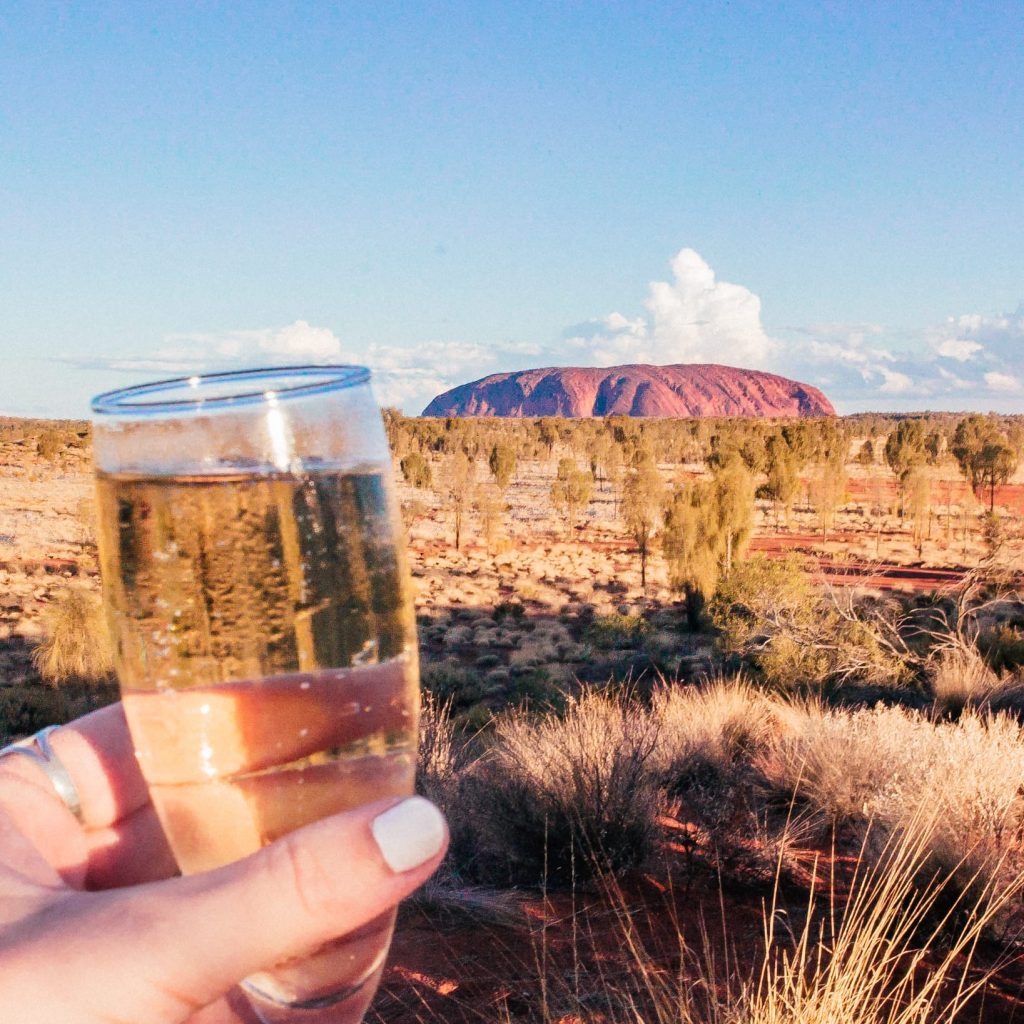 My journey to the red centre, to Uluru and surrounds, was more than I expected. I came back home feeling refreshed spiritually, physically and mentally. I couldn't say this enough - please do yourself a favour and visit and experience this unique, beautiful landscape. There is really nothing like it in the world. You will not regret a single second.
Have you ever been to the Australian Outback? What did you think? Where do you recommend I should go next?