Tasmania is one of my favourite places in the entire world. When coming to this island off the south of Australia, it's like stepping into a different world, an untouched and pristine paradise.
Hobart is the capital of Tasmania and was originally established in 1804 as a convict settlement. There are hints of its rich history everywhere you look. Especially on the waterfront, there are rows of beautiful sandstone buildings, repurposed, but still holding that special, unique look like you just stepped back in time.
With Mount Wellington on one side and the ocean on the other, Hobart in winter is easy-going and a beautiful place to stop, reset and relax. The temps are a lot cooler, being so close to the Antarctic circle. But with fewer crowds, it is a great chance to explore in peace and quiet. There's even a chance for snow!
There really is nothing cosier than watching the fire roaring in an old-time pub while sipping on a mulled wine in one of the oldest cities in Australia.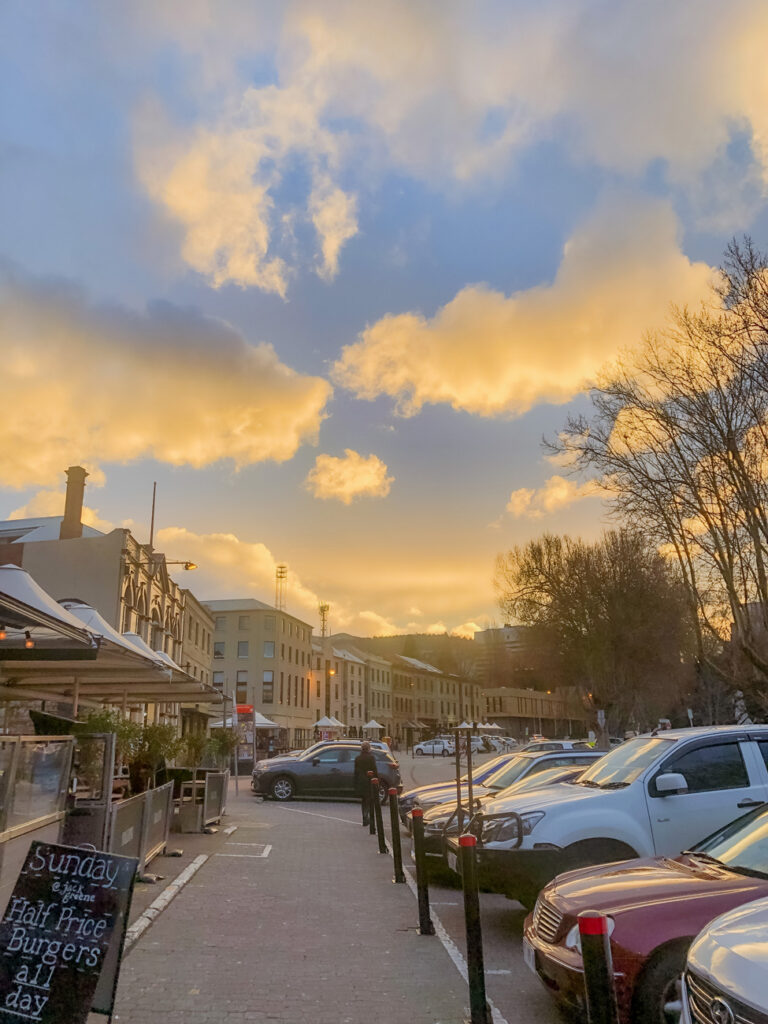 Salamanca Markets
Salamanca Markets are one of the more infamous events not just in Hobart, but all of Tasmania. They are on every Saturday from 8am - 3pm down at the waterfront. You can find anything from produce, clothing, toys, and more being sold by the locals here.
The markets are great for an easy morning stroll. Pick up a coffee, some fresh flowers, and walk through before picking up some produce to take back to your accommodation for a relaxing lunch or dinner. It's also a great place to pick up a unique souvenir.
Salamanca Markets are outside, so make sure you rug up as Hobart in winter is quite chilly. While in the area, check out the nearby museums, restaurants, and bars around the Salamanca area - known for being a vibrant spot, especially at night.
Port Arthur day trip
Port Arthur is one of the biggest tourist attractions in Tasmania and is only a 1.5 hour drive from Hobart. I recommend hiring a car and taking a whole day to go and explore the area. There is no public transport, so if driving is not an option, look at day tours that take you there and back.
Port Arthur is full of deep history. It is the best preserved convict settlement in Australia. Many of the houses built by the convicts for the residents still stand and the old fort and prison ruins show you what it might have been like back in the early days of Australia.
Take one of the free walking tours around or wander yourself - there are many plaques, cards and more to help guide you through and teach you about each aspect of the place, full of tragedy and hardship.
Not only is there so much history to explore, but the area is also naturally beautiful (and haunting) in its own way. With forest on one side and the large basalt cliffs, columns, and ocean on the other, it's a unique place to wander.
I also highly recommend taking the short cruise that is free with entry to the site. This will take you out to the Tasman Sea and back. In Winter it will be cold with that ocean wind though, so bring a warm jacket for the ride.
If you choose to drive, I suggest stopping along the way at several points of interest. Tasman Arch, Devil's Kitchen, the Blowhole, and the natural wonder of the Tessellated Pavement are all must-sees while you are in the area. And if you want to see a Tasmanian Devil, stop in at the Tasmanian Devil Unzoo, a wildlife park dedicated to caring for and conserving the species.
MONA
MONA is the Museum of Old and New Art. It's located in Berriedale, which is an outer suburb of Hobart. Getting there is super easy - just catch the ferry from Brooke Street Pier or drive 15 mins out of the centre of town, either with your own car or uber/taxi. I recommend the ferry as the views along the way are beautiful and approaching the museum from the water is how the creator originally designed it.
The museum is an odd one but thoroughly enjoyed by people of all ages and walks of life. Each person takes something different away but just go in with an open mind. It may be confusing and confronting at some points, but with rotating exhibitions and some beautiful permanent pieces, there's something there for everyone.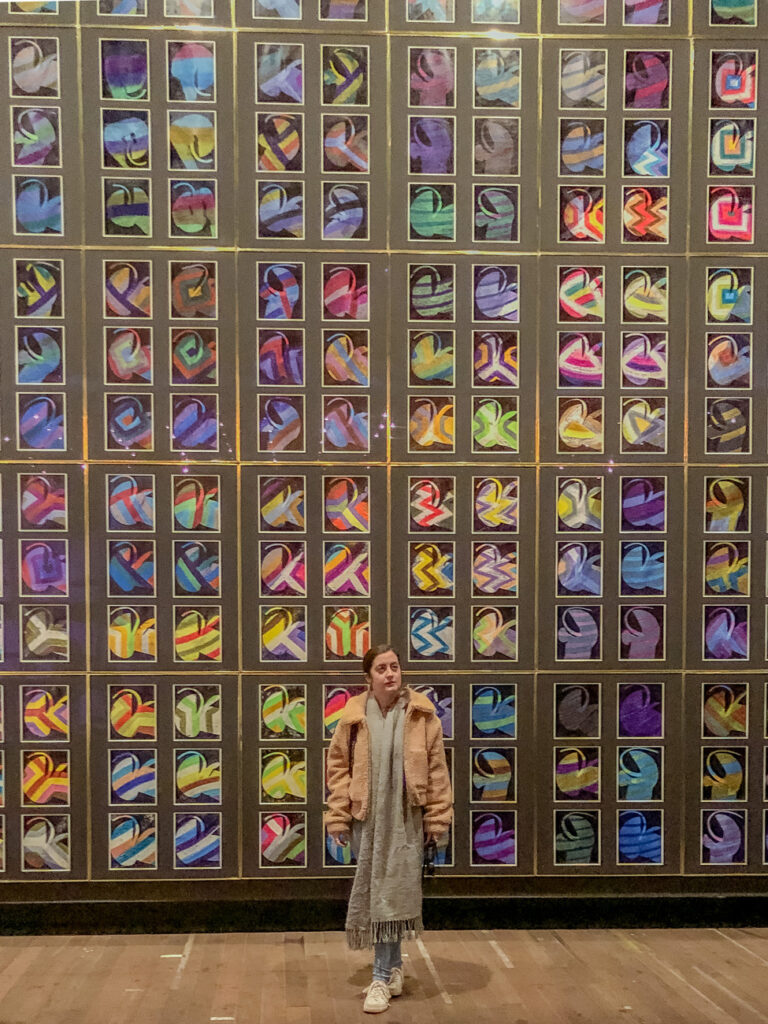 MONA also hosts the annual MOFO and Dark MOFO music and arts festivals which showcase interactive, public art and live performances. Dark MOFO is held in winter and is mostly at night. Grab a drink, get rugged up and be open to the wild ride it is sure to be.
My favourite piece of art in MONA is the Bit.Fall installation. This piece of art consists of drops of water falling from a pipe high up, which when falling create different words that are taken from internet searches. Against the sandstone wall behind it, it is beautiful and mesmerising to watch.
Tasmanian Museum & Art Gallery
If you liked MONA, or if it was a bit much for you, why not also try out the Tasmanian Museum and Art Gallery. It's free to enter and is full of rich history and culture. I learned so much just from a short visit!
Located in an old sandstone building, near Salamanca Markets, it's the perfect place to go if you want to get out of the cold. This museum was built on the old waterfront line and you can still see the line on the footpath where the water used to come to.
In case you haven't got the message by now, Tasmania and Australia have so much history, art and culture. Make an effort to learn some parts of it and you won't be disappointed.
Just down the road is also Maritime Museum of Australia, with information about shipping and whaling activities in Australian history, and Mawson's Huts Replica Museum, where they have rebuilt the huts used in Antarctica by Douglas Mawson & his team who discovered the location of the south magnetic pole. Mawson's Huts Museum does cost a bit of money, but it is interesting nonetheless.
Mt Wellington
Mount Wellington is officially known as kunanyi / Mount Wellington and is located on the western side of Hobart, looming over the city. It is covered in snow most of the year, so visiting in Winter can either be a snowy wonderland or quite hazardous. Keep an eye on the weather before you make your trip up the mountain. If you can make it up the top, there is an enclosed lookout with epic views of the city and surrounding area below.
While driving is obviously the easiest option, especially in winter, there are also many walking trails and a hike from the city to the peak you can challenge yourself with.
If you choose to drive, there is a point halfway up Mt Wellington where you can stop, wander to the lookout and there are also toilets and a bbq area. Be mindful that if the weather is less than favourable, the top half of the mountain may be closed and you'll be stopped here, at The Springs. If you want a little bit of an adventure and the weather allows it, park your car here and walk the rest of the way up. From The Springs to The Pinnacle, it is about a 4km trek, but with a difficult grade.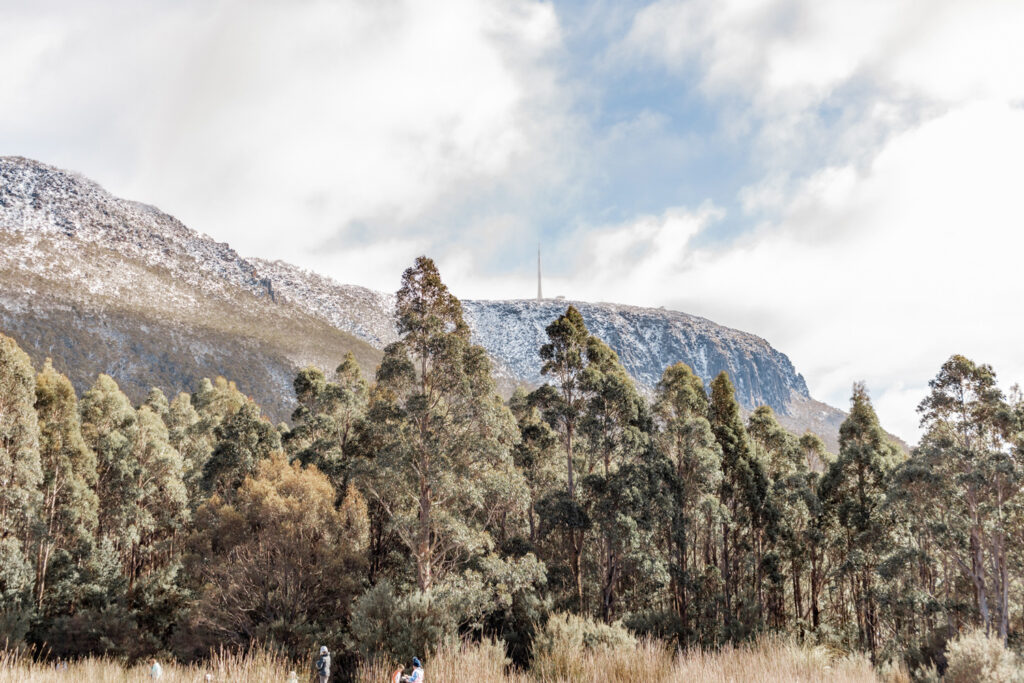 If you want to take on the full hike up Mt Wellington, you can start at Hobart Rivulet, where you can leave your car in the parking area just off Molle Street. Or at the Cascade Trail, just opposite Cascade Brewery, which skips the more urban part of the walk to the base of the mountain. Either way, set aside a whole day to climb and explore Mt Wellington. It is about a 14km hike, or a little less if you start at Cascade Trail.
Drinks on the Pier
Taking an evening to stop and watch the world pass you by is highly recommended in the sleepy city of Hobart. Stop in at one of the bars or restaurants on the Elizabeth St Pier or Brooke St Pier and watch the boats sail in and out as the sun goes down.
As for bars to choose from, there's Tavern 42 Degrees South, which is a bit more upbeat but with some of the best views if you choose to sit outside cosy under a heater. The Glass House Hobart is located on Brooke St Pier and is a bit more easy-going. Or The Story Bar, on the other side, is a bit more upmarket and is fully enclosed, but unbeatable views of the city lights at night.
View all these places on the map.
Hobart restaurant and bar scene
While I'm sure Hobart isn't the first place you think of when I say foodie heaven, they have some pretty cool places. Your first place to look would be Salamanca Rd and Battery Point. Think old-timey pubs, cute cafes and a bar on every corner. My favourite pub we visited was Preachers, mainly because there's a bus parked in their courtyard that's renovated for seating.
Surprisingly, Hobart also has a great selection of alternative options too. When looking for vegetarian and vegan food, I didn't have to look far. My favourite places were the Kombi Cafe and Smoothie Bar, and the Honey Badger Dessert Cafe. Kombi Cafe caters to all alternative diets, including gluten-free, vegan, and allergy-friendly foods. Honey Badger Dessert Cafe speaks for itself - make sure you get their infamous hot chocolate and any of the food is delicious with pancakes, waffles, and more!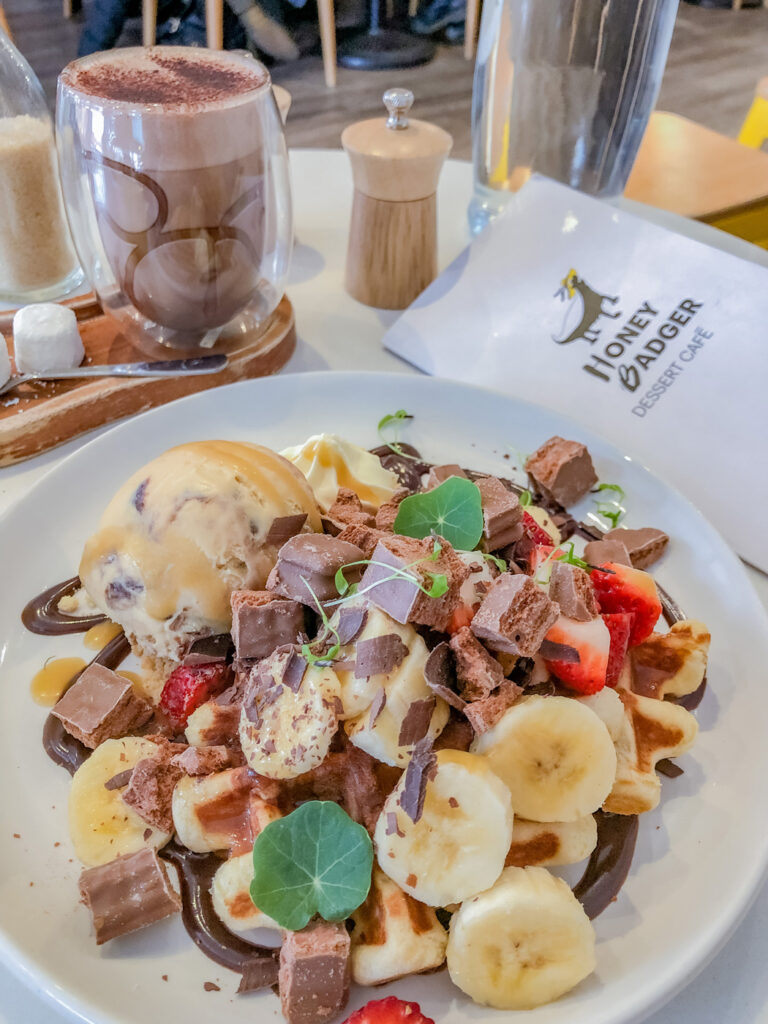 If you're staying a bit further north, there's still no shortage of amazing, insta-worthy places to eat at. I recommend Pancho Villa for dinner. Pancho Villa is a Mexican restaurant that is decked out like an old school cathedral, stained glass and all. Definitely get the guac and some pictures here. Also, for brunch or cafe vibes, go to Born in Brunswick. With clean interiors and food that is drool-worthy in looks and taste, you just can't go wrong.
Will you give Hobart in winter a chance?
Hobart is one of my favourite cities, all year round. I hope after reading this that you give Hobart in winter a second thought and it helps you plan things to do and see while you are there. Also, why not combine this with a roadtrip around the rest of Tasmania?
Let me know if you have any places to add and if you try any of them after reading this post.
Map of places in Hobart